Last updated on November 18th, 2023 by RGB Web Tech
Website monitoring is the process of testing and verifying that end-users can interact with a website or web application as expected. Website monitoring is often used by businesses to ensure website uptime, performance, and functionality is as expected.
The website's availability is a critical part of a business; we can't stare at the monitor all the time.
Setting up a command center and monitoring team is feasible for a large organization to monitor their web applications uptime but not for small-medium businesses, non-profit organizations, or personal bloggers. Your website can go down for various reasons, including database down or hack.
Another common reason for website down can be a hosting provider, and that's why you should always host your site with a reliable hosting provider. Any website owner or administrator needs to ensure proper alerting is in place, so you get notified when the website is not available.
I've listed the following tools, which will help you get notified in case your web URL goes down. Most of them offer a FREE plan, so pick the one you like.
However, if you are looking for an in-house solution, then you can try a PHP Server Monitor open source.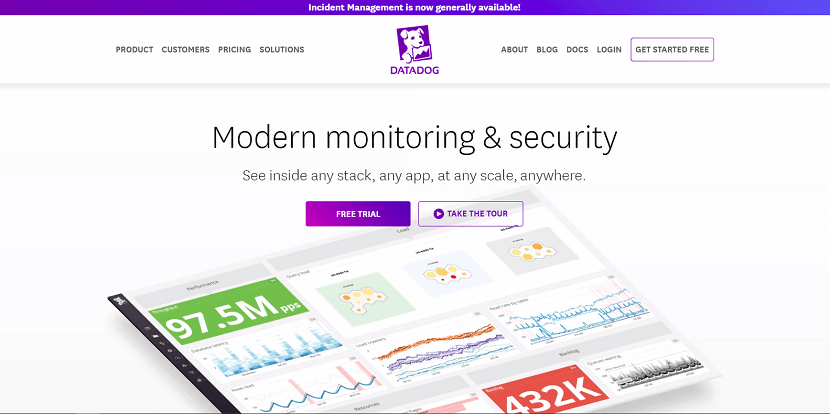 Datadog lets you proactively monitor your API endpoints and send alerts based on predefined parameters. You'll be able to break down network timings that will eventually help you get to the root cause of your issues faster.
You can incorporate Datadog tests straight in your CI pipeline to ensure early problem detection allowing you to evaluate the state of your production environment after each deployment and minimize downtime by eliminating errors before your users ever see them.
All your critical transactions can be monitored with Datadog Synthetics without writing a single line of code with the web recorder. En user screenshots and step-by-step waterfall visualizations are paired with an intelligent system that identifies elements even after you make changes to the UI which results in a lot fewer broken tests.
Key features:
Performs uptime and response time monitoring from several locations around the world.
Enables user-journey modeling to check for load errors, programming mistakes, and poor website design.
Enables website tests to be compiled through browser recording.
Uses AI methods to vary user journeys during test runs.
Tests are run through actual browsers for real-life user experience modeling.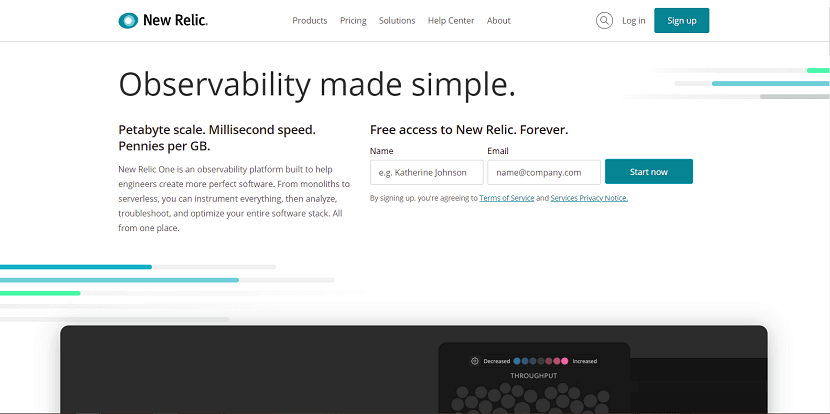 New Relic is a cloud-based software that helps users to track their website and application performances. Their technology is delivered in a software as a service (SaaS) model. The company is mostly known for its application performance monitoring (APM) abilities, but it also offers other services like infrastructure, browser, and synthetics monitoring, which you can combine with APM.
New Relic is a strong monitoring tool, but it can be difficult to navigate between different services and how they work together, especially compared to other monitoring companies like StatusCake or Montastic. However, you can check out and try their services for free for 14 days without any commitment.
Key features:
Full Support for Google's Core Web Vitals
Custom dashboards
Advanced alerting systems
Integration with your favorite ticketing system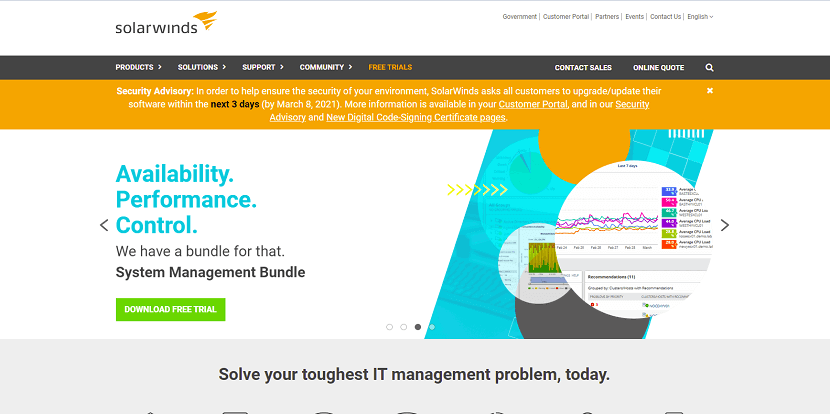 SolarWinds has been at the forefront of the monitoring space for years and in this time they've developed a large number of services to help their customers better understand what's going on behind the curtains but that experience comes at a great(er) cost.
Web performance monitoring is just part of their impressive software ecosystem, and as it stands today, is one of the most complete solutions for DevOps in the world. While nobody can deny their experience or the value that their app brings to customers, the price tag can still be a tough pill to swallow, especially when you look at smaller competitors that charge a fraction of the price for, what it seems, a very similar product.
Their Web performance monitoring tool offers detailed load-time metrics from multiple locations across the world that record all browser-based transactions while providing key insights into what happens under the hood of your website.
Key features:
Pre Configured alerts and dashboards that speed up the setup process.
Synthetic monitoring solutions
A neat mobile application is available for free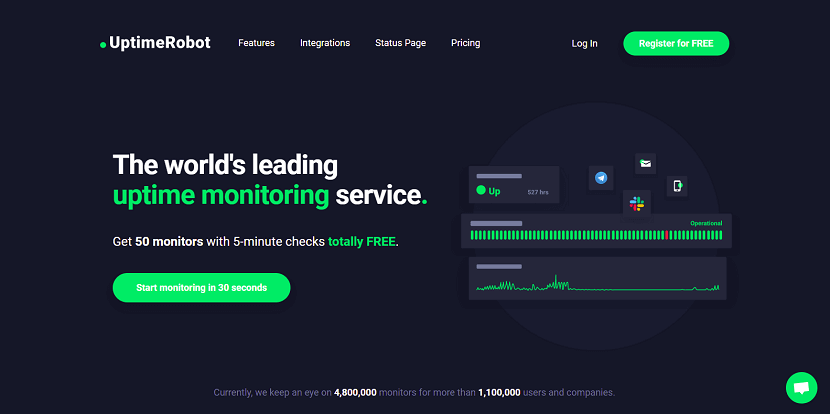 Uptime Robot is a good tool available at no cost to you, even though some users complain about the limited features, such as no manual alert testing. You also won't get page speed insights like with some paid website monitoring tools.
Key features:
Advanced notifications will let you set certain prerequisites for your alerts. Eg: x errors in y minutes
Simple setup process
Heartbeat monitoring for intranet and cron jobs
SMS and email notifications are available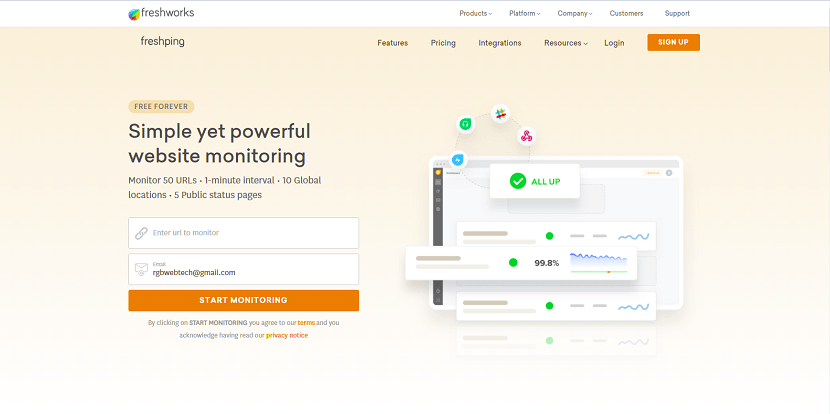 Freshping by Freshworks lets you monitor 50 URLs from 10 locations worldwide with one minute of internal in FREE.
Key features.
Multi-channel notification
Status page to announce real-time incident status to your users and customers
Multi-user login
Integrate with other services like Slack, Twilio, Freshdesk, Zaiper, etc. to get notified
Under the FREE plan, monitoring data is available for six months.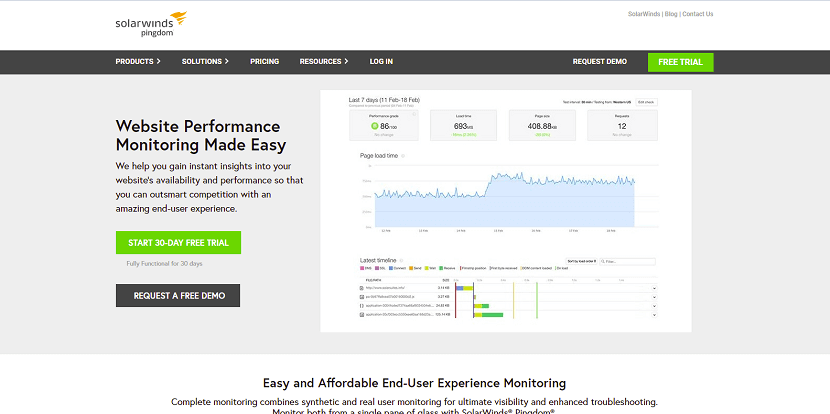 There are more options for choosing your monitoring frequency (up to 30,000 uptime checks) for more expensive pricing. Pingdom also offers an Enterprise plan which offers from 500,000 to 5 million pageviews a month. Moreover, there is a 30-day trial to check out their services.
If people can't access your website at certain points throughout the day, then you're losing sales and search engine rankings. Unfortunately, you can't manually monitor your site's uptime at all hours, and that's where Pingdom's tools come in handy.
Although Pingdom offers some free tools, such as a website speed test, where it shines is in its premium features. Pingdom can help you analyze your website's uptime and performance by testing your site from servers across the world and alerting you if there's an issue.
Pingdom also helps you improve user experience by delivering feedback from real users and analyzing performance factors such as website speed. They'll also help you pinpoint any causes of problems to help you resolve them quickly.
Overall, it's a powerful, reliable tool for smaller businesses on a budget, but some users complain that it puts little emphasis on mobile traffic, has unreliable SMS capabilities, and lacks monitoring servers in Asia-Pacific. We also use Pingdom to monitor the best hosting providers.
Key features:
Detailed interfaces with user-friendly features
Instantaneous alerting system
Real user monitoring and synthetic monitoring
The mobile application makes up for the somewhat complicated setup
SMS and email notifications are available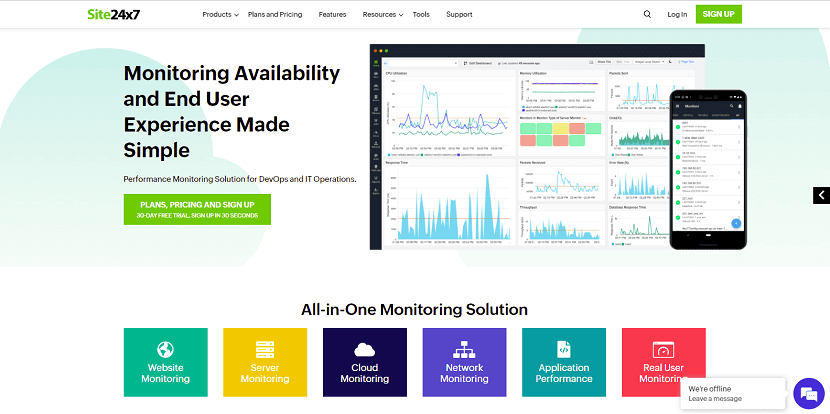 Site24x7 is a U.S.-based company, founded in 2006. The company provides performance monitoring solutions targeted at DevOps and IT professionals. You can use the service to monitor your websites, APIs, servers, and much more.
Key features:
Performance monitoring: Comprehensive performance monitoring from 90 global locations, checking internet services, internal network performance, web page components, and more.
Real User Monitoring (RUM): Real-time tracking will tell you everything you need to know about your users' experience on your site. Detailed reports will allow you to analyze your visitors' behavior and spot any pertinent issues.
Public status pages: This feature allows you to notify your customers of any downtime. They are sure to appreciate your business transparency.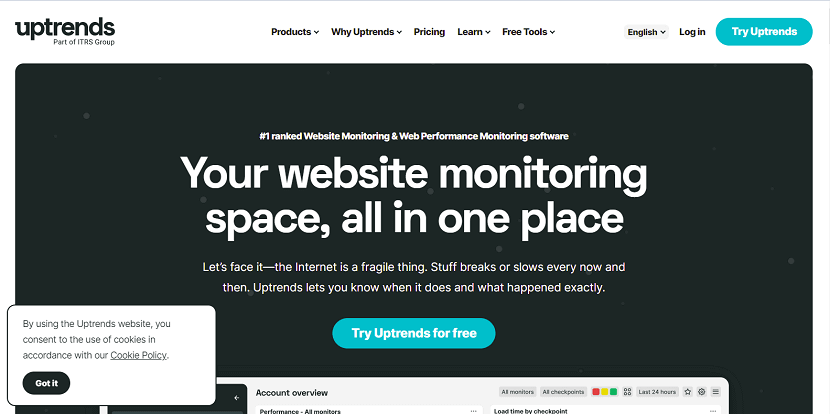 Founded in 2007, Uptrends provides a variety of monitoring services, from standard website monitoring to real user monitoring. The company's impressive client list includes big names like Microsoft, HP, Virgin, and Zendesk.
While the paid plans offer an extensive list of advanced features, you can find several free tools on the company's website, including a free-forever website monitoring tool that will monitor your site from locations all over the world.
The free version will send you an email alert whenever there's a problem – but not before your site has been tested from two different checkpoints, to prevent false alarms. You also get detailed data reports which you can export to PDF or Excel.
Key features:
Multi-browser monitoring: Uptrends offers "real browser monitoring," which hits your website with the three major browsers to recreate your users' experience. The Full Page Check feature hits every webpage and element on your website, and it's got 200 worldwide checkpoints for true global performance monitoring.
Private checkpoints: In addition to the company's 200+ checkpoints around the world, you can also get your private checkpoint which can run behind your firewall and monitor your business' intranet and internal applications.
Transaction recorder: Record and monitor all transactions on your website and get detailed information on shopping processes, website functions, and load times. Analyze your results with a series of powerful tools.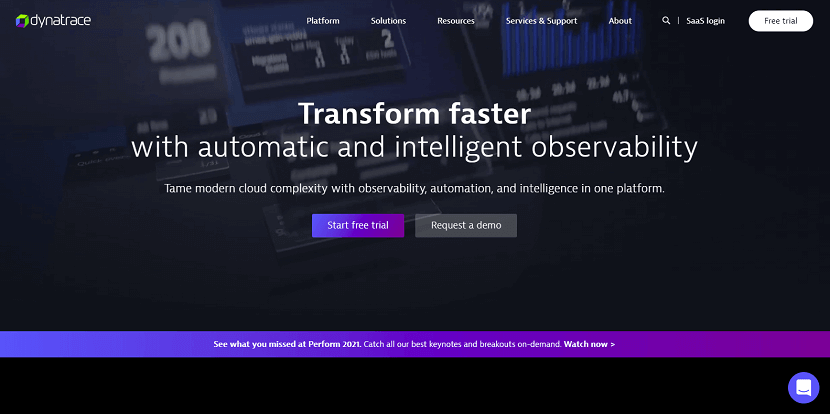 Dynatrace monitors the availability and performance of your internal resources with monitors from private elocution making it easy for you to understand how your users experience your website and apps by measuring and recording key metrics.
Dynatrace offers three types of synthetic monitors The first one is a single-URL browser monitor that acts as a simulated user visiting your app or website and can be configured to work from any of their available locations with a frequency of 5 or more minutes. The second one is Browser click paths that are similar to the single-URL act as a user but follow a path throughout your application. The third version is the HTTP monitor that is a simple HTTP request that can be customized and ran at various intervals.
Key features:
Flexibility to utilize real-user monitoring, synthetic monitoring, and session replay
Built with privacy and security in mind to meet your GDPR requirements
Real-user monitoring for mobile, hybrid, and single-page applications with common analytics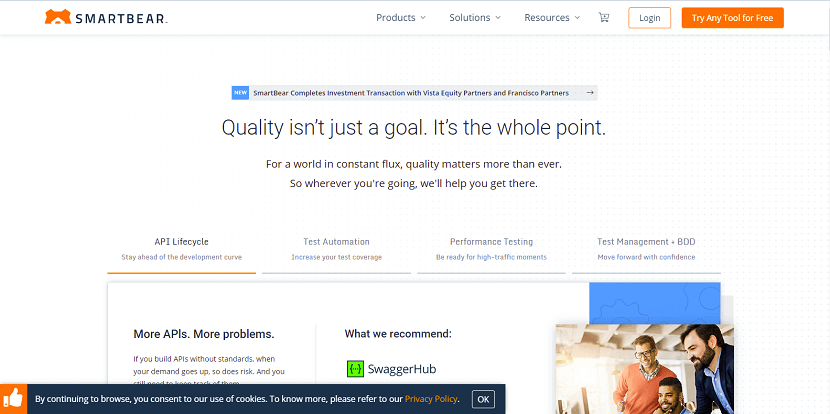 Smartbear is amongst the most comprehensive tools for large-scale enterprises that wish to monitor almost every aspect of their online presence. Besides keeping a very close eye on your web application through a wide variety of tools that range from run-of-the-mill uptime and alerting solutions to some innovative monitoring options, Smartbear also checks up on your mobile applications, API status, and database health.
Last but not least, Smartbear has an impressive 340 testing nodes around the world, which is at least double what most competitors have. Keep in mind that Smartbear does not have a real user monitoring product so if you are looking for that particular feature, you'll have to look elsewhere.
Key features:
Lots of third party integrations
An extensive list of resources and support material
Robust Reporting & Analytics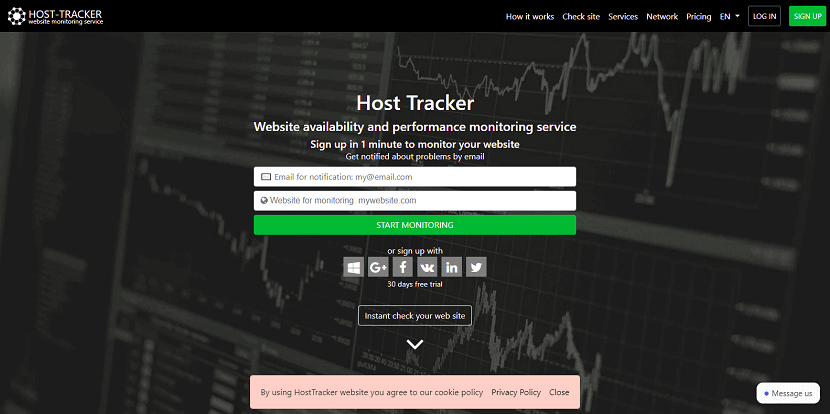 Simple by design, Host-tracker is intended for site admins that want to monitor their servers' availability as well as the transactions between server and client. It mainly focuses on key metrics like page errors, database connection problems, and network issues.
The pricing schema is simple enough, composed of three separate tiers, each with its own unique set of features and capabilities. It's worth mentioning that at first glance the price for their basic tier seems high compared to the other products mentioned here but I believe that the packed features of the more expensive tiers make up for this.
One thing Host-tracker is missing compared to the other options listed in this list is the ability to monitor real users. It's not a big deal if what you are trying to do is focus on the server's resources but for websites that deal with a lot of users like online publications or e-commerce stores, RUM is going to be crucial to providing the best experience possible for your users.
There's no free tier but every signup comes with a free, no credit card required, a 30-day trial where you can test all the features of the product, risk-free.
Key features:
Performance monitoring: HostTracker breaks down its performance measurements into DNS lookup time, connect time, "first-byte" time, and download time. This enables a granular view that makes it easy to spot specific bottlenecks.
Uptime monitoring: HostTracker's "availability check" feature is similarly detailed and can be configured to check not only the website and server availability but also applications connected to your website as well as your database connections.
Alerts: Highly customizable alerts via your choice of email, voice message, SMS, Skype, Google Hangouts, or Viber. You can also set conditions and assignments for alerts to ensure that each team member gets only the appropriate ones.
Auto-pause Google Ads: HostTracker can automatically pause your AdWords campaign if your website is unavailable, and start it when the site is back up.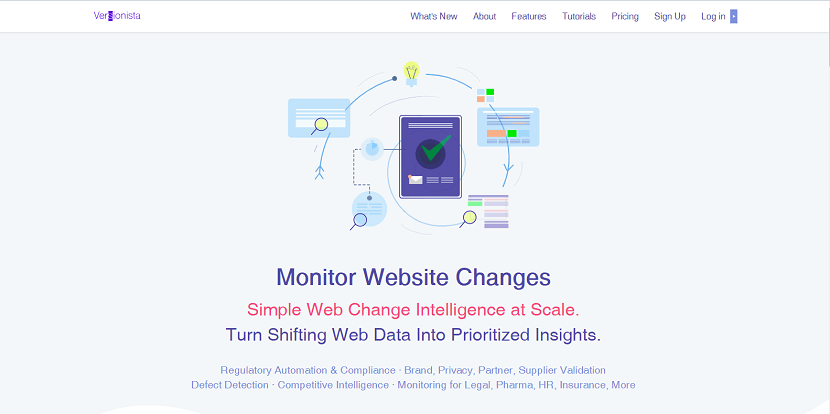 Versionista is a simple yet powerful tool for monitoring web pages of static and dynamic websites. You can monitor web pages as well as documents like PDFs, like Visualping. What sets it apart is you can set filters to skip irrelevant content changes and manage and track changes in SEO to stay competitive in SERPs.
While creating a monitor, you can customize frequency, JavaScript support, proxy address, and more. What I like is it shows color code comparison to highlight changes and supports sending change alerts and detailed emails. Moreover, Versionista supports team collaboration, allowing admins to manage users and users to collaborate between them to support team projects.
Key features:
It automatically crawls and monitors your website.
This cloud-based tool provides summaries in email.
You can collaborate with your organization team.
Versionista manages the team's workflow.
You can avoid irrelevant content using filters.
It provides color-coded comparisons that show additions and deletions.
Distill is a featureful tool for monitoring web page changes. What makes it unique is its support for cloud as well as local monitors, unlike the above tools. Also, it supports automating steps like logging in, exporting data, using custom proxies, tracking changes in documents like PDF, and managing versions.
Key features:
You can select items to track visually.
It allows you to configure notification settings and account details from your single dashboard.
You can see the version history.
Track changes from any browser and you get updates on any device or channel.
You can import or export data in CSV or JSON files.
It allows you to track changes in PDFs.
You can manage the version history of all changes.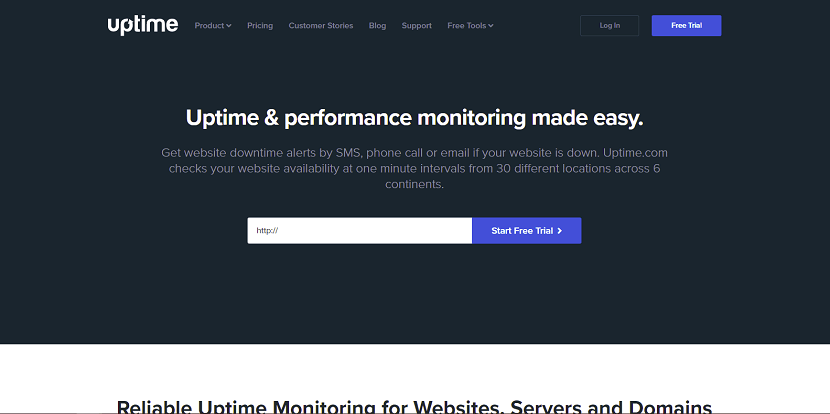 Featuring SSL monitoring, 24/7 support, malware scanning, and a large number of third-party integrations, Uptime is a great website monitoring tool that focuses on reliability and ease of use.
Uptime monitors your website availability at one-minute intervals across 6 continents. If anything goes wrong you'll be notified via either SMS, phone call, email, or any number of custom integrations that they support.
Uptime has a RUM tool that helps you deliver the best user experience by tracking users across different devices, locations, and connection types. The data collected will be displayed in easy-to-understand dashboards that will provide actionable data on how to fix the performance issues of your site.
While there is no free tier, Uptime does offer you a risk-free, 21-day trial across all their packages that should give you a taste of everything it has to offer.
Key features:
Simple to use UI
Websites scanned with Google Safe Browsing & Yandex Safe Browsing.
Detailed Uptime Reports
Receive alerts via email, SMS, Twitter, web-hooks, or push notifications.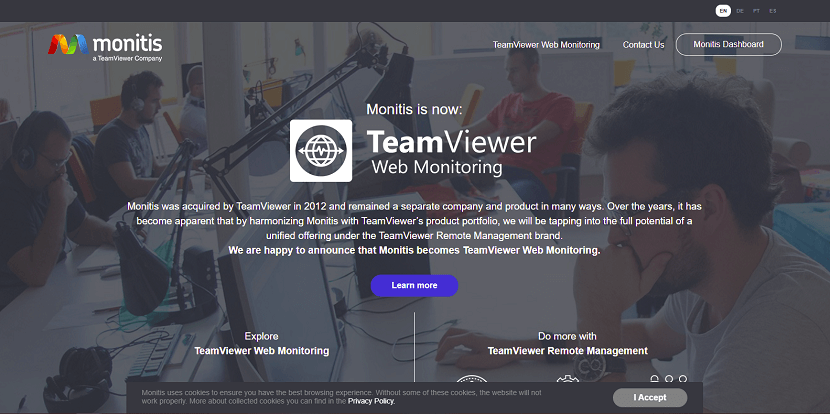 Monitis is an all-in-one IT solution based on the cloud that will check in on your site every five minutes. It boasts the best user experience for your visitors and offers a range of website monitoring tools all available on one dashboard. This tool is packed with features, making it easy to predict issues before they happen and easily solve them if they do. With it, you can monitor:
Website uptime: Track uptime, response time, and performance from multiple locations worldwide.
Server health: Detect bottlenecks before they arise.
Network performance: Monitor multi-site networks, and receive notifications of any failures.
Custom metrics: Customize your unique monitoring needs.
Monitis.com advertises that by using its service, you can improve uptime, eliminate hassles, optimize user experience, and grow your client base. Plus, it's available in English, Portuguese, Spanish and German languages.
Overall, it's a great tool packed with numerous features and you can try it out free for 15 days.
Key features:
A mobile application is available
Available in English, Portuguese, Spanish and German languages
Simple granular control over how much you pay/mo
20% discount for annual payments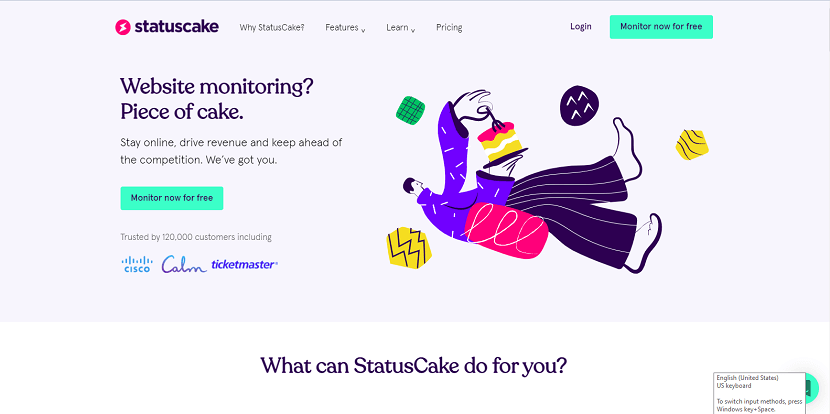 StatusCake also has a "Superior Plan" for 20.41$/mo and it includes 100 monitors with 15-minutes testing intervals. If you sign up with their paid plans yearly, you'll get two months free (for life!).
You can sign up with their free plan (no credit card needed) and start testing your site's uptime and speed immediately.
StatusCake will check on your site every 5 minutes and alerts you if there's any downtime via email or integrations with a third-party app like Zapier. StatusCake also helps with root cause analysis, so you'll know why the problem was caused. Moreover, with their free plan, you'll get to test website page load time (1 test every 24 hours).
Key features:
Page speed test (free plan includes 1 test every 24 hours)
Global test locations (they have 48 locations in 28 countries)
Domain monitoring (only with paid plans)
Server monitoring (only with paid plans)
SSL certificate monitoring (only with paid plans)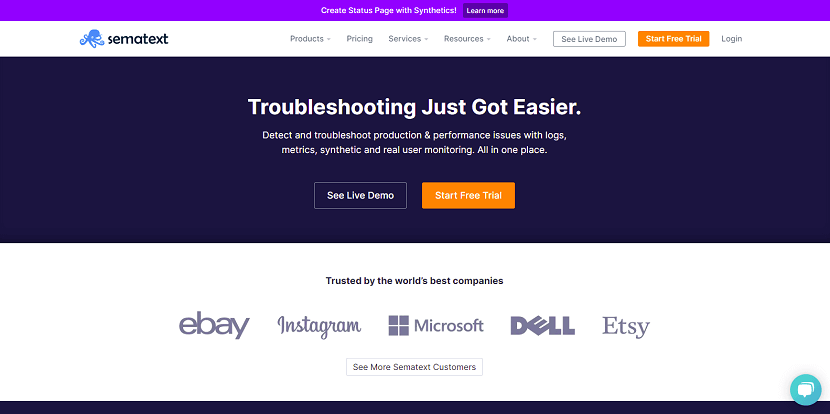 Sematext Cloud is an all-in-one log management and monitoring solution that provides end-to-end visibility and observability. When it comes to website monitoring, we offer Sematext Experience, our real user monitoring (RUM) solution, and Synthetics, our synthetic monitoring tool.
With the launch of Sematext Experience and Synthetics, Sematext became the go-to tool for developers looking to get insight into their infrastructure while still keeping an eye out on the user experience metrics.
With Sematext Experience, you'll get a report on the experience and satisfaction of your users while providing key pieces of information as to how your website or application is performing in different locations, devices, or different connection speeds.
On the other side of the spectrum, you'll be able to set up Synthetic Monitoring to create a complex system of monitors for all your resources in just a few clicks. The monitors will ping your resources from several locations all across the globe and report back stats like website speed, error rates, third APIs responses, SSL certificate expiry, and many other mission-critical metrics. You can even use it to benchmark against competitors and identify areas you should optimize to improve website performance.
Getting started with Sematext is quite easy and intuitive thanks to the simple setup wizard that every new user gets to see.
Every plan has a risk-free, 14-day trial that does not require any credit card to be added. We also offer granular control over what you pay for as every product is individually priced. This way you can pay only for the products and features he needs.
Key features:
A unified location for all your logs, metrics, and events
Identify resources & requests with the biggest negative impact on your website performance
Real-time alerts and debugging solutions
Support for all major frameworks
Very well documented features
UPTIMIA is a relatively new player in the market, but it's already shown impressive growth, landing clients such as Pepsi, Akami, and Nokia. The company offers monitoring services for small businesses and large enterprises, including uptime and speed monitoring as well as transaction monitoring and real user monitoring.
The company offers a free-forever plan which allows you to monitor one website in five-minute intervals. The free plan includes uptime monitoring only.
Key features:
Uptime monitoring: Monitors your website from 170+ global locations at intervals as low as 30 seconds.
Performance monitoring: Includes monitoring load times with real browsers as well as real user monitoring (RUM), which can measure your website's performance according to individual visits.
Custom-branded reports: You can use your company's logo and color scheme for the daily reports, making Uptimia a good choice if you're part of an agency managing websites for your clients.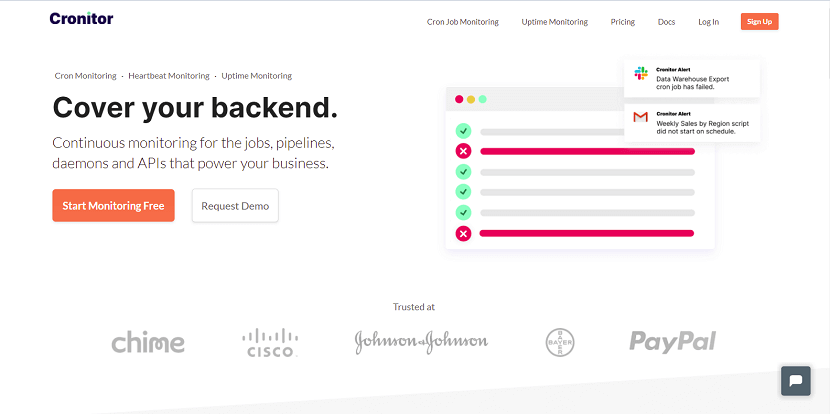 Cronitor is a modern uptime monitoring service with advanced features and a clean, approachable design that anybody can use. With 12 global monitoring locations and checks that run as frequently as every 30 seconds, you can trust you'll be alerted quickly when your website or API is down.
Key features:
Custom request headers, cookies, and more.
Page content assertions.
Real browser testing for JavaScript apps.
Global monitoring with custom test locations.
Instant alerts through Email, SMS, Slack, PagerDuty, OpsGenie, and more.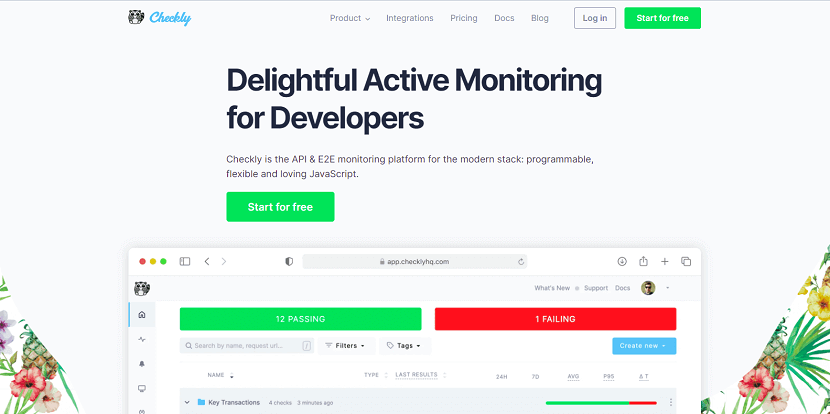 Checkly uses Puppeteer and Playwright frameworks to simulate users' interactions with your website or application within a Chrome browser. While you can write the test scripts yourself, Checkly does offer a Headless Recorder browser extension to aid you. Once you're done with the code you can run it every 10 minutes.
The alerting system is very versatile and allows you to get an alert whenever one or multiple parameters are met. The alert can go out to your Email, Slack, Pagerduty, or SMS.
Tests are run from one of six locations in America, eight locations in Europe and Africa, and six other locations from Asia. Getting feedback from different locations across the globe will paint a clearer picture of how your users are experiencing your website and allow you to make crucial decisions that improve performance.
Key features:
CI/CD integration
Screenshot for every transaction
Tests are run from real browsers
No coding needed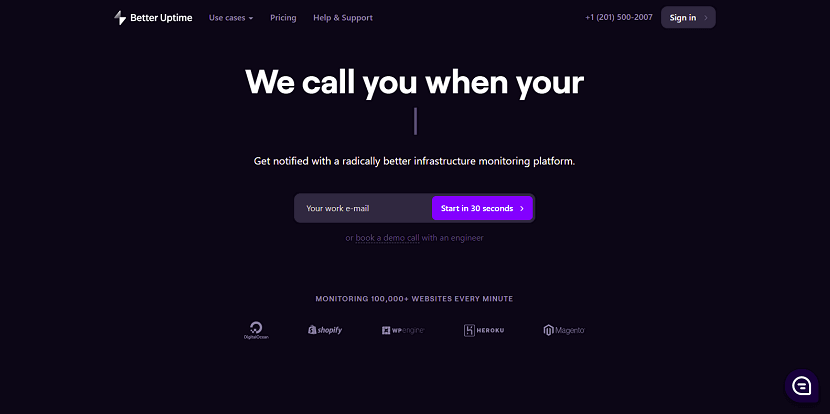 Better Uptime is a modern monitoring service that combines uptime monitoring, incident management, and status pages into a single beautifully designed product.
The setup takes 3 minutes and after that, you get a call whenever your website goes down.
Key features:
Unlimited phone call alerts
HTTP(s), Ping, SSL & TLD expiration, Cron jobs checks
Easy on-call scheduling
Screenshots & error logs of incidents
Slack, Teams, Heroku, AWS, and 100+ other integrations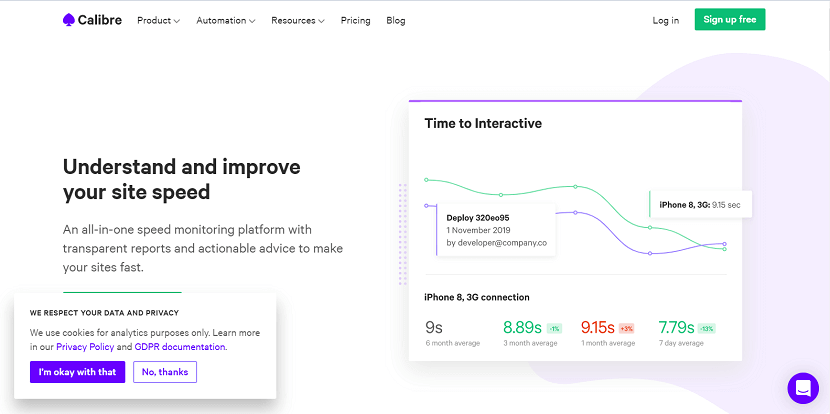 Calibreapp helps you deliver stellar experiences to your users regardless of their location, platform, or connection speed by simulating real-world conditions. It allows you to understand the impact of third-party code on your systems, automate tests for performance, and get notified the second your users experience an issue.
Calibreapp provides powerful performance reporting that provides a clear overview of your entire system allowing you to stay on top of any issues that might occur. The automatic insights reports that are being sent out save hours and hours of work that would be spent building traditional reports out of dashboards.
Key features:
Core Web Vitals support
Testing authenticated pages
Google Lighthouse built-in
Insights Email Report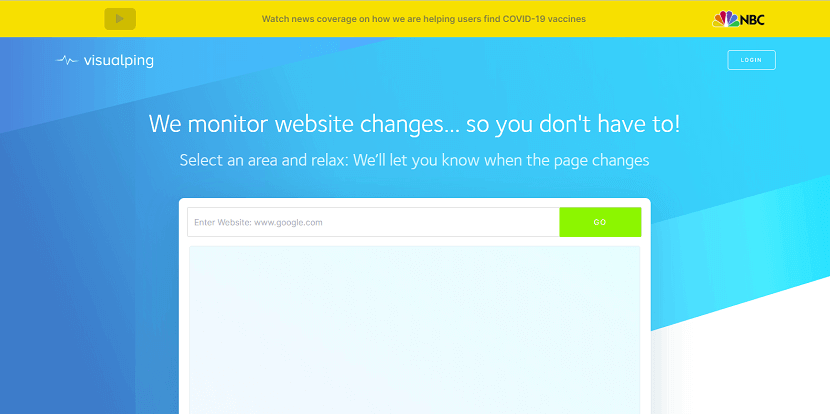 Visualping is among the best web page monitoring platforms available, which offers intuitive features fitted for both beginners as well as advanced users. What I liked the most about Visualping is it shows its monitoring form interface right on its homepage, allowing you to effortlessly start monitoring web pages.
Visualping claims it is used by more than 1.5 million users worldwide performing 5 billion checks. Its features include performing checks from every 5 minutes to every week, checking for documents like PDFs, choosing screen configurations, configuring proxy settings, and alert options. Also, these features are all packed under a clean and neat interface, making it super easy to monitor changes.
Key features:
It offers access to public API as well as custom development work.
You can review changes in images and basic account settings.
Automatically alerts website users when any changes are made on the website.
The browser extension allows you to monitor websites directly from the website.
It provides intelligent alerts.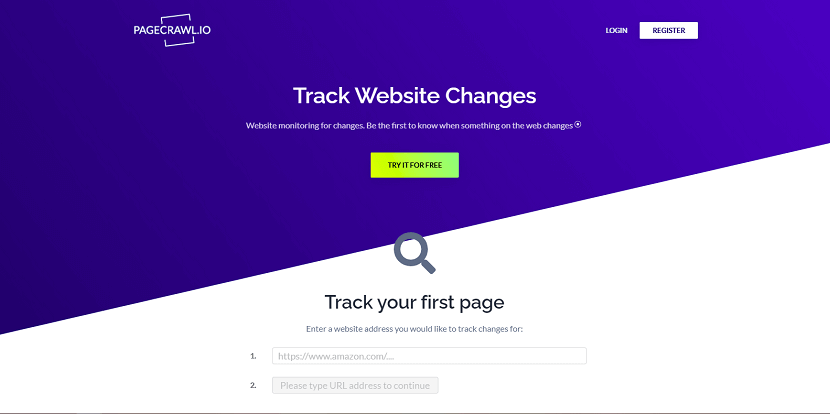 PageCrawl is another robust tool for monitoring web page changes. What I find interesting is PageCrawl.io supports tracking multiple elements on a page. You can share a tracked page with friends or team members, visualize results as charts, send notifications to email or Slack, export data, and do a lot more.
Key features:
You can capture the full web page selected element image of your website.
It provides proxy support to bypass IP bans.
PageCrawl feature automatically updates tracked pages in Google Sheets.
You can easily analyze changes in timeline charts.
It enables you to share and track pages with your colleagues or friends.
This application provides easy to use page element selector.
You can export web page change to an excel spreadsheet.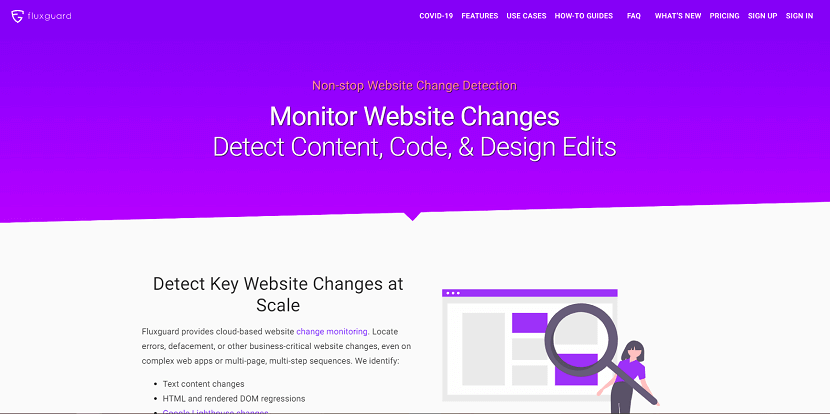 Fluxguard is another featureful tool for monitoring web page changes. One of its unique features is Google Lighthouse Audits, allowing you to check your site's SEO. You can automate steps like submitting forms, add filters for alerts, use proxy networks, and receive alerts through Slack and webhooks.
Key features:
It automates business-critical website change audits: from a single page to multiple steps.
Multiple web change visualizations: visual, HTML, text, network, Google lighthouse.
Fluxguard creates point-in-time archives of entire websites and their changes.
It provides change reports via SMS, Webhooks, Email, API, and more.
You can quickly toggle between screenshots, HTML code, and extracted text.
Fluxguard captures all network activity, console logs, web storage, cookies, and more.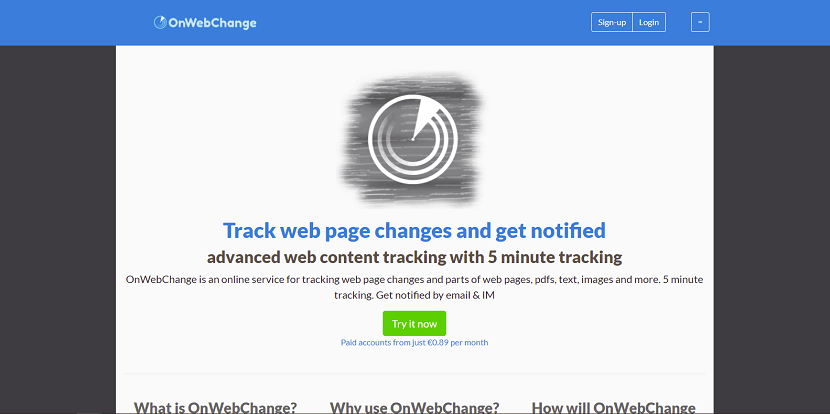 If you want to track exact information, OnWebChange can do it as simply as possible. Though it is not as powerful as Wachete some of its features even outstand the latter.
What got me stuck is its public tracker feature that lets you place a button on your site that helps your visitors track any page on your website.
Additionally, you use its 'Change Report' feature to share a public tracker with friends and coworkers and help you track changes conjointly. OnWebChange tracks change for various types of content like images, documents, PDFs, etc.
Another surprising feature is it creates an RSS feed to help you track the changes, unlike that of Wachete.
It allows three trackers for free and features multi-language support and a powerful change detection system with lots of customizable options. It can send mobile or email notifications in a single or digested form per your preference. Moreover, it sends emails to multiple persons, creates an email distribution list, and even notifies URL 'Callback', surprisingly.
Key features:
Track changes to any plain text files and online files.
It checks changes every 5 minutes, 24x7 hours, and 365 days.
You do not require to download any files or browser plugins.
Share notifications with family, customers, and friends.
You can track changes to any specific part of the public web page.
Track changes to online files (PDFs, images, etc.) and any plain text files.
Receive notification directly to your mobile.
This online tool allows you to filter out the content you want.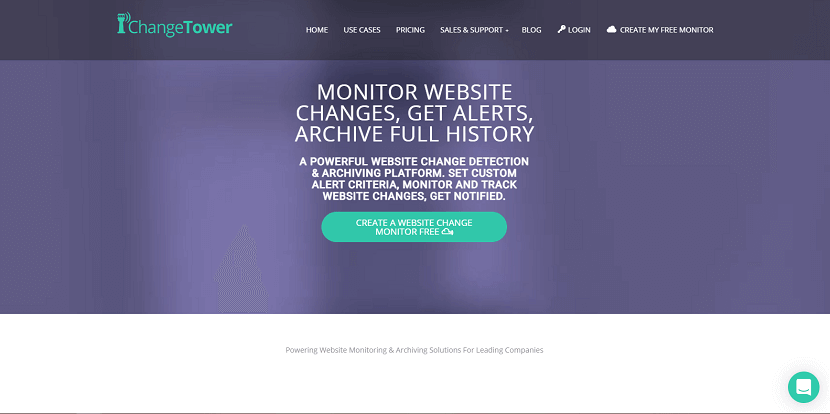 Using ChangeTower, you can monitor three addresses for free. It is a cloud-based, easily accessible tool that is capable of monitoring visual changes. You can track code updates, keywords and code changes, and visual changes made on a webpage.
What I like is that one can also check a site's availability and receive alerts on configured conditions. ChangeTower can notify you, or your team using real-time email notifications and allows you to see notifications stream and check out detections.
Also, you can check the changed data of three months in for free, and even export it to a spreadsheet.
Another interesting feature is it sends you a detailed report of content, snapshot, and HTML changes, helping you to easily understand the changes.
Key features:
It provides keyword alerts.
This tool provides notification for only significant changes in keywords and phrases.
It alerts when your website page goes down and comes back online.
You can monitor HTML code.
It allows you to store time-based code snapshots.
Notify changes to the team via email.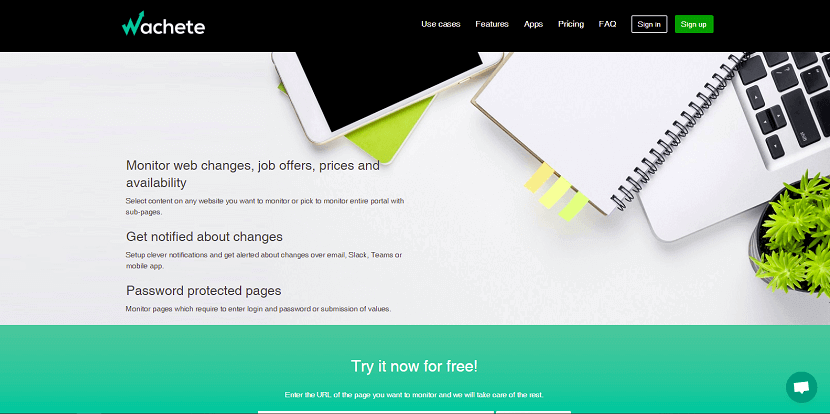 Wachete has a lot more to offer than other content monitoring tools on this list. What makes it stand out is its ability to monitor password-protected pages as well as dynamic and JavaScript pages.
Moreover, you can track changes on pages that require a click or an input and monitor configured pages from different locations and more.
It collects and stores web content along with change history for up to six months, allowing you to track old pages or changes when required.
You can freely monitor five pages, which suffices everyday users who wish to track product prices and job offers. You can also track the availability of a site, and download all the data as a spreadsheet.
What I like most is its set of REST APIs as well as its feature to create an RSS feed from the content of a page, like a feed of your wishlist products.
Key features:
It helps you to monitor pages that are password protected.
You can monitor web pages, including crawled subpages.
Collect changes, web content, history up to 12 months.
You can create an RSS feed from the content of any web page.
Monitor updates of text in MS Word, PDF, XLSX file, JSON, and DOCX.
It provides a REST infrastructure for 3rd party partners.
You can monitor dynamic pages.
Sken is one of the robust platforms out there for monitoring changes. It boasts of offering a perfect rendering engine for web pages, allowing better change detection and webpage screenshots. It features a popup blocker, time scheduler, and a chart preview tool for visualizing changes visually.
Key features:
With chroma extension, you can get change details in just a few clicks.
Data stored in the cloud can be fully synchronized with chrome extension and mobile application.
It provides a fully customizable scheduler to find change when you want.
You can delete an element that hides or blocks your content.
It shows a preview in the chart.
Get notification in your mobile application.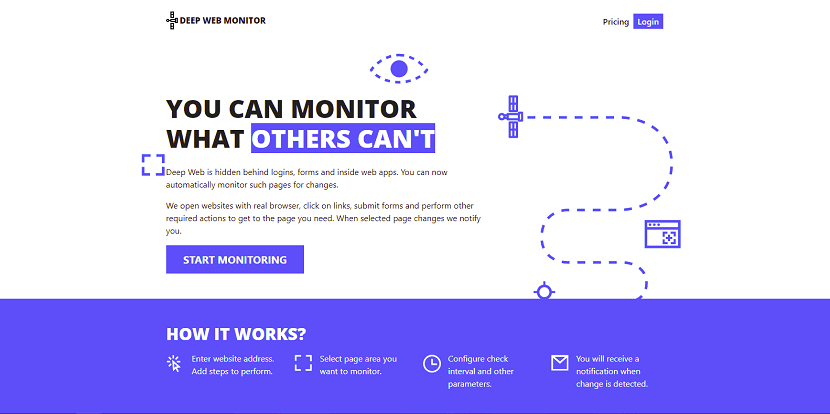 DeepWebMonitor is a web page change monitoring tool, which boasts of helping you to "monitor what others can't". Though it focuses on different terminology named deep web, it does similar to other tools. You can track changes, check at fixed intervals, receive notifications for detected changes, and more.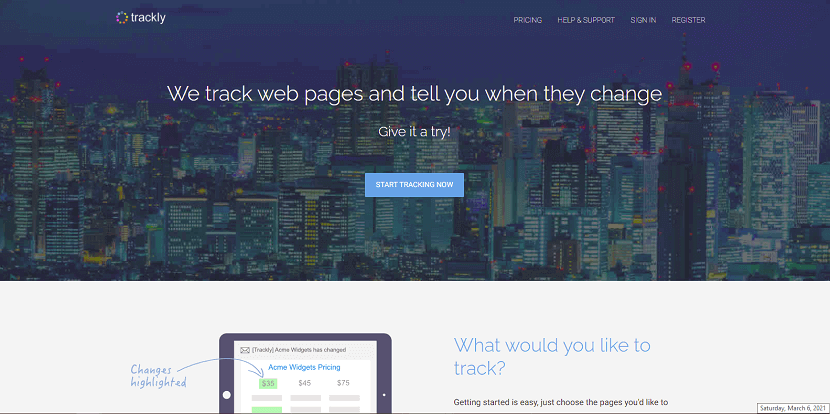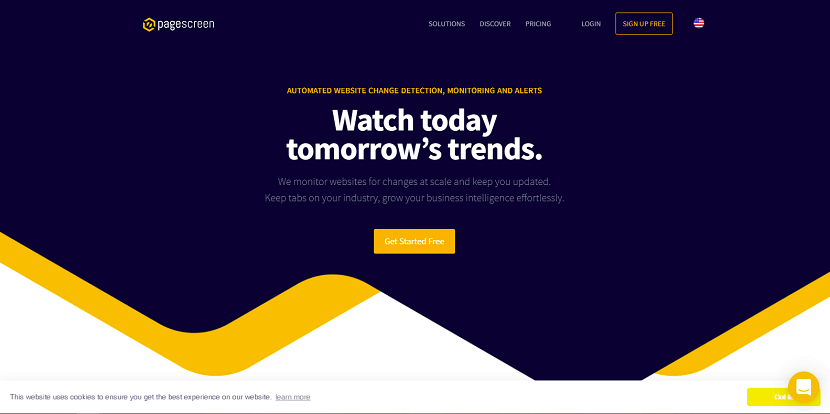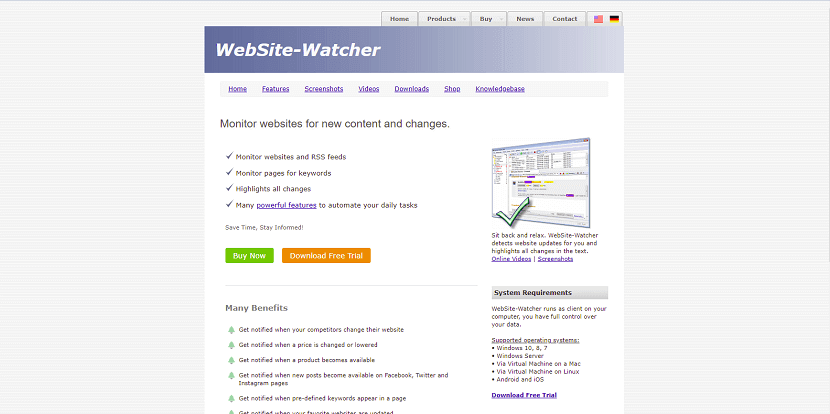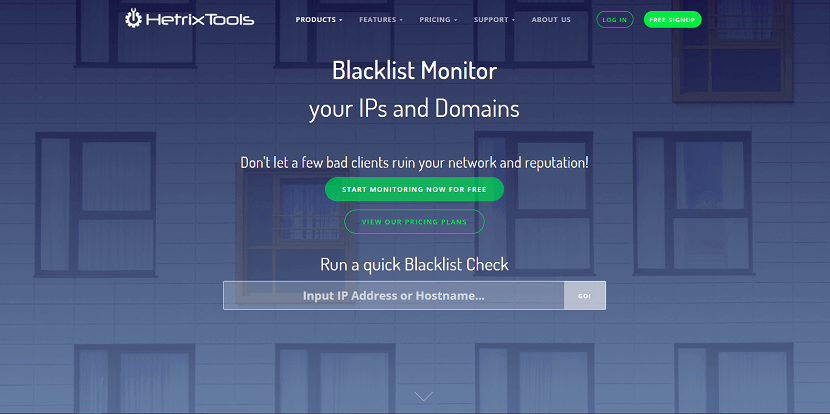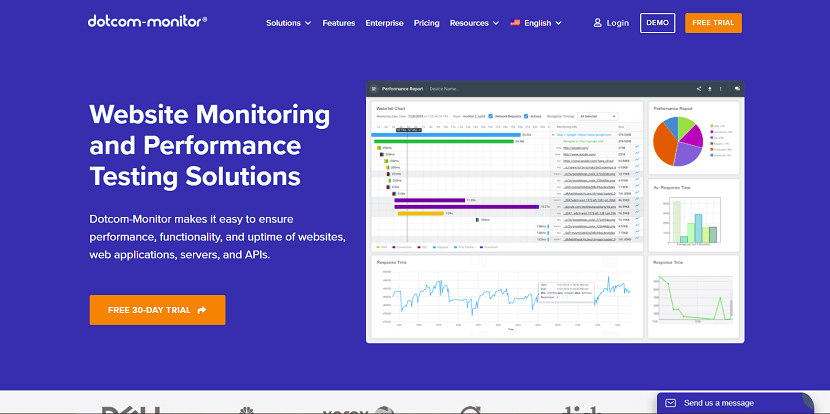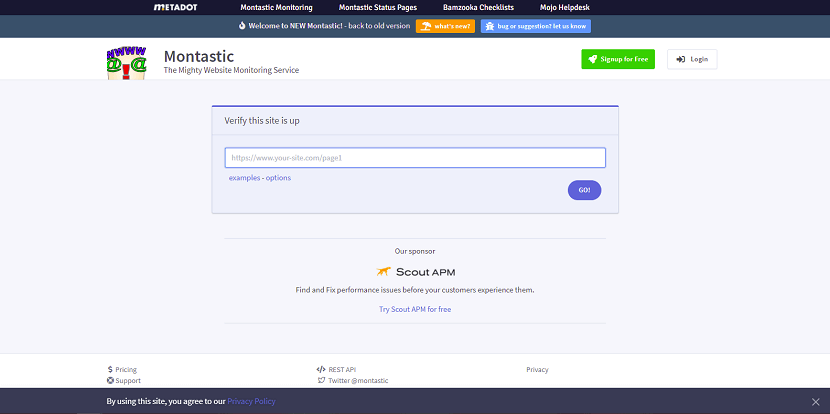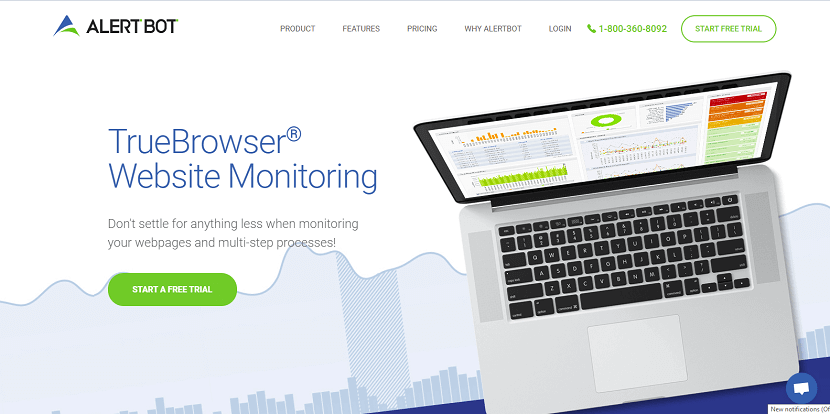 38. Happy Apps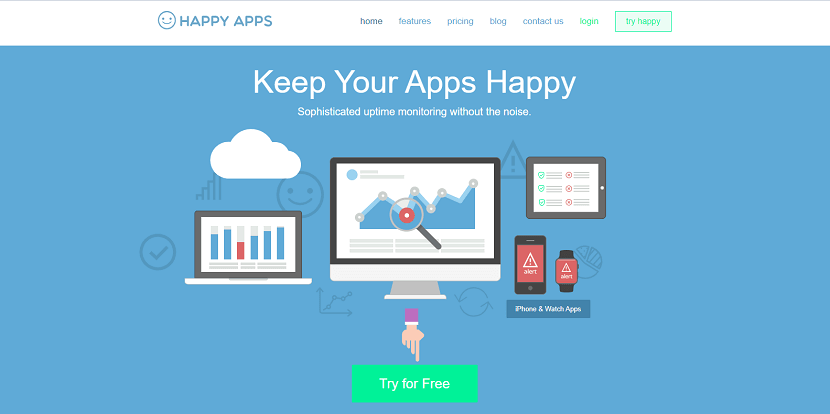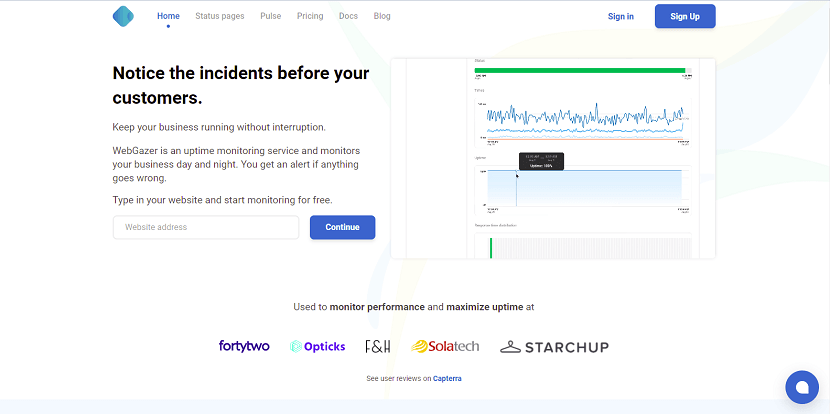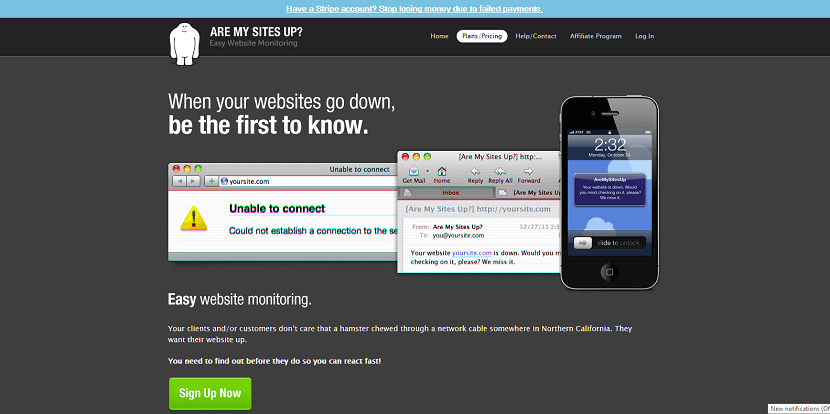 What's the Verdict? Which One Should We Pick?
There's no way to say which website monitoring service is better than the others because it all depends on what your goals are with your website.
From our experience, the best free options would probably be StatusCake and Uptime Robot. They have enough flexibility/features and can monitor your site at 5-minute intervals. So if you're just testing the waters and aren't sure if you really need one, go ahead and try them out.
The most bang for the buck you'd probably get from DotCom-Monitor, but we love the Pingdom user interface more, so it's completely up to you.
One thing is for sure – Premium website monitoring tools will offer more features and reliable data to help you improve your site. If you're serious about website monitoring, establish a budget so you can take advantage of these tools.
We're not saying that the free tools are bad, though. In fact, they're great if you don't need all the bells and whistles. You can start with one of the free tools mentioned here, and if you feel you need a look at the "bigger picture," consider a premium plan for monitoring your site performance.
45 Best Website Monitoring Tools | Free Online Website Monitoring Tools
45 Best Website Monitoring Tools | Free Online Website Monitoring Tools
If you find our article valuable, please think about sharing it on your social media platforms, as your single share can inspire us to continue creating informative and valuable content for you.