Last updated on November 20th, 2023 by RGB Web Tech
RGB Web Tech Mobile App Design Service is a comprehensive solution that brings your app vision to life. With a team of skilled designers, we specialize in creating user-friendly and visually stunning mobile app designs tailored to your specific needs. Through an iterative process, we collaborate closely with you to understand your target audience, business goals, and branding requirements. Our expertise in UI/UX design ensures seamless navigation, intuitive interfaces, and engaging user experiences. From wireframing and prototyping to final design delivery, we employ industry best practices and cutting-edge design tools to create captivating app designs that captivate users and drive business growth. Experience the power of exceptional mobile app design with us.
Benefits of Mobile App Design Service
Enhanced User Experience: A professional mobile app design service ensures that your app delivers a seamless and intuitive user experience. By focusing on user-centric design principles, such as clear navigation, logical flow, and intuitive interface elements, your app becomes easier to use, increasing user satisfaction and retention.
Brand Consistency: A well-designed mobile app reflects your brand identity consistently. Designers consider your brand guidelines, color schemes, typography, and visual elements to create a cohesive and recognizable app design. This strengthens your brand presence and builds trust among users.
Increased Engagement: A visually appealing and well-structured app design captures users' attention and encourages them to interact with your app. Engaging designs, including animations, microinteractions, and captivating visuals, create a memorable experience and keep users coming back for more.
Competitive Advantage: In today's saturated app market, a professionally designed app stands out from the crowd. A visually stunning and user-friendly interface differentiates your app, attracting more downloads and giving you a competitive edge over your competitors.
Faster Development: A well-designed mobile app with detailed wireframes and prototypes helps streamline the development process. Clear design specifications and documentation allow developers to understand the app's structure and functionality, resulting in faster and more efficient development cycles.
Higher User Adoption: An intuitive and visually appealing app design reduces the learning curve for new users, making it easier for them to adopt and engage with your app. This leads to higher user adoption rates and improved user satisfaction.
Future Scalability: A well-thought-out app design considers future scalability and allows for easy integration of new features and functionalities. This ensures that your app can evolve and adapt to changing user needs and technological advancements without compromising its design integrity.
Expertise and Industry Best Practices: Mobile app design services provide access to experienced designers who are well-versed in the latest design trends, standards, and best practices. Their expertise ensures that your app design is up-to-date, visually appealing, and optimized for a delightful user experience.
Cost and Time Savings: Investing in professional app design upfront saves you time and money in the long run. A well-designed app reduces the likelihood of costly redesigns and usability issues, resulting in faster development cycles and fewer revisions.
User Feedback and Iteration: Mobile app design services often include user testing and feedback gathering, allowing you to refine and improve your app design based on real user insights. This iterative approach ensures that your app meets the needs and expectations of your target audience, increasing its chances of success in the market.
Process of Mobile App Design Service
The process of mobile app design service typically involves the following stages:
Discovery and Research: In this initial phase, the design team collaborates with you to understand your app's goals, target audience, and overall vision. They conduct market research, analyze competitor apps, and gather user insights to inform the design strategy.
Wireframing and Prototyping: Based on the gathered information, the designers create wireframes, which are basic visual representations of the app's layout and structure. Wireframes help define the app's information architecture and user flow. Prototypes are then built to simulate the app's functionality and interactions, allowing for user testing and feedback.
Visual Design: Once the wireframes and prototypes are approved, the design team moves on to the visual design phase. They create a visually appealing and on-brand UI (User Interface) design, incorporating color schemes, typography, graphics, and other visual elements. Visual design focuses on creating an attractive and engaging user interface.
Iterative Design and Feedback: The design team collaborates closely with you, seeking your feedback and making necessary revisions throughout the design process. This iterative approach ensures that the app design aligns with your expectations and user requirements.
Design Handoff: Once the final design is approved, the design team prepares all the necessary assets and specifications for the development team. This includes style guides, design documentation, and any required graphical assets, ensuring a smooth transition from design to development.
Collaboration with Development Team: The design team works closely with the development team to ensure that the design vision is accurately implemented. They provide ongoing support and clarification during the development process, addressing any design-related queries or issues.
Quality Assurance and Testing: After the development is complete, the app undergoes thorough quality assurance testing to ensure that the design elements and user interface function as intended across different devices and screen sizes. Any necessary adjustments or bug fixes are made during this phase.
Launch and Post-Launch Support: Once the app passes all testing phases, it is ready for launch. The design team may provide post-launch support, monitoring user feedback and behavior to identify areas for further optimization and enhancements.
Industries We Serve for Mobile App Design Service
Our mobile app design service caters to a wide range of industries, including:
E-commerce
Health and Fitness
Travel and Tourism
Finance and Banking
Food and Beverage
Education
Entertainment
Real Estate
Transportation and Logistics
Social Impact
Package for Mobile App Design Service
Basic
Small Business
$

1299
Standard
Mid-Size Business
$

1599
Advanced
Large Business
$

1999
Why Choose RGB Web Tech?
There are several reasons to choose RGB Web Tech for your mobile app design service:
Expertise and Experience: RGB Web Tech has a team of skilled designers with extensive experience in mobile app design. They have successfully delivered design solutions for a diverse range of clients and industries.
User-Centric Approach: We prioritize the user experience and employ user-centric design principles to create intuitive and engaging app interfaces. Our designs focus on delivering seamless navigation, clear information hierarchy, and visually appealing aesthetics.
Customized Solutions: We understand that every client has unique requirements. Our team works closely with you to understand your specific needs, branding guidelines, and target audience to create customized app designs tailored to your business goals.
Iterative Process: We believe in an iterative design process that involves continuous collaboration and feedback from you. This ensures that your vision and expectations are met while allowing for flexibility and adjustments throughout the design journey.
Cutting-Edge Tools and Technologies: RGB Web Tech stays up-to-date with the latest design tools, technologies, and industry trends. We leverage industry-standard software and design frameworks to deliver high-quality, modern app designs.
Seamless Collaboration: We foster transparent and effective communication throughout the project. Our team actively engages with you, providing regular updates, seeking feedback, and addressing any concerns promptly.
Focus on Results: Our goal is to create app designs that not only look visually appealing but also deliver tangible results. We design with user engagement, conversion, and business growth in mind, ensuring that your app stands out from the competition.
Timely Delivery: We understand the importance of timely project delivery. Our team works diligently to meet project deadlines while maintaining the highest quality standards.
Client Satisfaction: Customer satisfaction is our top priority. We strive to exceed your expectations, offering exceptional service, and ensuring that you are satisfied with the final app design.
Comprehensive Services: RGB Web Tech offers a range of services beyond app design, including development, testing, and post-launch support. This allows for a seamless transition from design to development and ensures a holistic approach to your mobile app project.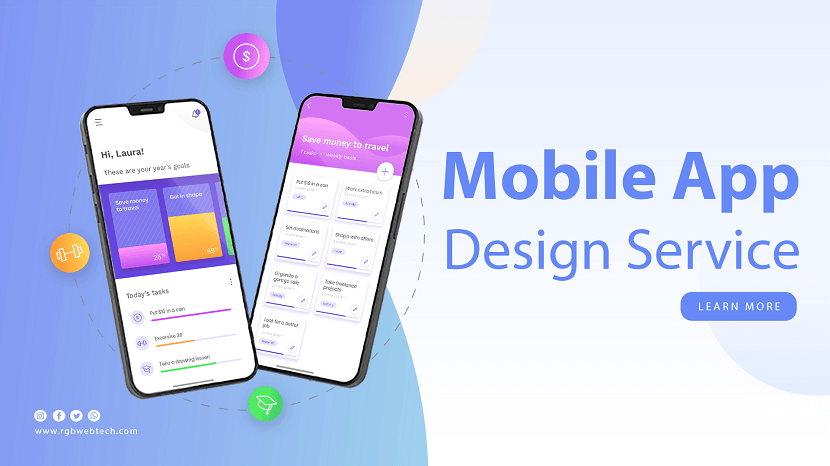 We're excited to discuss your design, development and marketing needs. Our team can bring your digital ideas to life. Let's create something amazing!
Written by RGB WEB TECH
Design, Development and Marketing Services
We are a Chandigarh-based company specializing in web design, web development, digital marketing, and mobile app development services, dedicated to crafting compelling online platforms. Our expertise lies in coding, responsive design, user interface, user experience, mobile app development, and digital marketing. Bring us your ideas, and we'll turn them into successful realities!