Last updated on November 20th, 2023 by RGB Web Tech
Social Media Marketing (SMM) Service is a dynamic and powerful strategy used by businesses to enhance their online presence, engage with their target audience, and drive meaningful results. Leveraging the influence of various social media platforms like Facebook, Instagram, Twitter, LinkedIn, and more, SMM aims to build brand awareness, generate leads, and foster customer loyalty. This service involves crafting compelling content, creating strategic ad campaigns, and monitoring analytics to optimize performance. SMM experts utilize audience segmentation and data-driven insights to tailor messages and maximize reach. With its ability to foster direct interaction and real-time communication, SMM service proves indispensable for businesses seeking to thrive in the digital era.
Benefits of Social Media Marketing (SMM) Service
Social Media Marketing (SMM) Service offers numerous benefits for businesses seeking to expand their online presence and connect with their target audience:
Increased brand awareness: SMM helps to reach a broader audience and expose your brand to potential customers, boosting brand recognition and recall.
Enhanced customer engagement: SMM enables direct interaction with your audience, fostering meaningful relationships and customer loyalty through personalized communication.
Targeted advertising: Social media platforms allow precise audience targeting based on demographics, interests, and behaviors, ensuring your ads reach the right people.
Cost-effectiveness: Compared to traditional advertising, SMM can be more affordable, making it an attractive option for businesses with limited marketing budgets.
Real-time feedback and analytics: SMM provides valuable insights through analytics, allowing you to measure campaign performance and adjust strategies for better results.
Increased website traffic: Engaging content on social media can drive traffic to your website, leading to potential conversions and sales.
Influencer marketing: Collaborating with influencers can help amplify your brand's message and reach a wider audience.
Global reach: SMM allows businesses to connect with audiences worldwide, transcending geographical barriers and expanding market reach.
Competitive advantage: A well-executed SMM strategy can set your brand apart from competitors, showcasing your unique value proposition.
Adaptability: Social media platforms are constantly evolving, providing opportunities to stay up-to-date with the latest trends and techniques for better engagement and outreach.
Process of Social Media Marketing (SMM) Service
The process of Social Media Marketing (SMM) Service involves several key steps to create and execute an effective strategy. Here's a general outline of the process:
Set Clear Objectives: Define your goals and objectives for the SMM campaign. Whether it's increasing brand awareness, driving website traffic, generating leads, or boosting sales, clear objectives will guide your strategy.
Audience Research: Conduct in-depth research to understand your target audience's preferences, behaviors, and pain points. This data will help tailor your content and messaging.
Choose Relevant Platforms: Identify the social media platforms where your target audience is most active. Focus your efforts on those platforms to maximize impact.
Content Strategy: Develop a content plan that aligns with your objectives and resonates with your audience. Content can include posts, images, videos, infographics, and more.
Content Creation: Produce high-quality and engaging content that reflects your brand's identity and voice. Ensure it's shareable and encourages interaction.
Content Publishing: Schedule your content for optimal times when your audience is most active. Use social media management tools to streamline posting.
Community Management: Monitor your social media channels for comments, messages, and mentions. Respond promptly, engage with your audience, and address any concerns.
Paid Advertising: Consider running paid advertising campaigns to boost your reach and target specific audience segments. Utilize platform-specific ad features for better results.
Influencer Collaboration: Collaborate with influencers in your niche to tap into their follower base and gain credibility.
Analytics and Tracking: Regularly analyze your social media metrics to measure the effectiveness of your campaigns. Use insights to make data-driven improvements.
A/B Testing: Experiment with different content types, headlines, and visuals to see what resonates best with your audience.
Continuous Optimization: Based on the data and insights gathered, continuously refine your strategy to improve results and adapt to changing trends.
Monitor Competitors: Keep an eye on your competitors' social media activities to stay informed and identify opportunities for improvement.
Social Listening: Monitor social media conversations related to your brand or industry to gain valuable feedback and insights.
Report and Evaluate: Prepare regular reports on the performance of your SMM campaigns and evaluate the progress towards achieving your objectives.
Industries We Serve for Social Media Marketing (SMM) Service
Our Social Media Marketing (SMM) Service caters to a diverse range of industries, recognizing that each sector has unique needs and target audiences. Some of the industries we serve include:
E-commerce
Technology
Healthcare
Hospitality and Travel
Fashion and Beauty
Automotive
Financial Services
Real Estate
Food and Beverage
Entertainment
Education
Non-profit and Social Causes
Professional Services
Fitness and Wellness
Home and Interior
Package for SMM Service
Basic
Small Business
$

999
Standard
Mid-Size Business
$

1499
Advanced
Large Business
$

1899
Why Choose RGB Web Tech?
Choosing RGB Web Tech for Social Media Marketing (SMM) Service offers a host of compelling reasons that set us apart as a top-notch provider in the industry:
Expertise and Experience: Our team comprises skilled SMM professionals with extensive experience across various industries. We possess a deep understanding of social media platforms and trends to devise effective strategies.
Tailored Solutions: We believe in a personalized approach, crafting SMM solutions that align with your specific business objectives, target audience, and industry dynamics.
Comprehensive Services: From content creation and scheduling to ad campaigns and influencer collaborations, we offer end-to-end SMM services to meet all your marketing needs.
Data-Driven Approach: We rely on data and analytics to make informed decisions, continually optimizing campaigns for better performance and return on investment.
Creative Content: Our team excels in creating engaging and shareable content that resonates with your audience, boosting brand awareness and driving meaningful interactions.
Result-Oriented Strategies: Our primary focus is on achieving tangible results for your business, whether it's increased website traffic, lead generation, or sales conversion.
Transparent Reporting: We provide regular and transparent reports on campaign performance, allowing you to track progress and make informed decisions.
Adaptability: We stay abreast of the ever-evolving social media landscape, ensuring our strategies remain relevant and effective in an ever-changing digital environment.
Customer-Centric Approach: Your satisfaction is our priority. We actively listen to your feedback and work collaboratively to tailor our services to your preferences.
Affordability: We offer competitive pricing and flexible packages, making our SMM services accessible to businesses of all sizes, including startups and SMEs.
Ethical Practices: We adhere to ethical SMM practices, ensuring your brand maintains a positive and trustworthy image online.
Excellent Support: Our dedicated support team is available to address any queries or concerns promptly, ensuring a smooth and seamless experience throughout our collaboration.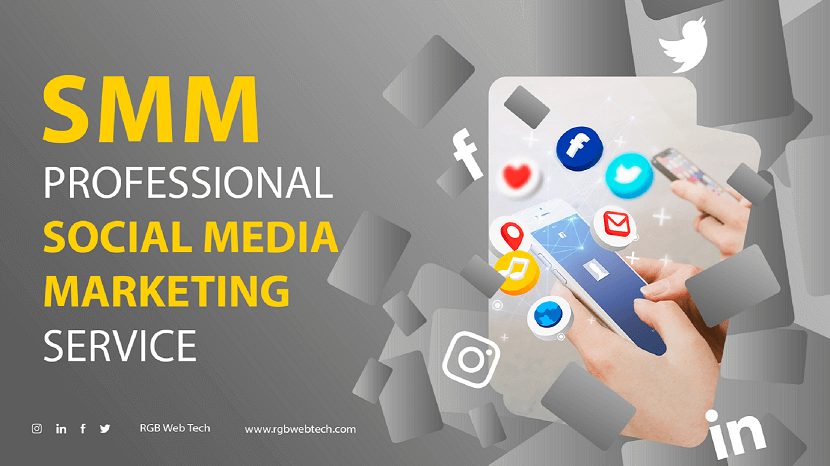 We're excited to discuss your design, development and marketing needs. Our team can bring your digital ideas to life. Let's create something amazing!
Written by RGB WEB TECH
Design, Development and Marketing Services
We are a Chandigarh-based company specializing in web design, web development, digital marketing, and mobile app development services, dedicated to crafting compelling online platforms. Our expertise lies in coding, responsive design, user interface, user experience, mobile app development, and digital marketing. Bring us your ideas, and we'll turn them into successful realities!