Employ the best web design company in India, with a team of highly skilled website designers.
If you are planning to launch a website for your business or blogs, then you need to hire the Best Website Design Company in India. RGB Web Tech offers affordable web design packages for website design service. Our web designing experts can provide you the best quality work at an affordable price.
Best Web Design Company in India
Get high quality websites at a fraction of the cost of what it will cost you locally.
We are the best web design company in India. Our web designers are highly experienced and work with the latest trends and techniques to ensure that you get the best website possible. We design websites that are both functional and visually appealing.
We also offer affordable web maintenance services. Our team of website designers can update your website to ensure that it is always up-to-date, secure and performing well in search engines. If you have an existing website, we can also maintain it for you at a fraction of what it will cost you locally.
Why do you need a website for your business?
There are many reasons why you might want to have a website for your business. For example, a website is a great way to increase your company's or blogs SEO and get more traffic to your company's and blogs website. A website is also a great way to showcase your company profile, portfolios and blogs. Finally, a website is also a great way to have a one-stop shop for all your customers. Here are some more reasons:
It's a great way to stay in touch with your customers and let them know about new products or services offerings.
It's a great way to generate new leads and receive feedback from your current customers.
A website provides information about your company and its products, which can help boost sales.
Offer in Web Design Service
We offer comprehensive Web design services for all types of businesses.
1. Mobile Friendly Design : Our team of experienced designers will work with you to create a website that looks great on any device, from smartphones to desktop computers.
2. Branding and Colors : We can help you to create a memorable and consistent branding experience for your customers across all of your web properties. We'll work with you to choose colors and fonts that reflect your brand.
3. Contact Us Form : We provide easy to fill contact us form so that customers can contact you via your website.
4. Easy to Edit : Whether you are adding a new blog post or updating your company's contact information, our backend makes it easy to make changes on your own.
5. Search Engine Optimized (SEO) : We use the latest techniques to make sure your website gets the best possible ranking on all search engines.
6. Website Speed Optimization : Our team of experts will work with you to create a website that is not only visually appealing but also loads faster for better user experience.
7. Calls to Action : We use proper Calls to Action (CTAs) in your site design to help guide your visitors to the information or action you want them to take.
8. Website Support : After the launch of the website, we provide 30 days of free technical support.
Web Design Process
Timely implementations backed with proven methodology
1. Gather Requirements : To minimize design iterations at the evaluation stage, clearly understanding needs & goals of web design projects is crucial. That's why we pay special heed on gathering project requirements and proactively inquire about the areas that clients may miss up-front.
2. Do a Trend Check : Once we have the initial inputs, we take time to research the niche or industry to understand the target audience, thus to realize the client's requirement first-hand. This enables us to decide which design standards and technology should be used for optimum results.
3. Create Wireframes : After visualizing the end result from the client's view-point, we brainstorm to design UX focused wireframes, lay a strong foundation for the actual designing process, and use the best wireframe tools to save valuable time.
4. Bringing Design Alive : As soon as our web designers get their hands on final wireframes, they quickly start bringing the design alive with HTML5 and CSS3 ensuring optimum implementation of colors, shapes, animation, and other design elements in the process.
5. Performance Check : Once the design is ready, we take it through rigorous rounds of user acceptance & compatibility testing in the real world scenario until we are sure the design will gel up well with end users and run seamlessly on different devices.
6. Going Live : After the testing work & design iterations are done, and the desired website design is achieved, we deploy it (considering everything is sound on the development and functionality end as well), transfer files to client's server; and the website is live.
Why choose RGB Web Tech for Web Designing Services?
Being one of the leading web designing companies in India, we offer a wide range of services to our clients. We work with our clients through every step of the process to make sure that every website we design meets their business goals.
1. High Converting Sites: We will work with you to build a website that both looks great and converts visitors into clients.
2. Successful 5+ Years Track Record in the Industry: We are one of the most respected web design companies in India.
3. SEO Friendly Design : We will work with you to make sure that your website looks great and functions properly, as well as adheres to all SEO best practices.
4. Wide Range of Package Options : We provide a variety of web design plans to meet your individual requirements.
5. Transparent Prices : We provide you with a transparent Web Designing Prices quote by breaking down each line item.
6. Excellent Customer Service Support : Our team of professionals is available 24/7 to help you with any question or problem that you may have.
Type of Web Design Services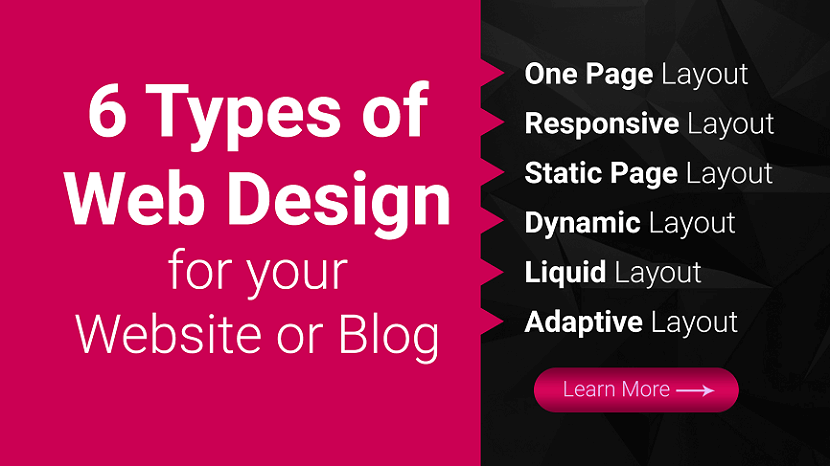 1. Single Page Website Design : As the name implies, single page website design uses only one page that users scroll down to find information about your products or services. With this design layout, you can have a "navigation menu" with links to specific points of your page.
2. Responsive Web Design : Next on our list of types of website design is responsive web design. This layout format is the most popular type, as it allows your site to accommodate all devices and fill the browser size perfectly. Responsive design is built with a mobile first approach.
You create your mobile layout first, and then you expand your website for bigger browser sizes. So instead of trying to trim down your website and make it smaller, you start small and build it bigger. You can see a great example of responsive design from Dropbox.
3. Static Web Design : Most basic type of website design is a Static Web Design. With this design, you build a website with pre-set page dimensions. It has a permanent width. Static web design sticks to these dimensions, regardless of the browser or device type.
Static layouts have phased out with the rise of mobile usage. Since these sites do not adapt to devices, they do not provide a positive user experience on smartphones or tablets. While static layouts are still an option, you typically do not want to use them unless you are creating a completely separate mobile version of your site.
4. Dynamic Website Design : When you are looking at a list of the types of web design, you'll see that dynamic website design is an option. Dynamic website design is great for people who do not have extensive HTML knowledge. These websites can deliver different content to website visitors, even if two separate people look at the same page.
5. Liquid Design Website : Liquid design website, also known as fluid design, uses flexible units rather than the fixed units static design uses. Since the units are flexible, the page will always fill the width with the device's screen, regardless of what device it is.
Because user experience is critical to your site driving and engaging traffic, liquid design has also started to phase out as a viable option for businesses. While you can still use this design, you risk delivering a poor user experience from your site stretching too far or squishing information together on the page.
6. Adaptive Website Design : Web design format you can use for your site is adaptive website layout. As the name implies, this website uses CSS queries to adjust the website's size to detect the size of the browser. Adaptive websites will automatically alter the website's design to provide the best user experience for visitors.
Affordable Website Design Packages
Basic
Small Business
$

1299
Standard
Mid-Size Business
$

1599
Advanced
Large Business
$

1999
FAQs for Web Design Services
1. How long will it take to build my new website?
Generally, it takes around 4-6 weeks to design and build a website. However, the time it takes to complete the project may vary depending on the complexity and size of the website.
2. How much does Web Design Service Cost?
The short answer is, it depends. It's impossible to give a general idea of how much a website will cost without looking at your specific needs and wants. The cost of web design services varies widely depending on the complexity of your site and the materials used to create it.
The most important thing to keep in mind when shopping around for a web design company is that you get what you pay for. While it is possible to find low cost web design services, it is often difficult to find high quality services at a low price. If you want a great website that is attractive and effective, you'll likely have to budget accordingly.
3. Can I update the website myself once it's been built?
Yes, you can easily update your website content yourself using the built-in content management system.
4. Should you hire a Professional Web Designer or Company?
There are many different types of companies that offer web design services, including those that are part of larger groups.
You can hire a professional design firm that specializes in website design and development, or you can hire a company that offers a wider range of services. Depending on your needs, either option could be a good fit. Hiring a design firm will give you more control over the design aspects of your site, while hiring a company that provides more services will save you time by taking care of other aspects of running a website, such as hosting and maintenance.
5. Will my website be optimized for SEO?
Yes, your website will be fully optimized for SEO. RGB Web Tech is a leading Web design and SEO company, and we know how to optimize websites for search engines. We'll make sure your website is easier to rank in Google and other search engines.
6. How to select a good Web Design Firm?
A great way to select a web design company is to work backwards from your desired outcome. What do you want your website to do for your business? What are the goals you want to achieve with it? Once you have a clear picture of what you want your website to do, you can start looking for a company that can help you get there.
It's a good idea to ask yourself some general questions as you begin your search, including What is the web design company's process for working with clients? Make sure that you are comfortable with their process and timeline. What are the web design company's credentials and experience? You want a company that has experience designing websites for businesses like yours. How would you describe the company's style? You want a site that reflects your brand and company culture.
7. How to select the right Web Design Firm for your business?
Now that you know what to look for, the next step is to actually get out there and start searching for design firms. There are a lot of options out there, so the best way to start is by asking friends and colleagues for recommendations. You could also check out industry associations for a list of recommended designers.
Once you've narrowed down your list, set up meetings or calls with each company to go over your goals and get a feel for their process. Finally, make sure you get a written estimate so that you have all the costs and expectations on paper before moving forward.
8. Will my website work on smartphones and tablets as well?
Yes, our website design services are responsive and will work on all devices, including smartphones and tablets.
If you have any queries please write to us an Email.