Last updated on November 20th, 2023 by RGB Web Tech
RGB Web Tech Cross-Platform App Development Service revolutionizes the way businesses reach their target audiences across diverse platforms effortlessly. With a team of seasoned developers, we create cutting-edge applications that run seamlessly on multiple operating systems, including iOS, Android, and Windows. By utilizing industry-leading frameworks like React Native, Flutter, and Xamarin, we ensure cost-effective development without compromising on performance or user experience. Our client-centric approach guarantees customized solutions tailored to specific business needs, saving valuable time and resources. We thrive on delivering high-quality, responsive, and scalable apps that not only elevate brand presence but also optimize user engagement. Embrace our Cross-Platform App Development Service for a competitive edge in the ever-evolving digital landscape.
Benefits of Cross-Platform App Development Service
Cross-Platform App Development Service offers numerous benefits that make it a popular choice for businesses seeking to build applications. Here are some key advantages:
Cost-Effectiveness: Developing a single codebase that works across multiple platforms significantly reduces development costs compared to building separate native apps for each platform.
Time Efficiency: A shared codebase allows for faster development and deployment, enabling businesses to reach their target audience quickly.
Wider Audience Reach: By supporting multiple platforms, cross-platform apps can reach a broader user base, maximizing the app's potential for success.
Consistent User Experience: Cross-platform frameworks ensure a consistent user interface and experience across different devices and platforms.
Easy Maintenance: Updating and maintaining a single codebase is simpler and requires less effort than managing multiple native codebases.
Access to Native Features: Modern cross-platform frameworks allow access to native device features, providing a rich and native-like user experience.
Flexibility for Changes: Cross-platform apps can be easily adapted to accommodate changes in the technology landscape and user preferences.
Reduced Development Complexity: The use of familiar programming languages and frameworks simplifies the development process for developers.
Enhanced Productivity: Teams can work collaboratively, streamlining development efforts and improving overall productivity.
Lower Learning Curve: Utilizing existing skills and knowledge in popular languages like JavaScript or C# reduces the learning curve for developers new to cross-platform development.
Faster Time-to-Market: By streamlining development and testing processes, cross-platform apps can be launched more quickly, gaining a competitive advantage.
Analytics and Reporting: Cross-platform development tools often provide comprehensive analytics and reporting, helping businesses understand user behavior and optimize their apps accordingly.
Process of Cross-Platform App Development Service
The process of Cross-Platform App Development Service involves several stages, from ideation to deployment. Here's a generalized outline of the typical process:
Ideation and Planning
Define the app's purpose, target audience, and core features.
Conduct market research and competitor analysis.
Create a detailed project plan and set milestones.
Design
Develop wireframes and prototypes to visualize the app's layout and flow.
Design the user interface (UI) and user experience (UX) to ensure an intuitive and engaging design.
Technology Stack Selection
Choose the most suitable cross-platform framework (e.g., React Native, Flutter, Xamarin) based on project requirements.
Development
Write code in the chosen programming language and framework to create the app's functionality.
Implement platform-specific components and access native features through plugins or modules.
Testing
Perform comprehensive testing to identify and fix bugs, ensuring the app's stability and usability.
Test the app on various devices and platforms to ensure compatibility.
Deployment
Package the app for respective app stores (e.g., Apple App Store, Google Play Store).
Follow the submission guidelines and requirements for each platform.
Post-Launch Support
Monitor app performance and user feedback to identify areas for improvement.
Provide regular updates and bug fixes to maintain the app's functionality and security.
Performance Optimization
Continuously optimize the app's performance to ensure fast load times and responsiveness.
Security Enhancements
Implement security measures to protect user data and prevent unauthorized access.
Analytics and Insights
Integrate analytics tools to gather data on user behavior and app performance.
Use insights to make informed decisions for further enhancements.
Scaling and Updates
Plan for app scalability as the user base grows.
Regularly update the app to add new features and improvements based on user feedback.
Industries We Serve for Cross-Platform App Development Service
Our Cross-Platform App Development Service caters to a diverse range of industries, providing innovative solutions tailored to their specific needs. Some of the industries we serve include:
E-Commerce and Retail
Healthcare and Fitness
Finance and Banking
Travel and Hospitality
Education and E-Learning
Real Estate
Entertainment and Media
Logistics and Transportation
Food and Delivery Services
Social Networking
Automotive
Manufacturing and Industrial
Non-profit and Social Impact
Gaming
Utilities and Productivity
Package for Cross Platform App Development Service
Basic
Small Business
$

1299
Standard
Mid-Size Business
$

1899
Advanced
Large Business
$

2499
Why Choose RGB Web Tech?
Choosing RGB Web Tech for Cross-Platform App Development Service offers numerous compelling reasons that set us apart from the competition:
Expertise: Our team comprises skilled developers with extensive experience in cross-platform app development using top frameworks like React Native, Flutter, and Xamarin.
Customized Solutions: We understand that each client's requirements are unique. Hence, we offer tailored solutions that align perfectly with their business objectives and target audience.
Proven Track Record: We have a successful track record of delivering high-quality, user-friendly, and feature-rich apps across diverse industries.
Innovation: We stay up-to-date with the latest trends and technologies in mobile app development, ensuring that our clients get innovative and cutting-edge solutions.
User-Centric Approach: User experience is at the heart of our development process. We focus on creating intuitive and engaging apps that delight users.
Cost-Effectiveness: Our cross-platform approach ensures cost savings without compromising on app performance and quality, making it an economical choice for businesses.
Agile Methodology: We follow agile development practices, enabling us to adapt to changing requirements and deliver faster results.
Transparent Communication: We maintain open and transparent communication with our clients throughout the development process, ensuring they are updated on project progress regularly.
Timely Delivery: We are committed to delivering projects on time, ensuring our clients can launch their apps as per their planned schedules.
Quality Assurance: Our rigorous testing processes ensure that the apps we develop are of the highest quality and free from critical bugs.
Security: We implement robust security measures to safeguard user data and ensure the app's overall security.
Post-Development Support: Our services extend beyond app deployment, as we offer ongoing support and maintenance to address any post-launch issues.
Client Satisfaction: Our primary goal is to achieve client satisfaction. We strive to exceed their expectations and build long-lasting relationships.
Confidentiality: We prioritize the confidentiality of our clients' projects and sensitive information, ensuring data privacy and protection.
Global Reach: We have successfully served clients from around the world, giving us a global perspective and understanding of diverse markets.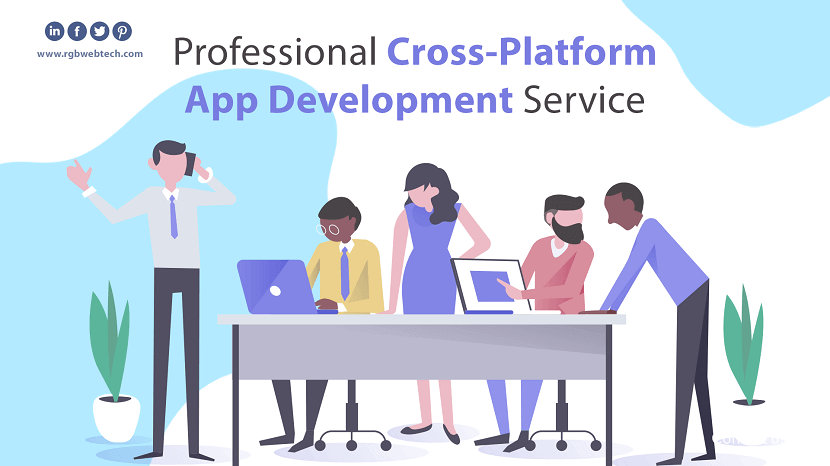 We're excited to discuss your design, development and marketing needs. Our team can bring your digital ideas to life. Let's create something amazing!
Written by RGB WEB TECH
Design, Development and Marketing Services
We are a Chandigarh-based company specializing in web design, web development, digital marketing, and mobile app development services, dedicated to crafting compelling online platforms. Our expertise lies in coding, responsive design, user interface, user experience, mobile app development, and digital marketing. Bring us your ideas, and we'll turn them into successful realities!