Last updated on November 20th, 2023 by RGB Web Tech
RGB Web Tech Custom App Development Service! We are a leading provider of tailor-made applications designed to cater to your specific business needs and objectives. With a dedicated team of skilled developers and designers, we specialize in crafting innovative and user-friendly applications across various platforms.
Our approach starts with understanding your unique requirements, goals, and target audience to ensure a seamless user experience. Whether you need a mobile app, web application, or software solution, we pride ourselves on delivering cutting-edge technology with precision and speed.
From conceptualization to deployment and ongoing support, we guarantee a collaborative and transparent process. Let us transform your vision into a fully functional and scalable app that empowers your business to thrive in today's dynamic digital landscape.
Benefits of Custom App Development Service
The benefits of Custom App Development Service are numerous and can significantly impact your business's growth and success. Here are some key advantages:
Tailored to Your Needs: Custom apps are built specifically to address your business requirements, ensuring a perfect fit for your unique processes and workflows.
Enhanced User Experience: Personalized design and features create an intuitive and user-friendly interface, increasing customer satisfaction and engagement.
Scalability: Custom apps can easily accommodate future expansions and updates, allowing your business to grow without limitations.
Security: Custom apps offer a higher level of security as they are built with your business's security needs in mind, reducing vulnerabilities.
Integration Capabilities: Custom apps can seamlessly integrate with existing software systems, enhancing efficiency and productivity.
Competitive Edge: Custom apps give you a competitive advantage by providing unique functionalities that are not available in off-the-shelf solutions.
Cost-Effectiveness: Over time, custom apps can save costs by reducing manual processes and streamlining operations.
Reliable Support: Custom app development services typically offer ongoing maintenance and support, ensuring your app stays up-to-date and functional.
Ownership and Control: You have complete ownership of the app and can modify it as needed, granting you full control over its evolution.
Innovation: Custom apps enable you to experiment with new technologies and features, fostering innovation within your business.
Process of Custom App Development Service
The process of Custom App Development Service involves several stages to ensure the successful creation and delivery of a tailored application. While the specific steps may vary depending on the development team and project scope, the typical process can be outlined as follows:
Requirements Gathering: The first step involves understanding your business objectives, target audience, and specific app requirements. The development team collaborates with you to gather detailed information about the app's features, functionalities, and design preferences.
Planning and Design: Based on the gathered requirements, the development team creates a comprehensive project plan, including timelines, milestones, and technology stack. The design phase involves creating wireframes and mockups to visualize the app's layout and user interface.
Development: The actual coding and development of the app take place in this stage. The developers follow industry best practices, coding standards, and use the chosen technology stack to build the application's front-end and back-end components.
Testing: Thorough testing is performed to identify and fix any bugs or issues. This includes functional testing, usability testing, performance testing, security testing, and compatibility testing across different devices and platforms.
Deployment: Once the app passes all quality checks, it is deployed to the production environment and made available to end-users. The deployment process includes configuring servers, databases, and other required resources.
Post-Launch Support: After the app goes live, the development team provides ongoing support, monitoring the app's performance, addressing any post-launch issues, and releasing updates as needed.
Maintenance and Upgrades: The app requires regular maintenance to ensure its smooth functioning, security, and compatibility with new devices and operating systems. Periodic upgrades and feature enhancements are also implemented based on user feedback and changing business needs.
Industries We Serve for Custom App Development Service
We take pride in offering Custom App Development Services to a wide range of industries, catering to their unique needs and challenges. Some of the industries we serve include:
Healthcare
Finance
E-commerce
Education
Real Estate
Logistics and Transportation
Hospitality
Manufacturing
Entertainment
Non-Profit and Social Impact
Utilities and Energy
Automotive
Package for Custom Mobile App Development Service
Basic
Small Business
$

1299
Standard
Mid-Size Business
$

1899
Advanced
Large Business
$

2499
Why Choose RGB Web Tech?
Choosing RGB Web Tech for Custom App Development Service comes with several compelling reasons that set us apart as a reliable and innovative partner:
Expertise and Experience: We boast a team of highly skilled and experienced developers who have a proven track record of successfully delivering custom app solutions across various industries.
Client-Centric Approach: We prioritize understanding your specific requirements and business objectives, ensuring that the final app aligns perfectly with your vision and needs.
Innovative Solutions: Our team stays updated with the latest technologies and industry trends, enabling us to offer cutting-edge and innovative app solutions to meet your business challenges.
Quality Assurance: We follow a rigorous testing process to ensure the app's functionality, performance, and security are of the highest quality, providing you with a reliable and bug-free product.
Transparency and Communication: Throughout the development process, we maintain open and transparent communication, keeping you informed about the project's progress and involving you in key decision-making.
Customization and Flexibility: We understand that each project is unique, and we tailor our services to suit your specific needs, providing a flexible approach that adapts to changes and updates.
Timely Delivery: We are committed to delivering projects on time without compromising on quality, ensuring that you can launch your app and start reaping its benefits as planned.
Cost-Effective Solutions: Our custom app development services are designed to provide excellent value for your investment, offering cost-effective solutions that meet your budgetary constraints.
Post-Launch Support: We offer ongoing support and maintenance services to ensure that your app remains up-to-date, secure, and optimized even after it goes live.
Client Satisfaction: Our ultimate goal is your satisfaction. We work hard to exceed your expectations, building a long-lasting and successful partnership.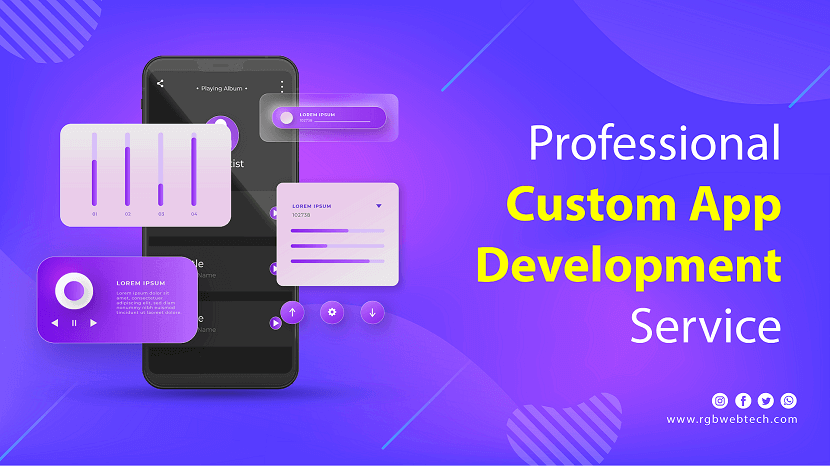 We're excited to discuss your design, development and marketing needs. Our team can bring your digital ideas to life. Let's create something amazing!
Written by RGB WEB TECH
Design, Development and Marketing Services
We are a Chandigarh-based company specializing in web design, web development, digital marketing, and mobile app development services, dedicated to crafting compelling online platforms. Our expertise lies in coding, responsive design, user interface, user experience, mobile app development, and digital marketing. Bring us your ideas, and we'll turn them into successful realities!