Last updated on November 20th, 2023 by RGB Web Tech
RGB Web Tech E-commerce App Development Service! In this fast-paced digital age, having a cutting-edge E-commerce app is essential for businesses to thrive. Our skilled team of experts specializes in creating tailor-made solutions that elevate your brand and drive exponential growth. From conceptualization to deployment, we diligently craft user-friendly and visually stunning apps, ensuring seamless browsing and secure transactions. Leveraging the latest technologies, we optimize performance and deliver exceptional user experiences across platforms. Whether you're a startup or an established enterprise, we cater to your unique needs, integrating robust features like inventory management, secure payment gateways, and real-time analytics. Stay ahead in the digital realm with our E-commerce app development prowess!
Benefits of E-commerce App Development Service
The benefits of E-commerce App Development Service are numerous and can significantly impact businesses and customers alike:
Increased Reach: E-commerce apps expand your market reach, allowing you to tap into a global audience, reaching customers beyond physical store limitations.
Enhanced Customer Experience: A well-designed app offers a seamless and personalized shopping experience, leading to higher customer satisfaction and loyalty.
Convenient Shopping: Customers can browse and purchase products anytime, anywhere, making the shopping process more convenient and flexible.
Mobile Commerce Growth: With the increasing use of mobile devices, an E-commerce app caters to the growing mobile commerce trend, ensuring you don't miss out on this large customer base.
Push Notifications: Real-time notifications keep customers updated about new products, promotions, or order statuses, increasing engagement and sales.
Improved Brand Visibility: Having an app dedicated to your brand enhances your visibility and brand recognition.
Enhanced Marketing Opportunities: Apps provide valuable data insights, enabling targeted marketing campaigns and personalized offers to boost sales.
Secure Transactions: A reliable E-commerce app implements robust security measures, ensuring safe and secure online transactions, building trust with customers.
Streamlined Inventory Management: Integrated inventory management features help businesses efficiently track and manage their product stocks.
Competitive Edge: Offering an E-commerce app sets you apart from competitors, establishing your business as modern and customer-centric.
Customer Feedback and Reviews: Apps enable customers to leave feedback and reviews, which can improve products and services based on valuable insights.
Loyalty Programs: Implementing loyalty programs through the app incentivizes repeat purchases, fostering long-term customer relationships.
Analytics and Insights: E-commerce apps provide valuable data and analytics, empowering businesses to make data-driven decisions for continuous improvement.
Cost-Effectiveness: The cost of maintaining an E-commerce app is often lower than operating physical stores, making it a cost-effective option for businesses.
Process of E-commerce App Development Service
The process of E-commerce app development involves several key steps, each crucial for creating a successful and user-friendly application. Here's an overview of the typical process:
Requirement Gathering: The first step is to understand the client's needs and objectives. The development team conducts meetings and discussions to gather all the necessary requirements, including features, target audience, and business goals.
Market Research and Competitor Analysis: A thorough analysis of the market and competitors helps in identifying trends, best practices, and potential opportunities for the app.
Planning and Strategy: Based on the gathered requirements and research, a comprehensive plan and strategy are developed. This includes defining the app's architecture, technology stack, development approach, and timeline.
Design and User Experience (UX): The app's visual design and user experience are critical for success. Designers create wireframes and prototypes to showcase the app's layout, navigation, and functionality, ensuring a smooth and intuitive user journey.
Development: The actual coding and development of the app take place in this phase. Developers build the front-end, back-end, and integrate all the necessary features, such as product catalog, shopping cart, payment gateway, and user authentication.
Testing: Rigorous testing is conducted to identify and rectify any bugs or issues. This includes functional testing, usability testing, security testing, and performance testing to ensure the app works flawlessly.
Deployment: Once the app passes all tests and meets the quality standards, it is deployed to the app stores (e.g., Apple App Store, Google Play Store) for public access.
Post-Launch Support: After deployment, the development team provides ongoing support and maintenance to address any issues and update the app with new features or security patches as needed.
Marketing and Promotion: To ensure the app reaches its target audience, marketing strategies are employed to promote the app and attract users. This can include app store optimization, social media marketing, and online advertising.
Analytics and Improvements: Post-launch, the app's performance is continuously monitored using analytics tools. Insights from user behavior help in making data-driven decisions for further improvements and updates.
Industries We Serve for E-commerce App Development Service
Our E-commerce App Development Service caters to a wide range of industries, offering tailored solutions to meet the unique needs of each business. Some of the key industries we serve include:
Retail and Consumer Goods
Fashion and Apparel
Electronics and Gadgets
Health and Wellness
Food and Beverage
Home and Furniture
Automotive and Accessories
Sports and Outdoor
Beauty and Cosmetics
Baby and Kids
Books and Publications
Jewelry and Luxury Goods
Office Supplies
Pet Supplies
Travel and Tourism
Package for Ecommerce App Development Service
Basic
Small Business
$

1299
Standard
Mid-Size Business
$

1899
Advanced
Large Business
$

2499
Why Choose RGB Web Tech?
Choosing RGB Web Tech for E-commerce App Development Service offers numerous compelling reasons that set us apart from the competition:
Expertise and Experience: We have a highly skilled team of app developers with extensive experience in creating successful E-commerce apps. Our expertise ensures the delivery of top-notch solutions that align with the latest industry standards.
Customized Solutions: We believe in tailoring our services to meet the unique requirements of each client. Our E-commerce apps are designed to reflect your brand identity, provide seamless user experiences, and meet your specific business goals.
User-Centric Approach: User experience is at the heart of our development process. We focus on creating intuitive, visually appealing, and easy-to-navigate apps that delight users and keep them engaged.
Cutting-Edge Technology: RGB Web Tech stays updated with the latest technological advancements. We leverage the most robust and efficient tools, frameworks, and technologies to ensure the app's performance, security, and scalability.
End-to-End Service: From ideation to deployment and beyond, we provide comprehensive E-commerce app development services. Our team handles every aspect, including design, development, testing, deployment, and ongoing support.
Time-Efficient Delivery: We understand the importance of timely project delivery. Our agile development methodology ensures that your E-commerce app is launched within the stipulated timeframe.
Competitive Pricing: Our pricing is competitive and transparent, tailored to suit your budget and requirements. We offer cost-effective solutions without compromising on quality.
Customer-Centric Approach: Customer satisfaction is our priority. We maintain open communication, actively seek feedback, and work collaboratively to ensure that the final product exceeds your expectations.
Security and Data Privacy: We implement stringent security measures to protect sensitive customer information and ensure secure transactions within the app.
Proven Track Record: Our portfolio showcases successful E-commerce apps that have positively impacted businesses and helped them achieve their objectives.
Ongoing Support: We offer continuous support and maintenance services to keep your app up-to-date and functioning optimally.
Transparent Communication: Throughout the development process, we keep you informed about progress, milestones, and any challenges, fostering a transparent and trustworthy partnership.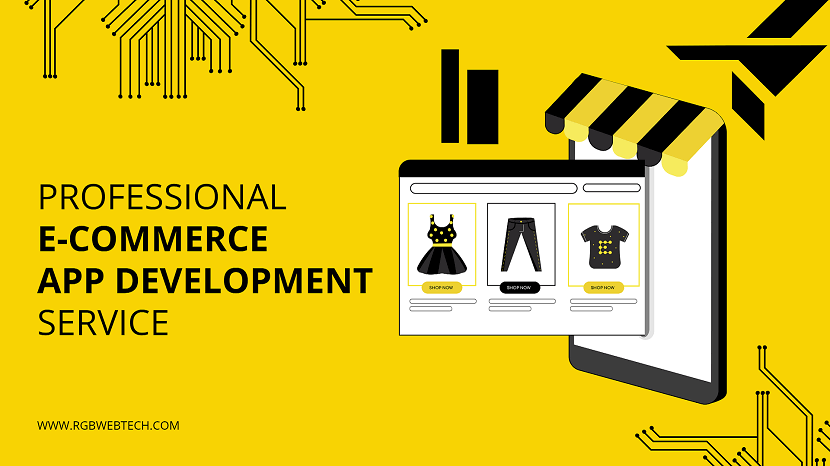 We're excited to discuss your design, development and marketing needs. Our team can bring your digital ideas to life. Let's create something amazing!
Written by RGB WEB TECH
Design, Development and Marketing Services
We are a Chandigarh-based company specializing in web design, web development, digital marketing, and mobile app development services, dedicated to crafting compelling online platforms. Our expertise lies in coding, responsive design, user interface, user experience, mobile app development, and digital marketing. Bring us your ideas, and we'll turn them into successful realities!