Last updated on April 14th, 2023 by RGB Web Tech
This is a complete guide to White Hat SEO. So if you want to rank your site to Google's first page (without breaking the rules), you'll love the strategies and tips in this guide. We've got a lot to cover, so let's get started.
This post reveals white hat techniques that can potentially double, triple, or even 10x your traffic from organic search.
To ensure the algorithms are functioning as intended, Google employs an army of Quality Raters.
They follow strict guidelines developed by Google to ensure the algorithm output matches the standards established for Page Quality and Needs Met. These guidelines are a must-read for anyone serious about building a top-performing website.
According to Google, their search algorithm looks at five key factors in determining which results appear at the top of their search results:
Meaning of your query.
Relevance of web pages.
Quality of content.
Usability of web pages.
Context and settings.
By addressing these five factors, you will be putting yourself in a position to outperform the competition.
What Is White Hat SEO?
White hat SEO is a term used to refer to SEO strategies that function within the rules and expectations of search engines and searchers. It means implementing techniques to improve a website's search engine ranking without relying on tricks to undermine a search engine's algorithm.
White hat SEO strategies focus on providing readers with high-quality and relevant content that optimizes user experience rather than using more spammy techniques, like duplicate content that's only optimized for search engines.
Advantages of white hat SEO
White hat SEO has several benefits for the operator:
Cost: In the long run, white hat SEO is cheaper than Black Hat SEO, as it is not necessary to repair violations that have been identified and penalized by Google. A typical example is the time-consuming, manual removal of spam links in blog comments or forums.
Ethics: Entrepreneurs opt for white hat SEO to justify their positioning in the SERPs to their visitors just for ethics reasons.
Security: Sites optimized with white hat SEO are secure against Google Penalties. Accordingly, the Damocles sword of sales failures occasioned by a penalty is not constantly hung over the website.
Consistency: The Rankings achieved are usually more stable and, in particular, long-term compared to pages optimized with unfair means, with the probability of penalties.
Problems with white hat SEO
The biggest problem of white hat SEO is its limited scope. Of course, search engine optimizers can do comprehensive on page optimization. With regard to OffPage Optimization, Technical SEO or Local SEO possibilities are very limited, if you don't want to end up on the black hat SEO bandwagon or at least gray hat SEO. Google forbids unnatural link building in its Webmaster Guidelines such as spam methods or link buying.
Another problem is the competition. If it uses gray or black hat SEO, the company itself is almost forced to use the same methods, lest it falls behind. It is difficult to overtake another highly-optimized website in the rankings just with pure white hat measures. However, if the website which was optimized with black hat methods is later penalized, it will have a very difficult time to catch up with a website that is optimized with very clean methods.
Moreover, the initial high cost is a barrier for many SEOs. The above-mentioned optimization work, which is allowed within the framework of white hat SEO, is very time-consuming and sometimes complex. Black hat SEO, on the other hand, is comparatively fast and can be performed more cost-effectively. In the long term, white hat SEO is more advantageous in terms of costs.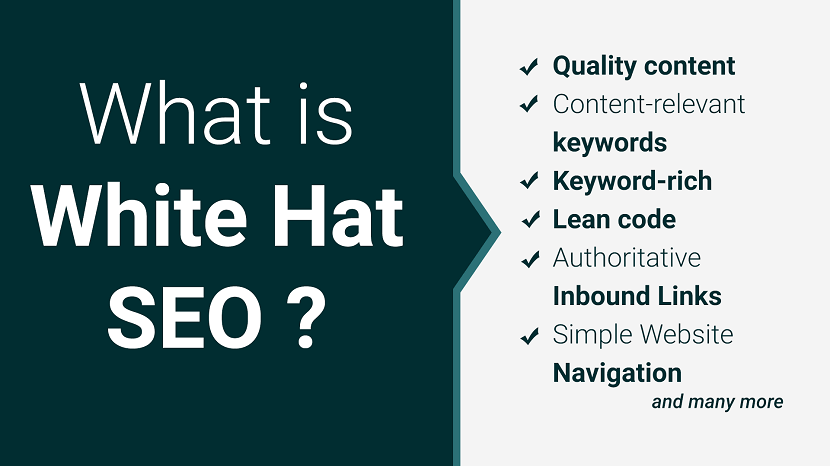 7 White Hat SEO Techniques
1. Quality content written for the benefit of the reader, not the search engine crawler, is the most crucial element of modern day SEO. It is the best way to be rewarded by search engines and how they rank your site or blog. Always remember that quality content is king!
2. Content-relevant keywords based on disciplined research around page content is mandatory. Also, pay attention to keyword usage. Stick to one primary keyword and 2 or 3 secondary/supporting keywords.
3. Keyword-rich page titles and metadata are also mandatory. It's easy to overlook or underestimate these areas, but optimization is low-hanging fruit for most sites.
4. Lean code and semantically structured markup language, including the use of keyword-rich heading elements on your pages, aid search engines in finding what they're looking for when crawling your site.
5. Authoritative inbound links that are gained organically versus paid links have become one of the most important elements in your SEO efforts. Attaining authoritative inbound links takes time and dedication, but the tremendous impact on how you rank in SERPs and increased overall site traffic make it well worth the effort.
6. Simple website navigation generally boosts where your site places in organic search rankings. It also helps visitors find what they need without getting frustrated, which is a win for potential conversions.
7. Fast page loading times is a necessity because, like simple navigation or mobile optimization, responsive sites don't frustrate visitors or encourage bounce. From an SEO standpoint, site speed is a search engine ranking signal. Sites that are slow in responding to visitor requests for whatever reason (large images, image carousels, etc.) generally rank lower in SERPs because the user experience is jeopardized. Be mindful of functionality and features and how they impact load times.
FAQs - White Hat SEO
1. What is White Hat SEO
White Hat SEO (WHS) is any on-page (and off-page) optimization activity aimed at increasing a website's visibility in search results and its attractiveness to users. White SEO activities must always correspond to Google's guidelines for webmasters. Read along to learn some white hat SEO techniques that will boost your website on the search engine results page.
‍
2. Is the White hat method approach to SEO legal?
Yes, it is ethical and not legally objectionable to use the White hat method approach to SEO.
3. Is White Hat SEO more preferred?
White Hat SEO is ethical and legally not objectionable Search Engine Optimization. Since it promotes positive ratings by a search engine, it is more preferred.
The Bottom Line
When we talk about SEO, the First thing that comes to our mind is On Page SEO, Off Page SEO, Technical SEO and Local SEO. But in the initial stage, newcomers do not know the techniques of SEO. These techniques ( White Hat SEO, Black Hat SEO, Gray Hat SEO and Negative SEO ) can rank your website in the search engine's first page or first position. But be careful about the wrong techniques. These techniques can also harm your website ranking or permanently ban on search engines. So before you get started using SEO make sure to read all about SEO techniques.
Enjoyed our blog? Spread the inspiration! Share on social media and fuel our passion for valuable content creation.