Last updated on April 14th, 2023 by RGB Web Tech
Off Page SEO is one of the essential parts of a successful SEO strategy. We'll share what it is, how it works, and how to use it to increase your site's visibility.
If you want your site to rank on Google and increase your brand's organic traffic, you'll need to look at On Page SEO, Technical SEO and Local SEO also.
But before you starting SEO also learn techniques of SEO ( White Hat SEO, Black Hat SEO, Gray Hat SEO and Negative SEO )
What is Off Page SEO?
Off Page SEO refers to all SEO tactics that do not involve updating or publishing content to your website.
In the past, many used "Off Page SEO" and "Link Building" interchangeably, but in reality, there are many Off Page SEO tactics you can use, including:
Brand Building
Citation Building
Content Marketing
Social Media, and more
These tactics help both search engines and users better understand your website and increase your site's authority, trust, and relevance.
Think of it like this:
Your website = On Page SEO
Another site or platform = Off Page SEO
Why is Off Page SEO important?
Think about Off Page SEO as building your site's domain authority. Without this, your site might struggle to outrank websites with higher authority.
Higher authority websites tend to rank better than those with low or no authority because search engines consider them more credible, relevant, and trustworthy.
You want to signal that many people trust, share, and reference your site to search engines. Links are one way to show that, but you can not focus on link building alone. There are many other Off Page SEO Techniques you can use—let's take a look at a few.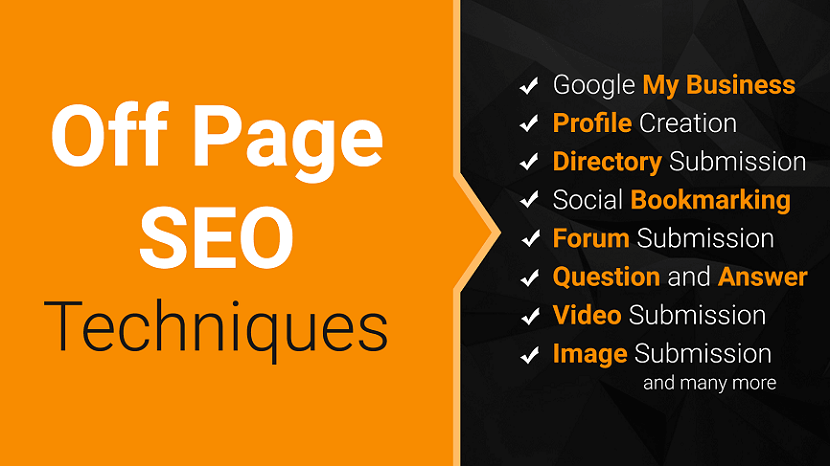 Top 20 Off Page SEO Techniques to increase Ranking and Domain Authority
Below are the tested and proven off page SEO techniques that can be implemented for all the niches to increase the website ranking and domain authority.
| Sr. No | Off Page SEO Techniques | Process | Link Value |
| --- | --- | --- | --- |
| 1 | Creating Shareable Content | Difficult | Great |
| 2 | Influencer Outreach | Moderate | Great |
| 3 | Contribute as Guest Author | Moderate | Great |
| 4 | Broken Link Building | Moderate | Great |
| 5 | Local Citation | Easy | Great |
| 6 | Convert Brand Mention | Easy | Great |
| 7 | Use Google My Business | Easy | Great |
| 8 | Strong Internal Linking | Easy | Good |
| 9 | Social Media Engagement | Easy | Good |
| 10 | Press Release | Moderate | Good |
| 11 | Web2.0 Submission | Moderate | Good |
| 12 | Social Bookmarking Sites | Easy | Average |
| 13 | Forum Submission | Easy | Average |
| 14 | Blog Directory Submission | Easy | Average |
| 15 | Article Submission | Easy | Average |
| 16 | Question and Answer | Easy | Average |
| 17 | Video Submission | Easy | Average |
| 18 | Image Submission | Easy | Average |
| 19 | Infographics Submission | Easy | Average |
| 20 | Document Sharing | Easy | Average |
1. Creating Shareable Content
Amazing content is always the KING in search engine optimization. Creating amazing and shareable content is a smart way to generate more and more natural backlinks to our website or blog. Research often and keep your content always fresh and updated.
Here's what we'll be talking about:
Find Out What's Trending
Engage With Your Community
Tie in Pop Culture
Use Lists
Write Long-Form Content
Interviews With Influencers
Include Images
Include Social Sharing Buttons
Write Killer Headlines
Create Outstanding Content
2. Influencer Outreach
If you have created any kind of share-worthy content, don't hesitate to reach out to relevant influencers and ask them to share. Tell them to check your blog and ask for linkbacks from their blog. Make sure you get the links from completely relevant domains.
Here are some tips for Influencer Outreach
Prior to Influencer Outreach, Research Top Candidates
Establish Connections with Your Potential Influencers
Contact Them About a Campaign
Be Clear About Your Expectations
Make the Partnership Mutually Beneficial
Create Great Content
Think Long Term: Nurture Your Relationships
3. Contribute as Guest Author
There are a number of good and quality blogs that are open for guest posts from various authors. Write an amazing research piece and reach them with the content for the guest posts. Don't focus on the number of links but rather focus only on quality links. Also, don't keep posting multiple times on the same guest blog site.
How to Attract Guest Authors to Your Site
Make Sure You are Consistently Producing New and Quality Content
Create Mutual Social Connections
Make Yourself Known Amongst That Writer's Circles
Have a Clear Set of "Write For Us" Guidelines on Your Site
Bring Up Any Way You Might be Connected
Show That You Really Know and Love the Author's Work
Offer Metrics About Your Website or Where You Plan to Take it in the Coming Months

4. Broken Link Building

Broken link building is a tactic that takes advantage of broken pages on the web. It involves finding a dead page and asking linkers to swap the links to a working page on your site. The idea is that they'll do this as they don't want to send visitors to a dead resource.

Broken link building is a four-step process.

cFind broken pages with backlinks
Vet the backlinks
Create a replacement page
Do outreach

5. Local Citation

A local citation is any mention of your business's name, address, and phone number online. Many SEOs believe they're a key ranking factor for local SEO.

Citations appear in lots of different places: business directories, social networks—anywhere someone might be looking for information about local businesses.

Creating the profiles from top-rated local citation websites like Google My Business, Yelp, G2, Capterra, and Crunchbase and getting the backlinks is the easiest off page SEO technique. Make sure you keep updating these profiles with the latest information about your brand. Try adding the services, images, and videos about your business.

Citations are useful for two main things:

Ranking higher for local search queries (maybe)
Helping people discover your business online

Two types of citations are there

Structured citations
Unstructured citations

How to build a citation?

Get listed with the data aggregators
Submit to other core sites
Submit to popular industry and local sites
Pursue unstructured citations

6. Convert Brand Mention

There are a lot of tools that can help you to find the unlinked brand mentions. Brand mention means other bloggers talk about your brand name on their website but without the reference link to your website. If you find any such brand mention, that is actually an opportunity for you. You can immediately connect with that brand mention author, say thanks for mentioning your brand and subtly ask for the clickable link.

7. Use Google My Business

Google My Business is another Google product for free. Optimize this platform for the best local SEO ranking. There are a number of places where you can smartly optimize the content and links; from that, we can generate a decent number of social traffic and brand awareness.

Best Tips for Google My Business

Have a proper description with 250 characters.
Make sure your primary is available in the first paragraph along with your city name.
Regularly update the posts or gallery or products or offers.
Keep watching your reviews and reply to them instantly.
Upload real photos under proper categories.

8. Strong Internal Linking

Content strategy is a must-have off page SEO technique this year to increase the ranking of the website. Content is nothing but adding the most important articles and news on your website and adding the proper citation links. This type of content strategy can give you an amazing opportunity to have optimized internal linking. Remember proper interlinking strategy will help you to increase the indexing rate of your website. Increasing the crawl rate and indexing rate will directly help you to increase the ranking of your new blogs and website pages

9. Social Media Engagement

A major Off Page SEO technique is social media engagement. If you want to make your business, website or blog popular, engage with people on multiple social media platforms. Social media presence will help grow your business and also help you get more backlinks.

10. Social Bookmarking Sites

Social bookmarking sites are one of the best platforms to promote your website. When you bookmark your webpage or blog post on popular social bookmarking websites, you gain high traffic to your webpage or blog.

11. Forum Submission

Participate in search forums which are related to your website and business and make a connection with that community. Reply to threads, answer people's questions and give your suggestions and advice. Make use of "Do-Follow" forums.

12. Blog Directory Submission

Directory Submission is constantly working to build quality backlinks. Choose an effective directory and select a proper category. It takes quite some time to deliver good results, but these results stand out over a longer time period.

13. Article Submission

Submit your articles in a high PR article submission directory. You can also give links to your website. Make sure your content is unique and of high quality. Low-quality content and content that has more keyword stuffing might get rejected. Choose the correct category and give a good title to your content.

14. Question and Answer

One of the best ways you can get high traffic is from question and answer websites. Join high PR question and answer sites and search for questions related to your business, blog or website and give clear answers to these questions. Give a link to your website which will help in bringing you more visibility.

15. Video Submission

If you want to make your videos popular, head to popular video submission sites. Give a proper title, description, tags and reference links. It is one of the more popular ways to get quality backlinks because all video submission websites have high PR.

16. Image Submission

Share your photos on popular image submission websites. Before submitting your images please optimize them with the correct URL and title tag. Before submitting your images, check if they have a proper title, description and tags.

17. Infographics Submission

Make creative infographics. These days, infographics are getting popular on the internet. Submit your infographics on infographics submission websites and give reference links to your webpage or blog. The image sizes differ with different websites.

18. Document Sharing

Create attractive documents relating to your business or blog. The documents should have unique content and should be in either pdf or ppt formats. Submit these documents to the document sharing websites.

19. Press Release

A press release is a document that announces a newsworthy story about your brand that the media might want to cover and provides all of the pertinent information a reporter or editor would need. Some outlets will share your news based solely on the press release.

20. Web2.0 Submission

Above all, Web2.0 is just another technique where we can create subdomains in high domain authority websites. For example, medium.com, tumbler, blogger, wordpress etc.,

Best Tips for web2.0:

Keep sharing the great content
Update the site regularly
Build a backlink for a published article

FAQs - Off Page SEO

1. What is Off Page SEO?

"Off Page SEO" (also called "Off Site SEO") refers to actions taken outside of your own website to impact your rankings within search engine results pages (SERPs). Along with

On Page SEO

, these include several of the factors of basic SEO that help a site to rank.

2. Why do you need Off Page SEO?

Off Page SEO helps build a website's recognition and domain authority. Without it, your site will continually rank below other websites that already have a more substantial lead. While links are not the only Off Page SEO signals that Google's algorithm applies to rank a site, it is perhaps the most vital of the lot

3. What is the most important part of Off Site SEO?

Backlinks are perhaps the most critical part of Off Page SEO. Why? Because Google search is built on something called PageRank: an algorithm that looks at the quantity and quality of backlinks pointing to a web page.

Final Thoughts

Off Page SEO has its own importance, but don't forget about the On Page SEO, Technical SEO and Local SEO. No matter how strong your Off Page SEO is, without proper On Page SEO you may not get a higher ranking in SERPs. You need to have a fast loading website, and SEO optimized hosting can help you to achieve that.

And, the list does not end here! There are many more areas to explore by yourself. Keep one thing in mind: the more high authority websites you have referring to you and talking about you, the more chance you have to rank higher.

Enjoyed our blog? Spread the inspiration! Share on social media and fuel our passion for valuable content creation.