Last updated on March 25th, 2023 by RGB Web Tech
RGB Web Tech Banner Design Service, where creativity meets impact! In today's visually-driven world, a captivating banner is the key to grabbing attention, conveying your message, and leaving a lasting impression. Our team of skilled designers understands the power of visual communication, and we are dedicated to crafting stunning banners that resonate with your audience. Whether it's for a website, social media platform, or offline promotion, we combine artistic flair with strategic thinking to deliver designs that seamlessly blend aesthetics and functionality. From eye-catching visuals to compelling typography, our banner designs are tailored to elevate your brand and amplify your marketing efforts. Let us bring your vision to life with our exceptional Banner Design Service.
Benefits of Banner Design
Professional and Eye-Catching Design: Banner design services provide access to professional graphic designers who have expertise in creating visually appealing and eye-catching banners. They have the skills to create designs that effectively convey your message, capture attention, and leave a lasting impression on your target audience.
Customization and Branding: A banner design service enables you to customize your banners according to your specific requirements. Designers can incorporate your brand elements such as logos, color schemes, and fonts to maintain consistency with your overall branding strategy. This ensures that your banners align with your brand identity and reinforce brand recognition.
Enhanced Visibility and Brand Awareness: Well-designed banners can significantly increase your visibility and help boost brand awareness. By strategically placing banners in high-traffic areas or online platforms, you can attract the attention of potential customers and create a memorable impression. This increased visibility can lead to greater brand recognition and improved recall when consumers are making purchasing decisions.
Effective Communication: Banners are an effective medium for communicating key messages or promoting specific products, services, or events. With the help of professional designers, you can convey your message in a visually appealing and concise manner. Clear and compelling messaging on banners can help generate interest, inform your audience, and encourage them to take the desired action.
Versatility and Adaptability: Banners can be used across various marketing channels and platforms, both online and offline. They can be printed in different sizes for physical display or optimized for digital platforms such as websites, social media, or email marketing. This versatility allows you to reach your target audience through multiple channels, increasing the reach and effectiveness of your marketing campaigns.
Cost-Effectiveness: Banner design services are often cost-effective compared to hiring an in-house designer or attempting to create designs yourself. Outsourcing banner design allows you to leverage the expertise of professional designers on a project basis, reducing overhead costs associated with hiring and training an in-house team.
Time Savings: Designing an impactful banner requires time, creativity, and technical skills. By utilizing a banner design service, you can save time and focus on other core aspects of your business. Professional designers can quickly understand your requirements, conceptualize designs, and deliver the final product within a specified timeframe.
Process of Banner Design
Requirement Gathering: The process begins with a consultation or discussion between the client and the design service provider. During this stage, you will communicate your requirements, including the purpose of the banner, target audience, preferred style or theme, key messages, branding guidelines, and any specific design elements or imagery you want to include.
Concept Development: Based on the information gathered, the design team will begin the concept development phase. They will brainstorm ideas, explore different design options, and create initial sketches or mock-ups to present to you. This stage is crucial for aligning the design concept with your expectations and ensuring that the design captures the essence of your brand and message.
Design Creation: Once the design concept is approved, the designers will move on to creating the actual banner design. They will use professional design software and techniques to bring the concept to life. This includes selecting appropriate colors, typography, imagery, and layout to create an engaging and visually appealing banner.
Review and Revisions: After the initial design is completed, you will have the opportunity to review and provide feedback. You can discuss any changes or revisions you would like to make to the design. The design team will incorporate your feedback and make necessary adjustments to refine the banner design.
Finalization and Approval: Once the revisions are made, the final version of the banner design is prepared. You will have the opportunity to review the final design and give your approval. It is essential to carefully review the design at this stage to ensure it meets your expectations and aligns with your branding guidelines.
Delivery: Upon receiving your approval, the design service provider will deliver the final banner design to you in the required format. This can include digital files suitable for online use or print-ready files for physical banners. The files will be provided in a format that allows for easy integration into your marketing channels or printing processes.
Industries We Serve for Banner Design
E-commerce and Retail
Technology and IT
Hospitality and Travel
Health and Wellness
Finance and Banking
Education and E-learning
Real Estate and Construction
Package for Banner Design Service
Standard
Mid-Size Business
$

45
Advanced
Large Business
$

60
Why Choose RGB Web Tech?
Expertise and Experience: RGB Web Tech has a team of highly skilled and experienced designers who specialize in creating visually appealing and engaging banners. They understand the importance of creating designs that effectively communicate the desired message and capture the attention of the target audience.
Customized Designs: RGB Web Tech takes a personalized approach to banner design, ensuring that each design is tailored to the specific needs and preferences of the client. They collaborate closely with their clients to understand their branding, objectives, and target audience, and then create unique and customized designs that align with these requirements.
Attention to Detail: RGB Web Tech pays great attention to detail in their banner design process. They focus on creating designs that are not only aesthetically pleasing but also technically optimized for web use. This includes considerations such as file size optimization for faster loading, responsive design for different devices, and adherence to industry best practices.
Timely Delivery: RGB Web Tech understands the importance of meeting deadlines. They strive to deliver high-quality banner designs within the agreed-upon timeframe, ensuring that clients can launch their campaigns or promotions on schedule.
Affordable Pricing: RGB Web Tech offers competitive pricing for their banner design services, making it accessible to businesses of all sizes. They provide transparent pricing structures without any hidden costs, allowing clients to budget effectively for their design needs.
Customer Satisfaction: RGB Web Tech has a track record of providing excellent customer service and ensuring client satisfaction. They actively listen to their clients' feedback, make revisions as needed, and work collaboratively to achieve the desired outcome. Their commitment to customer satisfaction sets them apart as a reliable and trustworthy partner for banner design services.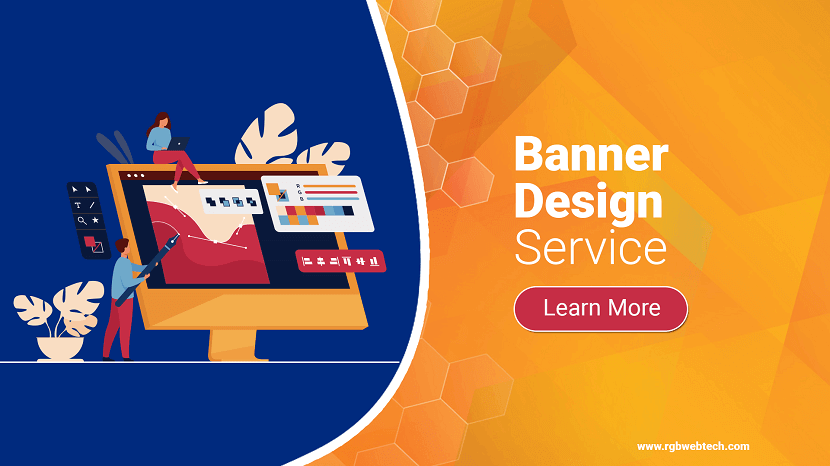 We're excited to discuss your web design & development needs. Our team can bring your digital ideas to life. Let's create something amazing!