Last updated on November 20th, 2023 by RGB Web Tech
RGB Web Tech professional brochure design service! We are passionate about creating captivating brochures that leave a lasting impression on your audience. With our expertise in graphic design and marketing, we understand the power of a well-designed brochure in conveying your brand's message effectively. Our team of talented designers will work closely with you to bring your vision to life, combining visually stunning elements with persuasive content to engage your target market. Whether you need a brochure for a product launch, corporate event, or informational purposes, we have the skills and creativity to deliver a brochure that exceeds your expectations. Trust us to make your brand stand out with our exceptional brochure designs.
Benefits of Brochure Design
Professionalism: A brochure design service provides access to experienced graphic designers who possess the necessary skills and expertise to create high-quality brochures. They understand design principles, typography, color theory, and layout techniques to ensure your brochure looks polished and professional.
Customization: A brochure design service allows you to tailor your brochure to meet your specific needs. Designers can work closely with you to understand your objectives, target audience, and branding guidelines, and then create a customized design that aligns with your vision and goals.
Effective Communication: Brochures serve as an effective communication tool, allowing you to convey information about your products, services, or organization in a concise and visually engaging manner. A professional brochure design service can help you structure your content effectively, select appropriate visuals, and create a design that captures the attention of your target audience.
Brand Consistency: A brochure design service can ensure consistency with your brand identity. Designers can incorporate your logo, color palette, typography, and other branding elements into the brochure design, reinforcing your brand and enhancing recognition among your target market.
Creativity and Innovation: Professional designers bring creativity and innovation to the table. They can generate unique design concepts and visual solutions that make your brochure stand out from the competition. Their expertise allows them to think outside the box and create engaging designs that captivate readers.
Time and Cost Efficiency: Outsourcing brochure design to a professional service saves you time and effort. Instead of spending hours trying to create a brochure yourself, you can rely on skilled designers who can efficiently develop a high-quality design within a shorter timeframe. This allows you to focus on your core business activities. Additionally, a brochure design service can help you avoid costly mistakes that may arise from amateur design attempts.
Print-Ready Files: A reliable brochure design service will provide you with print-ready files, ensuring that your brochures can be reproduced accurately by printing companies. They understand the technical specifications required for printing and can deliver files in the appropriate formats, resolutions, and color profiles.
Expert Advice: Working with a professional brochure design service gives you access to expert advice and guidance throughout the design process. Designers can offer insights on design trends, layout options, and effective marketing strategies. Their expertise can help you make informed decisions and maximize the impact of your brochure.
Process of Brochure Design
Client consultation: The designer meets with the client to discuss their goals, objectives, target audience, content requirements, and any specific preferences or ideas they have for the brochure. This helps the designer understand the client's vision and requirements.
Research and planning: The designer conducts research on the client's industry, competitors, and target market to gain insights and inspiration. They also consider the brochure's purpose, format, size, and distribution channels. Based on this information, they develop a creative brief and an initial design concept.
Content gathering: The client provides the necessary content for the brochure, including text, images, logos, and any other relevant materials. If needed, the designer may also assist the client in copywriting or image selection to ensure the content aligns with the brochure's objectives.
Design concept development: Using the creative brief and the client's input, the designer creates multiple design concepts for the brochure. These concepts include different layouts, color schemes, typography choices, and overall visual styles. The designer presents these concepts to the client for feedback and refinement.
Design refinement: Based on the client's feedback, the designer revises and refines the chosen design concept. This involves tweaking the layout, adjusting colors and typography, and integrating the provided content into the design. The goal is to create a cohesive and visually appealing brochure that effectively communicates the desired message.
Proofing and approval: The designer prepares a final proof of the brochure, which includes all the refined design elements and the client's content. The client reviews the proof and provides feedback for any necessary revisions. This feedback may include changes to the text, images, or overall design. Once the client approves the final proof, the design moves to the production stage.
Production and printing: In this stage, the finalized design is prepared for printing. The designer ensures that the design meets the technical requirements for printing, such as resolution, color mode, and bleed. They may work with a printing vendor or provide the client with the necessary files to handle the printing themselves.
Delivery: After the printing process is complete, the brochures are either delivered to the client or directly distributed to the target audience, depending on the agreed-upon arrangements. The designer may assist in coordinating the delivery or distribution, ensuring that the brochures reach the intended recipients.
Industries We Serve Brochure Design
E-commerce and Retail
Technology and IT
Hospitality and Travel
Health and Wellness
Finance and Banking
Education and E-learning
Real Estate and Construction
Package for Brochure Design Service
Standard
Mid-Size Business
$

100
Advanced
Large Business
$

150
Why Choose RGB Web Tech?
Professional Expertise: RGB Web Tech has a team of experienced and skilled graphic designers who specialize in brochure design. They have a deep understanding of design principles, typography, color schemes, and layout techniques to create visually appealing and impactful brochures.
Customized Designs: RGB Web Tech takes a personalized approach to brochure design. They work closely with their clients to understand their specific requirements, target audience, and branding guidelines. This allows them to create custom designs that align with the client's vision and effectively communicate their message.
Creative and Innovative Designs: RGB Web Tech prides itself on its ability to deliver creative and innovative brochure designs. They stay updated with the latest design trends and techniques, ensuring that the brochures they create are modern, eye-catching, and stand out from the competition.
Attention to Detail: RGB Web Tech pays meticulous attention to detail in every aspect of the brochure design process. From the choice of fonts and images to the placement of text and graphics, they ensure that every element is carefully considered and optimized for maximum impact.
Timely Delivery: RGB Web Tech is committed to delivering high-quality brochures within the agreed-upon timeframe. They understand the importance of timely delivery, especially when brochures are needed for marketing campaigns or events.
Affordable Pricing: RGB Web Tech offers competitive and transparent pricing for their brochure design services. They provide value for money by delivering top-notch designs at reasonable rates, making their services accessible to businesses of all sizes.
Customer Satisfaction: RGB Web Tech prioritizes customer satisfaction. They strive to exceed client expectations by providing responsive customer support, incorporating feedback into the design process, and ensuring that the final product meets the client's requirements.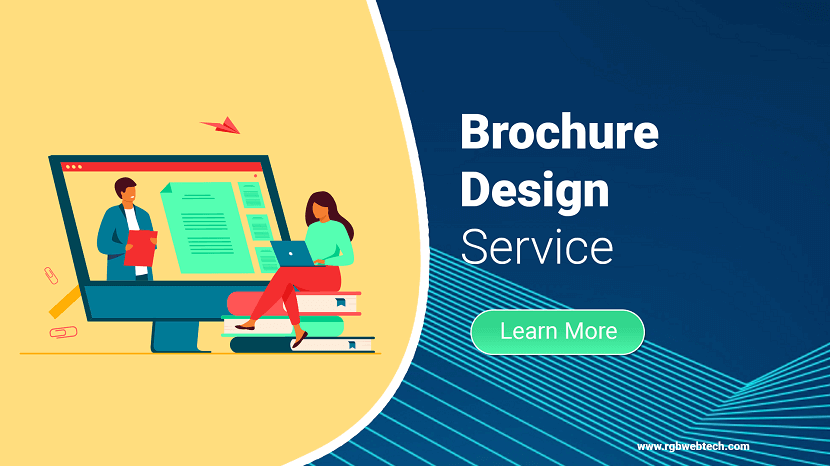 We're excited to discuss your design, development and marketing needs. Our team can bring your digital ideas to life. Let's create something amazing!
Written by RGB WEB TECH
Design, Development and Marketing Services
We are a Chandigarh-based company specializing in web design, web development, digital marketing, and mobile app development services, dedicated to crafting compelling online platforms. Our expertise lies in coding, responsive design, user interface, user experience, mobile app development, and digital marketing. Bring us your ideas, and we'll turn them into successful realities!