Last updated on March 25th, 2023 by RGB Web Tech
RGB Web Tech Drupal Development Service! As a leading provider in the industry, we pride ourselves on delivering innovative and scalable solutions using Drupal, a powerful open-source content management system. With years of experience, our team of skilled developers ensures seamless development, customization, and optimization of Drupal websites and applications to meet your specific business requirements.
Our comprehensive Drupal services encompass everything from initial consultation and planning to design, development, and ongoing maintenance. Whether you need a simple blog, a robust e-commerce platform, or a complex enterprise website, we've got you covered. Our dedication to quality, security, and performance ensures that your digital presence will flourish on the Drupal platform. Partner with us today and unlock the full potential of Drupal for your online success!
Benefits of Drupal Development Service
Drupal Development Service offers numerous benefits for businesses and organizations seeking to build and maintain their digital presence. Here are some key advantages:
Open-source platform: Drupal is a free and open-source content management system, meaning there are no licensing costs. This reduces overall development expenses, making it a cost-effective choice.
Flexibility and scalability: Drupal's modular architecture allows developers to create custom solutions that adapt to evolving business needs. It scales effortlessly, handling both small websites and large, complex applications.
Extensive community support: With a vast community of developers, designers, and contributors, Drupal benefits from continuous updates, security enhancements, and a rich collection of modules and themes.
SEO-friendly: Drupal is optimized for search engines, enabling better visibility and higher rankings on search result pages, leading to increased organic traffic.
Security features: Drupal prioritizes security and regularly releases updates to address vulnerabilities, making it a reliable choice for websites that handle sensitive data.
Multilingual capabilities: It offers built-in multilingual support, allowing businesses to reach a global audience and cater to users in multiple languages.
Mobile responsiveness: Drupal ensures that websites and applications are mobile-friendly, delivering a consistent user experience across various devices.
Content management: The platform offers a user-friendly interface for content creation, editing, and publishing, empowering non-technical users to manage their websites easily.
Integration capabilities: Drupal easily integrates with third-party tools and services, enabling seamless connections with other systems like CRM, marketing automation, and social media.
Rapid development: By leveraging existing modules and templates, Drupal accelerates development timelines, reducing time-to-market for projects.
Community support: Drupal boasts a vibrant community where developers, designers, and users actively collaborate, share knowledge, and provide solutions to challenges.
Customization: With Drupal, businesses can achieve a unique and tailored online presence that aligns perfectly with their brand identity and requirements.
Process of Drupal Development Service
The process of Drupal Development Service involves several stages, each crucial for delivering a successful and functional website or application. Here's an overview of the typical process:
Requirement Gathering: In this initial phase, the development team collaborates with the client to understand their business goals, target audience, and specific requirements for the Drupal project. Clear communication and thorough discussions help in defining the project scope and objectives.
Planning and Architecture: Based on the gathered requirements, the development team creates a comprehensive plan and architectural blueprint for the Drupal project. This includes defining the site structure, content types, user roles, functionalities, and integration requirements.
Design and Wireframing: The design phase involves creating wireframes and mockups that showcase the visual layout and user interface of the Drupal website or application. Feedback from the client is collected to ensure the design aligns with their branding and user experience expectations.
Drupal Installation and Configuration: The development team sets up the Drupal CMS on the server, configures essential settings, and installs necessary modules to support the project's requirements. This lays the foundation for the website or application.
Theme Development and Customization: Using the approved designs, the team proceeds with theme development, customizing the look and feel of the Drupal site to match the client's branding. Responsive design is also implemented to ensure cross-device compatibility.
Module Development and Integration: Depending on the project's functionalities, custom Drupal modules may be developed to extend the platform's capabilities. Additionally, existing modules are integrated and configured to fulfill specific requirements.
Content Creation and Migration: The content team works on creating and organizing content for the new Drupal site. If there is existing content on an old website or platform, a content migration plan is executed to transfer data to the new Drupal site.
Testing and Quality Assurance: Rigorous testing is conducted to identify and rectify any bugs or issues. Quality assurance ensures that the website or application performs as expected and is free from errors.
Deployment and Launch: With testing complete, the Drupal site is deployed to the live server, making it accessible to the public. The launch is carefully planned to minimize downtime and ensure a smooth transition.
Training and Handover: If required, the client's team is provided with training on managing the Drupal CMS, creating and editing content, and utilizing site features. Documentation may also be provided for reference.
Ongoing Support and Maintenance: Post-launch, the development team offers ongoing support, addressing any issues that may arise and providing regular maintenance to keep the Drupal site secure and up-to-date.
Performance Monitoring and Optimization: The site's performance is continually monitored, and optimization efforts are made to enhance speed, security, and overall user experience.
Industries We Serve for Drupal Development Service
Our Drupal Development Service caters to a diverse range of industries, offering tailored solutions to meet specific needs and requirements. Some of the industries we serve include:
E-commerce
Education
Nonprofits and NGOs
Government
Healthcare
Media and Publishing
Financial Services
Entertainment
Travel and Hospitality
Manufacturing and Retail
Technology
Real Estate
Package for Drupal Development Service
Basic
Small Business
$

399
Standard
Mid-Size Business
$

599
Advanced
Large Business
$

799
Why Choose RGB Web Tech?
Choosing RGB Web Tech for Drupal Development Service offers a multitude of compelling reasons that set us apart as a top-tier service provider:
Expertise in Drupal: Our team comprises skilled and experienced Drupal developers who possess in-depth knowledge of the platform. We have a proven track record of delivering successful Drupal projects across various industries.
Custom Solutions: We understand that every business has unique requirements. We offer tailor-made solutions, ensuring that your Drupal website or application is precisely aligned with your specific needs and objectives.
Comprehensive Services: From initial consultation and planning to design, development, testing, and ongoing support, we provide end-to-end Drupal services to ensure a seamless and hassle-free experience for our clients.
Client-Centric Approach: We prioritize client satisfaction and involve our clients throughout the development process, seeking feedback and making necessary adjustments to meet their expectations effectively.
Responsive Design: We create Drupal websites that are fully responsive and mobile-friendly, ensuring that your content looks great and functions flawlessly on all devices.
Scalability and Performance: Our Drupal solutions are designed with scalability in mind, enabling your website or application to handle increasing traffic and user demands without compromising performance.
Security and Reliability: We adhere to industry best practices and employ robust security measures to safeguard your Drupal website against potential threats, providing you with a secure and reliable digital presence.
Timely Delivery: We understand the importance of deadlines. Our efficient project management ensures that we deliver projects on time, allowing you to launch and leverage your Drupal website without delays.
Affordable Pricing: Our pricing is competitive and transparent, with no hidden costs. We work with your budget to deliver high-quality Drupal solutions without breaking the bank.
Proven Client Success: We have a long list of satisfied clients who have achieved their digital goals with our Drupal development services. Our testimonials and case studies speak volumes about our commitment to excellence.
Constant Support: Our relationship with clients extends beyond project completion. We provide ongoing support, updates, and maintenance services to ensure your Drupal website continues to perform optimally.
Innovative Solutions: We stay updated with the latest trends and technologies, incorporating innovative features and functionalities into your Drupal website, keeping you ahead of the competition.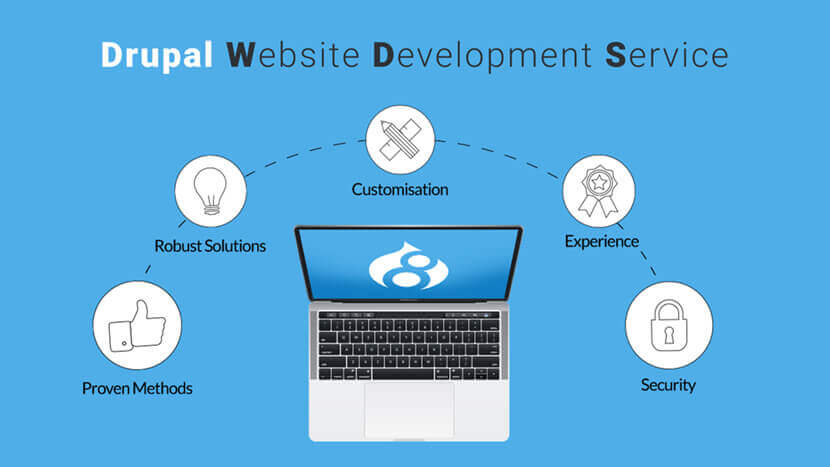 We're excited to discuss your web design & development needs. Our team can bring your digital ideas to life. Let's create something amazing!