Last updated on November 20th, 2023 by RGB Web Tech
PHPixie is a cutting-edge PHP framework renowned for its simplicity, efficiency, and robustness in web application development. With our PHPixie PHP Framework Development Service, we offer a comprehensive solution to build dynamic and high-performance websites and web applications. Our team of skilled developers harness the power of PHPixie's lightweight design and modular architecture to create scalable, secure, and feature-rich projects tailored to your specific requirements.
Leveraging PHPixie's built-in components, ORM, and routing capabilities, we expedite development while maintaining code quality. Whether it's crafting custom APIs, e-commerce platforms, or content management systems, our PHPixie expertise ensures seamless integration and smooth functionality. Trust us to deliver exceptional results that elevate your online presence and user experience.
Benefits of PHPixie PHP Framework Development Service
Choosing PHPixie PHP Framework Development Service offers numerous benefits for your web application projects:
Speed and Performance: PHPixie's lightweight design and optimized codebase ensure fast execution and excellent performance, resulting in quicker load times and enhanced user experience.
Security: PHPixie follows secure coding practices and provides built-in mechanisms to protect against common web vulnerabilities, minimizing the risk of data breaches and attacks.
Modularity and Reusability: The framework's modular architecture allows developers to create reusable components, promoting code organization and accelerating development time.
ORM Support: PHPixie comes with a powerful Object-Relational Mapping (ORM) system, simplifying database interactions and reducing the need for manual SQL queries.
Flexibility: It allows developers to work with various database systems and integrate seamlessly with other third-party libraries, enabling a wide range of possibilities for customization.
Community and Support: PHPixie has an active community, ensuring ongoing support, frequent updates, and access to a wealth of documentation and tutorials.
Rapid Development: Thanks to PHPixie's convention over configuration approach, developers can focus on building features rather than wasting time on boilerplate code.
Scalability: PHPixie's architecture facilitates scalability, making it ideal for handling growing traffic and expanding functionality as your application evolves.
Cross-platform Compatibility: PHPixie works smoothly on various platforms, enabling your application to be deployed on multiple servers and environments.
Cost-Effectiveness: By streamlining development and reducing the need for extensive custom coding, PHPixie helps lower overall development costs while maintaining high-quality results.
SEO-Friendly URLs: The framework supports Search Engine Optimization (SEO)-friendly URLs out of the box, aiding in improving search engine rankings and discoverability.
MVC Pattern: PHPixie follows the Model-View-Controller (MVC) pattern, promoting separation of concerns and enhancing code maintainability and readability.
Process of PHPixie PHP Framework Development Service
The PHPixie PHP Framework Development Service typically follows a structured process to ensure the successful and efficient development of web applications. Here's a general outline of the steps involved:
Requirement Gathering: The development process begins with in-depth discussions with the client to understand their project requirements, goals, and specific needs. This involves understanding the target audience, desired features, and functionality of the web application.
Planning and Architecture Design: Based on the gathered requirements, the development team devises a comprehensive plan and defines the architecture of the application. This step involves selecting the appropriate PHPixie modules and components that best suit the project's objectives.
Wireframing and Design: The UX/UI design team creates wireframes and mockups to visualize the application's layout, user interface, and user experience. Client feedback is sought to ensure the design aligns with their vision.
Development: The actual development phase begins, where the PHPixie framework is utilized to implement the planned architecture and design. Developers write clean, optimized, and modular code to build the various components of the web application.
Database Integration: PHPixie's ORM capabilities are utilized to integrate the application with the chosen database system, ensuring efficient data handling and storage.
Testing: Rigorous testing is carried out to identify and fix any bugs, errors, or issues in the application. This includes functional testing, performance testing, security testing, and compatibility testing on different browsers and devices.
Deployment: Once the application is thoroughly tested and approved, it is deployed on the production server, making it accessible to users.
Post-Launch Support: After deployment, the development team provides ongoing support to address any potential issues and to make updates or enhancements as needed.
Maintenance and Updates: Regular maintenance and updates are performed to keep the application secure, compatible with the latest technologies, and to add new features or improve existing ones based on user feedback.
Documentation and Training: Throughout the process, documentation is created to facilitate future maintenance and understanding of the application. If required, training sessions can be conducted for the client's team to manage and operate the application efficiently.
Industries We Serve for PHPixie PHP Framework Development Service
Our PHPixie PHP Framework Development Service caters to a diverse range of industries, leveraging the framework's versatility and robustness to create tailored web applications and solutions. Some of the industries we serve include:
E-commerce
Finance and Banking
Healthcare
Education
Travel and Hospitality
Real Estate
Social Networking
Media and Entertainment
Gaming
Logistics and Transportation
Non-profit and Government
Marketing and Advertising
Package for PHPixie Framework Development Service
Basic
Small Business
$

699
Standard
Mid-Size Business
$

1299
Advanced
Large Business
$

1899
Why Choose RGB Web Tech?
Choosing RGB Web Tech for PHPixie PHP Framework Development Service comes with a host of advantages that set us apart as a top-tier development partner:
Expertise in PHPixie: Our team consists of skilled developers who have extensive experience in working with PHPixie. We are well-versed in harnessing the framework's capabilities to build efficient and high-performing web applications.
Tailored Solutions: We take the time to understand your specific requirements and business objectives. Our solutions are customized to address your unique needs, ensuring that the end product aligns perfectly with your vision.
Proven Track Record: RGB Web Tech has a strong track record of delivering successful PHPixie projects across various industries. Our portfolio showcases our ability to create robust and scalable web applications.
Agile Development Process: We follow an agile development methodology, allowing for flexibility and iterative progress. This approach ensures that you are involved throughout the development process, and we can quickly adapt to changing requirements.
Focus on Performance: With a keen eye on performance optimization, we ensure that your PHPixie-based application is fast, responsive, and capable of handling high user traffic.
Security and Quality Assurance: Security is a top priority, and we implement best practices to safeguard your application against potential vulnerabilities. Rigorous testing and quality assurance protocols ensure a bug-free and reliable product.
Competitive Pricing: Our pricing structure is competitive and transparent, without compromising on the quality of the deliverables.
Client-Centric Approach: We prioritize open communication, active collaboration, and transparent project management. Your feedback and suggestions are valued throughout the development journey.
Timely Delivery: We understand the importance of meeting deadlines. Our efficient development process ensures that your project is delivered on time without compromising on quality.
Ongoing Support and Maintenance: Even after the project is completed, our support team is available to address any issues, provide maintenance, and offer updates as needed.
Industry Knowledge: RGB Web Tech stays up-to-date with the latest trends and technologies in web development, ensuring that your PHPixie application is built with the most modern and efficient practices.
Client Satisfaction: We pride ourselves on client satisfaction and strive to build long-lasting relationships by exceeding expectations and delivering exceptional service.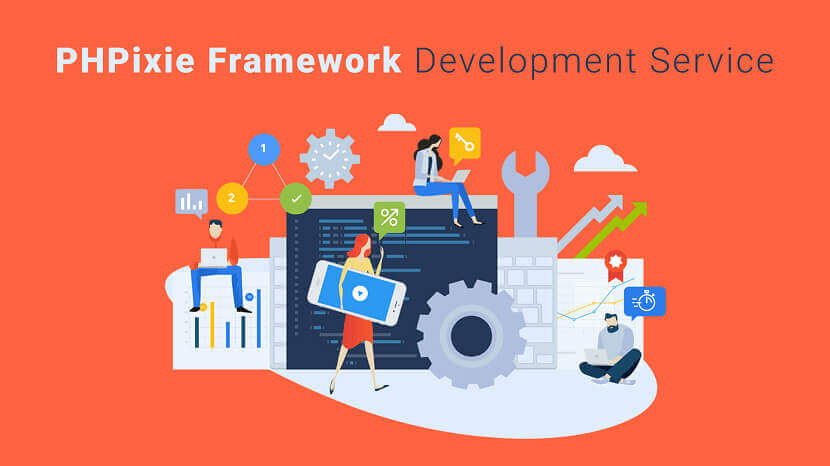 We're excited to discuss your design, development and marketing needs. Our team can bring your digital ideas to life. Let's create something amazing!
Written by RGB WEB TECH
Design, Development and Marketing Services
We are a Chandigarh-based company specializing in web design, web development, digital marketing, and mobile app development services, dedicated to crafting compelling online platforms. Our expertise lies in coding, responsive design, user interface, user experience, mobile app development, and digital marketing. Bring us your ideas, and we'll turn them into successful realities!