Last updated on November 20th, 2023 by RGB Web Tech
RGB Web Tech PPT Design Service! We specialize in crafting visually captivating and professionally designed PowerPoint presentations to elevate your content and leave a lasting impression. With a team of skilled designers, we understand the power of a well-designed presentation in delivering your message effectively. We combine creativity, aesthetics, and strategic thinking to create stunning slides that align with your brand identity and engage your audience. Whether you need a business pitch deck, educational slides, or conference presentations, our experts will transform your ideas into visually compelling masterpieces. Let us handle the design while you focus on delivering an impactful presentation. Trust us to bring your vision to life.
Benefits of PPT Design
Professionalism: Our PPT Design Service ensures that your presentations look polished and professional. We use our expertise in design principles, layout, and typography to create visually appealing slides that enhance your message.
Visual Impact: A well-designed PowerPoint presentation captures attention and keeps your audience engaged. We leverage color schemes, graphics, and visual elements to create a visually striking and memorable presentation that effectively communicates your ideas.
Brand Consistency: We understand the importance of maintaining brand consistency. Our designers incorporate your brand elements, such as logos, colors, and fonts, into the presentation design, ensuring a cohesive and unified brand identity throughout.
Time-Saving: Creating a visually appealing presentation can be time-consuming, especially if you are not experienced in design. Our service saves you valuable time by handling all aspects of the design process, allowing you to focus on developing content and delivering a compelling presentation.
Expertise and Creativity: Our design team consists of skilled professionals who are well-versed in the latest design trends and techniques. They bring a fresh perspective and innovative ideas to your presentation, resulting in a visually captivating and unique design.
Tailored to Your Needs: We understand that every presentation is unique. Our service offers customization options to meet your specific requirements. Whether you need a pitch deck, training slides, or conference presentations, we adapt our design approach to suit your purpose and audience.
Increased Engagement and Retention: A well-designed presentation has the power to captivate and engage your audience, leading to better retention of information. We employ visual storytelling techniques, clear structure, and effective use of visuals to enhance comprehension and ensure your message resonates with the audience.
Professional Image: A professionally designed presentation reflects positively on your personal or business image. It demonstrates a commitment to quality, attention to detail, and professionalism, leaving a lasting impression on your audience.
Process of PPT Design Service
Initial Consultation: We begin by having a detailed discussion to understand your specific requirements, audience, and the purpose of your presentation. This helps us gather essential information and align our design approach with your goals.
Content Review: You provide us with the content for your presentation, including text, images, and any specific data or graphs you want to incorporate. Our team reviews the content to gain a thorough understanding of the key messages and the overall structure of the presentation.
Design Concept Development: Based on the gathered information, our expert designers brainstorm and develop a design concept for your presentation. We consider factors such as your brand identity, target audience, and the nature of the content to create a visually appealing and cohesive design concept.
Visualization and Wireframing: We create a wireframe or storyboard to outline the flow and structure of your presentation. This helps in organizing the content and visual elements, ensuring a logical and engaging sequence of slides.
Visual Design and Layout: Using the agreed-upon design concept and wireframe as a guide, our designers work on the visual design and layout of each slide. We incorporate your brand elements, select appropriate colors and fonts, and create visually engaging graphics and visuals to enhance the presentation.
Iterative Feedback and Revisions: We value your input throughout the process. You have the opportunity to review the initial design drafts and provide feedback. We take your suggestions into account and make revisions accordingly to refine the design until it meets your expectations.
Finalization and Delivery: Once all revisions are completed and you are satisfied with the design, we finalize the presentation. We package the presentation files, including the PPT or PDF format, along with any additional assets such as custom icons or graphics, and deliver them to you within the agreed timeline.
Support and Assistance: Our support doesn't end with the delivery of the final files. We provide post-delivery assistance and address any queries or concerns you may have. We are committed to ensuring your satisfaction and success with the designed presentation.
Industries We Serve for PPT Design Service
Business and Consulting
Technology and IT
Education and Training
Marketing and Advertising
Healthcare and Pharmaceuticals
Finance and Banking
Nonprofit and Social Organizations
Government and Public Sector
Event Management and Hospitality
Real Estate and Construction
Package for PPT Design Service
Standard
Mid-Size Business
$

100
Advanced
Large Business
$

150
Why Choose RGB Web Tech?
Expert Design Team: We have a team of highly skilled and experienced designers who are well-versed in the art of creating visually captivating and effective presentations. They stay updated with the latest design trends and techniques to deliver modern and innovative designs.
Tailored Approach: We understand that each client has unique requirements and goals. We take a personalized approach, ensuring that our design process is tailored to meet your specific needs, industry, target audience, and brand identity.
Attention to Detail: We believe that every element of a presentation matters. Our designers pay meticulous attention to detail, ensuring that the layout, typography, colors, graphics, and overall visual composition are cohesive, visually appealing, and aligned with your brand.
Collaboration and Feedback: We value your input and encourage collaboration throughout the design process. We actively seek and incorporate your feedback, ensuring that the final presentation reflects your vision and meets your expectations.
Quick Turnaround Time: We understand the importance of timely delivery. Our streamlined design process allows us to work efficiently without compromising on quality, ensuring that your presentation is delivered within the agreed-upon timeframe.
Excellent Customer Service: We prioritize customer satisfaction and strive to provide excellent customer service. Our team is responsive, attentive, and dedicated to addressing your queries, concerns, and requests promptly.
Cost-Effective Solutions: We offer competitive pricing for our PPT Design Service, providing cost-effective solutions without compromising on quality. We believe that professional presentation design should be accessible to businesses of all sizes.
Wide Range of Industries: Our expertise spans across various industries, enabling us to create impactful presentations for businesses in different sectors. We understand the unique needs and challenges of each industry and adapt our design approach accordingly.
Confidentiality and Data Security: We prioritize the confidentiality and security of your information. We maintain strict data protection measures and ensure that your content and files are handled securely throughout the design process.
Proven Track Record: We have a track record of delivering high-quality presentations to satisfied clients. Our portfolio showcases our diverse range of design styles and successful projects, giving you confidence in our capabilities.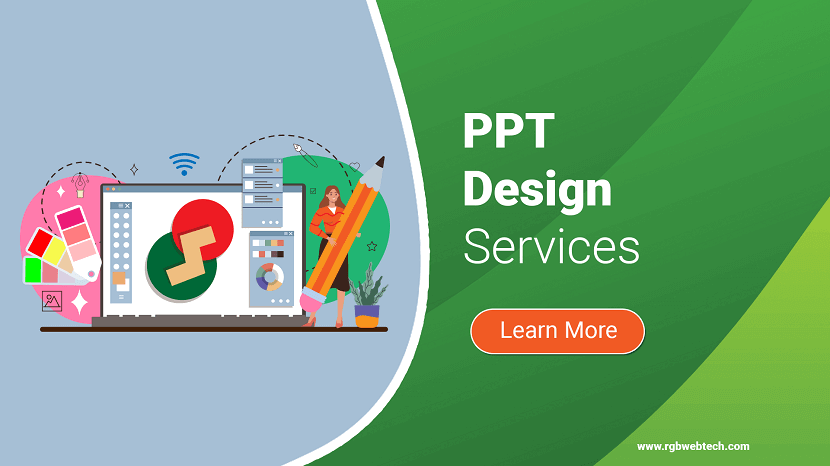 We're excited to discuss your design, development and marketing needs. Our team can bring your digital ideas to life. Let's create something amazing!
Written by RGB WEB TECH
Design, Development and Marketing Services
We are a Chandigarh-based company specializing in web design, web development, digital marketing, and mobile app development services, dedicated to crafting compelling online platforms. Our expertise lies in coding, responsive design, user interface, user experience, mobile app development, and digital marketing. Bring us your ideas, and we'll turn them into successful realities!