Last updated on March 25th, 2023 by RGB Web Tech
RGB Web Tech PrestaShop Development Service! With a decade of expertise, we are a leading provider of top-notch e-commerce solutions based on the powerful PrestaShop platform. Our team of skilled developers and designers is committed to delivering tailor-made online stores that excel in performance, user experience, and aesthetics. We specialize in creating responsive and SEO-friendly websites, ensuring your business reaches a wider audience. From theme customization and module integration to payment gateway setup and maintenance, we offer end-to-end solutions to meet your unique requirements. Our focus on security and scalability ensures your store's growth remains unhindered, empowering you to achieve e-commerce success effortlessly. Let's build your dream store together!
Benefits of Prestashop Development Service
PrestaShop Development Service offers numerous benefits that can greatly enhance your e-commerce venture. Here are some key advantages:
User-Friendly Interface: PrestaShop provides an intuitive and easy-to-navigate admin panel, allowing you to manage your online store effortlessly.
Customization Options: With a vast selection of themes and modules, you can personalize your store's design and functionality to match your brand and unique business needs.
SEO-Friendly: PrestaShop is built with SEO in mind, enabling better search engine rankings and increased visibility for your products.
Scalability: Whether you're a small startup or a large enterprise, PrestaShop can accommodate your growing business, ensuring a seamless expansion.
Security: PrestaShop takes security seriously, with regular updates and robust security measures to protect your store and customer data.
Mobile Responsiveness: Your online store will be optimized for mobile devices, catering to the increasing number of mobile shoppers.
Multilingual and Multicurrency Support: Reach a global audience by offering multiple languages and currencies, making it easier for international customers to shop.
Payment Integration: PrestaShop supports various payment gateways, giving your customers flexible payment options.
Community Support: Being an open-source platform, PrestaShop has a vibrant community of developers and users, offering assistance and solutions.
Analytics and Reporting: Gain valuable insights into your store's performance with built-in analytics and reporting tools.
Cost-Effective: As an open-source solution, PrestaShop significantly reduces development and licensing costs compared to proprietary e-commerce platforms.
Integration Possibilities: Easily integrate third-party tools like CRM, ERP, or marketing automation to streamline your business operations.
Process of Prestashop Development Service
The process of PrestaShop development service involves several stages to create a fully functional and customized online store. Here's an overview of the typical steps:
Requirement Gathering: Understand the client's business objectives, target audience, and specific requirements for the online store. Discuss features, design preferences, and any unique functionalities needed.
Planning and Strategy: Create a project plan outlining tasks, timelines, and resource allocation. Determine the technology stack, hosting requirements, and any third-party integrations.
Design and Theme Customization: Develop a visually appealing and user-friendly design that aligns with the client's brand identity. Customize a PrestaShop theme or create a bespoke design from scratch.
Development: Implement the approved design and integrate required functionalities. This involves setting up product catalogs, managing categories, implementing payment gateways, and configuring shipping methods.
Module Integration: Install and configure PrestaShop modules or develop custom modules to add specific features like social media integration, advanced search, customer reviews, etc.
Testing: Conduct thorough testing to ensure the website functions flawlessly across different devices, browsers, and screen sizes. Test functionalities, checkout process, and security features.
Content Population: Add relevant and compelling content, including product descriptions, images, videos, and other essential information.
Security and Performance Optimization: Implement security measures to safeguard customer data and optimize the website's performance for faster loading times.
Deployment: Launch the PrestaShop website on the client's chosen hosting environment or server.
Training and Handover: Provide training to the client on managing the store through the PrestaShop admin panel. Hand over all necessary credentials and documentation.
Support and Maintenance: Offer ongoing support and maintenance services to address any issues, perform updates, and ensure the website's smooth operation.
Industries We Serve for Prestashop Development Service
Our PrestaShop Development Service caters to a diverse range of industries, empowering businesses of all sizes to establish a strong online presence and drive e-commerce success. Some of the industries we serve include:
Retail and E-commerce
Fashion and Apparel
Electronics and Technology
Health and Wellness
Home and Furniture
Automotive
Beauty and Cosmetics
Food and Beverages
Toys and Games
Jewelry
Books and Publications
Sports and Outdoor
Gifts and Novelties
Pet Supplies
Art and Craft
Package for Prestashop Development Service
Basic
Small Business
$

599
Standard
Mid-Size Business
$

999
Advanced
Large Business
$

1499
Why Choose RGB Web Tech?
Choosing RGB Web Tech for PrestaShop Development Service comes with a myriad of compelling reasons that set us apart as a trusted and reliable partner for your e-commerce needs:
Expertise and Experience: We boast a team of skilled developers with extensive experience in PrestaShop development, ensuring top-notch solutions tailored to your requirements.
Customized Solutions: We understand that each business is unique, and our approach revolves around delivering fully customized PrestaShop stores that reflect your brand identity and cater to your specific needs.
Comprehensive Services: From initial concept to final deployment and ongoing support, we offer end-to-end PrestaShop development services, encompassing design, development, testing, and maintenance.
Quality and Precision: We adhere to the highest standards of quality and precision, ensuring bug-free and seamless functionality in every aspect of your online store.
User-Centric Approach: Our focus on user experience ensures that your PrestaShop store is intuitive, visually appealing, and optimized for seamless customer interactions.
Timely Delivery: We value your time and strive to deliver projects within agreed timelines, without compromising on the quality of work.
Affordable Pricing: Our pricing is competitive and transparent, with no hidden costs, making our PrestaShop development service a cost-effective choice for businesses of all sizes.
Security and Privacy: We implement robust security measures to safeguard your store and customer data, ensuring a safe and trustworthy online shopping experience.
Responsive Design: Our PrestaShop stores are designed to be fully responsive, ensuring a consistent and enjoyable shopping experience across various devices and screen sizes.
Client Satisfaction: Our ultimate goal is your satisfaction. We actively engage with you throughout the development process, incorporating feedback and revisions to meet your expectations.
Proven Track Record: We have a history of successful PrestaShop development projects and satisfied clients, which speaks to our expertise and commitment to excellence.
Continuous Support: Even after the project is completed, we provide ongoing support and maintenance, ensuring your PrestaShop store remains up-to-date and hassle-free.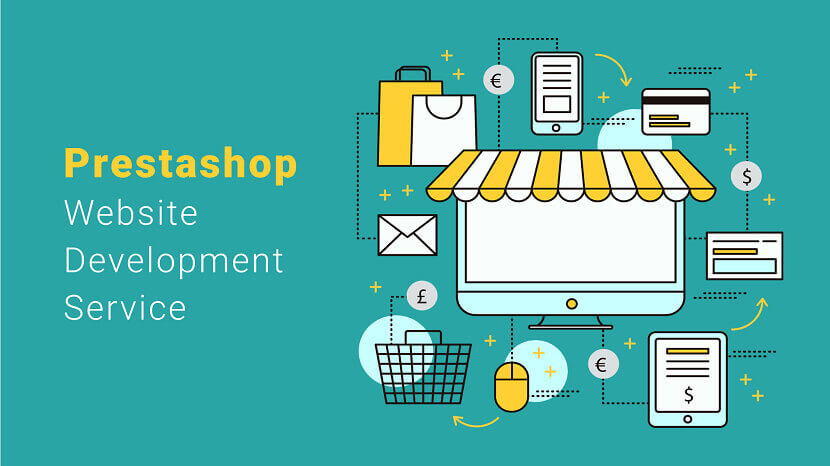 We're excited to discuss your web design & development needs. Our team can bring your digital ideas to life. Let's create something amazing!