Last updated on March 25th, 2023 by RGB Web Tech
RGB Web Tech Shopify Development Service! We are a dedicated team of expert developers, passionate about crafting exceptional online stores on the popular Shopify platform. With a combined experience of several years, we pride ourselves on delivering customized, responsive, and visually stunning e-commerce solutions tailored to your unique business needs.
Our services encompass everything from Shopify store setup and theme customization to integrating third-party apps and optimizing store performance. We pay meticulous attention to detail, ensuring seamless navigation, secure payment gateways, and search engine optimization for maximum visibility. Whether you're a budding entrepreneur or an established brand, our Shopify Development Service is your one-stop solution for building a successful online business that thrives in the competitive digital landscape.
Benefits of Shopify Development Service
Choosing our Shopify Development Service offers a myriad of benefits for your e-commerce venture:
User-Friendly Platform: Shopify is known for its intuitive interface, making it easy for you to manage your online store without technical expertise. We'll ensure a smooth setup and user-friendly admin panel for effortless store management.
Customization Options: Our skilled developers can tailor your Shopify store to reflect your brand identity and provide a unique shopping experience, enhancing customer engagement and loyalty.
Mobile Responsiveness: With the increasing use of mobile devices, we'll ensure your Shopify store is fully responsive, providing seamless shopping experiences across various devices.
Security and Reliability: Shopify takes security seriously, and we'll implement best practices to ensure your customers' data is safe, building trust and credibility for your brand.
SEO-friendly: We optimize your Shopify store to improve search engine rankings, increasing organic traffic and potential customers.
Fast Loading Times: Our developers optimize the store's performance, ensuring quick loading times, reducing bounce rates, and improving user satisfaction.
Scalability: As your business grows, so will your Shopify store. We'll build a scalable solution that accommodates increasing traffic and product offerings.
24/7 Customer Support: With our ongoing support, you can rely on us to address any issues promptly and efficiently, ensuring smooth operation at all times.
Payment Gateway Integration: We'll set up secure payment gateways, allowing customers to make transactions with ease and trust.
App Integrations: Shopify has a wide range of apps to enhance functionality. We'll integrate relevant apps to expand features and improve overall store performance.
Analytics and Reporting: Our service includes setting up analytics tools to track store performance, customer behavior, and sales, helping you make informed business decisions.
Cost-Effective: Shopify Development Service offers a cost-effective way to establish an online presence without the need for a significant upfront investment.
Process of Shopify Development Service
Our Shopify Development Service follows a structured process to ensure a seamless and successful development journey for your online store:
Project Discovery: We begin by understanding your business requirements, target audience, and goals. We discuss your brand identity, product offerings, and any specific features you want on your Shopify store.
Planning and Strategy: Based on the gathered information, we create a detailed plan and strategy for the development process. This includes choosing the right Shopify theme or designing a custom one, selecting necessary third-party integrations, and defining the overall project timeline.
Design and Development: Our expert designers work on the visual aspects, creating a visually appealing and user-friendly layout. Once approved, our developers start building the Shopify store, implementing customizations and integrating essential functionalities.
Content and Product Upload: We assist you in uploading your product catalog, including images, descriptions, prices, and variants. Additionally, we optimize product pages and other content for SEO purposes.
Testing and Quality Assurance: Before launch, we conduct rigorous testing to identify and fix any bugs or issues. We ensure the store functions smoothly across different devices and browsers.
Launch and Deployment: Once the testing phase is complete, we prepare for the official launch of your Shopify store. We set up domain mapping and configure SSL certificates to ensure a secure and smooth launch.
Training and Handover: If desired, we provide training on managing the Shopify admin panel, order processing, and inventory management. We also hand over all necessary credentials and documentation.
Post-Launch Support: Our assistance doesn't end at launch. We offer post-launch support to address any issues that may arise and provide ongoing maintenance and updates as needed.
Marketing and SEO: We can assist you in implementing marketing strategies and SEO techniques to drive traffic and boost sales on your Shopify store.
Analytics and Performance Monitoring: We set up analytics tools to track the store's performance, user behavior, and sales. Regular monitoring helps in identifying areas for improvement and growth opportunities.
Industries We Serve for Shopify Development Service
Our Shopify Development Service is versatile and caters to a wide range of industries, helping businesses of all types establish a strong online presence and grow their e-commerce ventures. Some of the industries we serve include:
Retail and E-commerce
Fashion and Apparel
Electronics and Gadgets
Health and Wellness
Beauty and Cosmetics
Home and Furniture
Food and Beverages
Sports and Fitness
Jewelry and Accessories
Toys and Games
Automotive and Parts
Pet Products
Books and Publications
Art and Craft
Package for Shopify Development Service
Basic
Small Business
$

599
Standard
Mid-Size Business
$

999
Advanced
Large Business
$

1499
Why Choose RGB Web Tech?
Choosing RGB Web Tech for your Shopify Development Service comes with several compelling reasons that set us apart from the rest:
Expert Team: Our team comprises skilled and experienced Shopify developers who have a proven track record of creating successful e-commerce stores. We stay up-to-date with the latest trends and best practices in Shopify development.
Custom Solutions: We understand that each business is unique, so we offer customized solutions tailored to your specific requirements, branding, and target audience, ensuring your Shopify store stands out from the competition.
User-Centric Approach: User experience is at the core of our development process. We design intuitive, user-friendly interfaces that lead to higher customer satisfaction and increased conversion rates.
Design Excellence: Our talented designers create visually stunning and captivating Shopify stores that leave a lasting impression on visitors, enhancing your brand's image and credibility.
Mobile Responsiveness: We prioritize mobile responsiveness, ensuring that your Shopify store functions seamlessly across all devices, capturing potential customers on smartphones and tablets.
SEO Optimization: Our developers optimize your Shopify store for search engines, helping improve your online visibility and driving organic traffic to your website.
Security and Performance: We implement robust security measures to protect your customers' data and ensure smooth and fast loading times, reducing bounce rates and boosting SEO rankings.
Transparent Communication: We maintain open and transparent communication throughout the development process, keeping you informed about progress and seeking your input at key stages.
Cost-Effective Solutions: Our Shopify Development Service offers competitive pricing without compromising on quality, making it an affordable choice for businesses of all sizes.
Timely Delivery: We understand the importance of timely project delivery. Our team works diligently to complete the development within the agreed-upon timeframe.
Post-Launch Support: Our support doesn't end with the launch of your Shopify store. We provide ongoing assistance, addressing any issues and making updates to ensure your store's continued success.
Client Satisfaction: Client satisfaction is our ultimate goal. We go the extra mile to ensure that you are delighted with the final product and that your Shopify store meets or exceeds your expectations.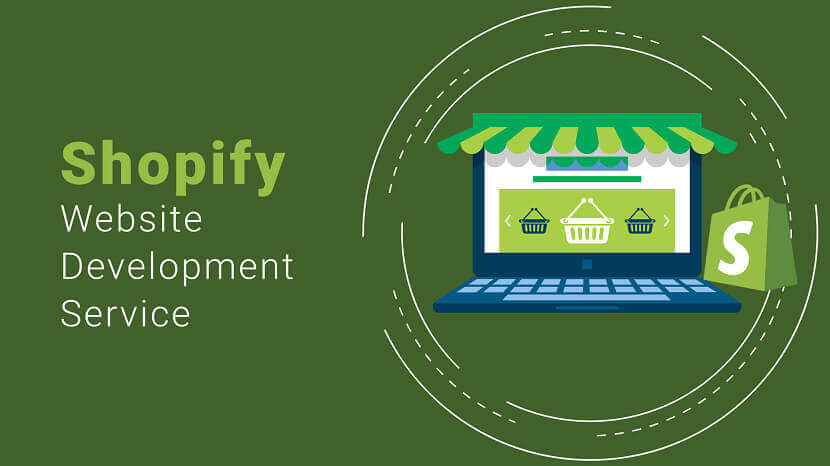 We're excited to discuss your web design & development needs. Our team can bring your digital ideas to life. Let's create something amazing!