Last updated on March 25th, 2023 by RGB Web Tech
RGB Web Tech CMS Development Service is a vital solution in the realm of web development, aimed at creating efficient and user-friendly Content Management Systems (CMS) for businesses and individuals. With an ever-growing digital landscape, managing content seamlessly is crucial, and our CMS Development Service offers a comprehensive approach to tackle this challenge. We specialize in crafting tailor-made CMS solutions that empower clients to easily update, modify, and organize their website content without technical expertise. Our team of skilled developers utilizes cutting-edge technologies and industry best practices to ensure scalability, security, and optimal performance. Whether it's an e-commerce platform or a corporate website, our CMS Development Service ensures a smooth and dynamic online presence.
Most Popular CMS
WordPress: One of the most widely used CMS platforms globally, WordPress is known for its user-friendly interface, extensive plugin ecosystem, and robust community support. It is highly versatile and suitable for blogs, websites, and even e-commerce stores.
Joomla: Joomla is another well-established PHP-based CMS that provides a good balance between ease of use and advanced features. It is often used for building complex websites, online communities, and e-commerce portals.
Drupal: Drupal is a powerful and flexible PHP CMS favored for building large-scale, feature-rich websites with high customization requirements. It is suitable for community sites, corporate websites, and government portals.
Benefits of CMS Development Service
CMS Development Service offers numerous benefits that contribute to the success of businesses and organizations in the digital landscape. Some of the key advantages include:
User-Friendly Content Management: CMS solutions provide a user-friendly interface, allowing even non-technical users to easily create, edit, and publish content without the need for coding knowledge.
Time and Cost Efficiency: Developing a website using a CMS significantly reduces development time and costs, as it leverages pre-built templates and modules, eliminating the need to build everything from scratch.
Customization and Flexibility: CMS allows for easy customization and flexibility, enabling businesses to tailor their websites according to their unique branding and functional requirements.
SEO-Friendly: Many CMS platforms come with built-in SEO features or plugins, making it easier to optimize content for search engines and improve the website's search engine rankings.
Responsive Design: Modern CMS platforms support responsive design, ensuring that websites look and function seamlessly on various devices, including desktops, tablets, and smartphones.
Content Scheduling: CMS enables content scheduling, allowing businesses to plan and automate content publication, ensuring a consistent online presence and engagement with the audience.
Collaboration and Workflow Management: CMS facilitates collaboration among multiple users, streamlining content creation, review, and approval processes, enhancing productivity and efficiency.
Security and Version Control: Reputable CMS platforms regularly release security updates, reducing the risk of vulnerabilities, and often offer version control to track content changes.
Scalability: CMS solutions are designed to handle various levels of website traffic and content growth, making them suitable for both small businesses and large enterprises.
Multilingual Support: Many CMS platforms offer multilingual support, enabling businesses to target a global audience and manage content in multiple languages.
Integration Capabilities: CMS can easily integrate with various third-party tools and services, such as e-commerce platforms, marketing automation, and analytics, expanding website functionality.
Real-time Analytics: CMS often comes with built-in or integrable analytics tools, allowing businesses to track website performance, user behavior, and other essential metrics.
Process of CMS Development Service
The process of CMS Development Service involves several stages that culminate in creating a functional and user-friendly Content Management System tailored to the client's needs. Here's a generalized outline of the typical process:
Requirement Gathering: The development team collaborates with the client to understand their specific requirements, business objectives, target audience, and desired features of the CMS.
Planning and Analysis: Based on the gathered requirements, the team devises a comprehensive plan outlining the CMS's architecture, technology stack, timeline, and resource allocation.
Design and Wireframing: The designers create wireframes and mockups that depict the layout, structure, and user interface of the CMS, ensuring a clear visual representation for client approval.
Development: The CMS development process commences, involving the coding and integration of various functionalities, including content creation, storage, user management, and access control.
Customization and Theming: Depending on the client's branding and design preferences, the CMS is customized and themed to align with the client's visual identity and requirements.
Testing and Quality Assurance: Rigorous testing is performed to identify and rectify bugs, ensuring smooth functionality, cross-browser compatibility, and responsiveness across different devices.
Content Migration: If applicable, existing content from the client's old website or system is migrated to the newly developed CMS, preserving valuable data and content.
Training and Documentation: Once the CMS is ready, the development team provides training to the client's staff on how to use the CMS effectively for content management. Detailed documentation may also be provided for future reference.
Deployment: The CMS is deployed on the client's hosting environment or server, making it accessible for website administrators and content editors.
Post-Launch Support: After the CMS goes live, the development team offers ongoing support, addressing any issues or adding new features as required.
Security and Maintenance: Regular security updates and maintenance are performed to keep the CMS secure and up-to-date, ensuring optimal performance and protection against potential threats.
Continuous Improvement: As the client's requirements evolve and user feedback is received, the CMS may undergo continuous improvements and updates to enhance its functionality and usability.
Industries We Serve for CMS Development Service
Our CMS Development Service caters to a wide range of industries, providing tailored solutions to meet the unique needs of businesses and organizations. Some of the key industries we serve include:
E-commerce
Education
Healthcare
Media and Publishing
Nonprofit and Government
Travel and Hospitality
Real Estate
Financial Services
Manufacturing
Professional Services
Entertainment
Automotive
Technology and IT
Food and Beverage
Fashion and Retail
Package for CMS Development Service
Basic
Small Business
$

399
Standard
Mid-Size Business
$

599
Advanced
Large Business
$

799
Why Choose RGB Web Tech?
Choosing RGB Web Tech for CMS Development Service comes with several compelling reasons that set us apart as a trusted and reliable partner:
Expertise and Experience: Our team comprises skilled developers with extensive experience in CMS development. We have a proven track record of delivering successful CMS solutions for diverse industries.
Customization: We understand that each business has unique requirements. We offer tailor-made CMS solutions that align precisely with your specific needs and branding.
User-Friendly Interface: Our CMS platforms are designed with a user-friendly interface, ensuring that your team can easily manage and update content without technical expertise.
Responsive Design: We prioritize responsive design, making sure that your CMS works seamlessly on all devices, providing a consistent and engaging user experience.
Security and Reliability: We implement robust security measures to safeguard your CMS from potential threats and ensure that it performs reliably under various conditions.
Scalability: Our CMS solutions are built to scale with your business, allowing you to expand and adapt your website as your needs grow.
Timely Delivery: We value your time and adhere to project timelines rigorously, ensuring that your CMS is delivered within the agreed-upon timeframe.
Post-Launch Support: Our relationship doesn't end after the CMS goes live. We offer ongoing support and maintenance to address any issues and provide updates as needed.
Clear Communication: We believe in transparent and open communication throughout the development process, keeping you informed at every stage.
Affordable Pricing: Our pricing is competitive, and we offer cost-effective solutions that provide excellent value for your investment.
Client-Centric Approach: Your satisfaction is our priority. We listen to your feedback and requirements, making sure that the final CMS aligns with your vision and goals.
Innovative Solutions: We stay updated with the latest trends and technologies in CMS development, ensuring that we deliver innovative and cutting-edge solutions.
Versatility: We have experience in serving various industries, allowing us to understand the unique challenges and opportunities each sector faces.
Reputation: Our reputation in the industry speaks for itself, as we have earned the trust of our clients through our dedication and commitment to excellence.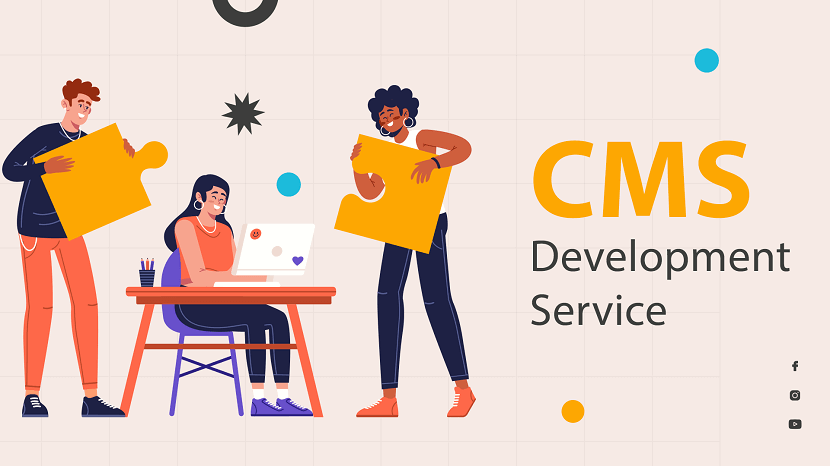 We're excited to discuss your web design & development needs. Our team can bring your digital ideas to life. Let's create something amazing!