Last updated on November 20th, 2023 by RGB Web Tech
RGB Web Tech Content Management System (CMS) Design Service offers a comprehensive solution for businesses seeking an efficient and user-friendly platform to manage their website content. With a team of skilled designers and developers, we create tailored CMS solutions that empower organizations to easily update, organize, and publish content on their websites. Our service focuses on delivering intuitive interfaces, seamless navigation, and robust functionality to enhance the user experience. By leveraging the latest technologies and best practices, we ensure that our CMS designs are responsive, scalable, and customizable to meet the unique requirements of each client. Experience streamlined content management with our CMS Design Service.
Benefits of Content Management System (CMS) Design Service
The benefits of our Content Management System (CMS) Design Service are numerous and can greatly enhance your website management process. Here are some key advantages:
Easy Content Updates: Our CMS design service provides a user-friendly interface that allows you to update and modify content on your website effortlessly. No technical expertise is required, empowering non-technical users to manage content efficiently.
Time and Cost Savings: With our CMS, you can make real-time updates to your website without relying on developers or IT support. This saves valuable time and reduces ongoing maintenance costs.
Enhanced Collaboration: Our CMS facilitates seamless collaboration among team members, enabling multiple users to contribute, edit, and publish content simultaneously. This promotes efficient workflows and faster content delivery.
Scalability and Flexibility: Our CMS designs are scalable, allowing your website to grow and adapt to changing business needs. You can easily add new pages, features, and functionalities as your business expands.
Consistent Branding: Our CMS ensures consistent branding across your website, as templates and styles can be standardized and applied uniformly to maintain your brand identity.
SEO Optimization: Our CMS integrates essential SEO features, making it easier to optimize your website for search engines. This helps improve your website's visibility and rankings in search results.
Mobile Responsiveness: Our CMS designs are responsive, ensuring that your website looks and functions seamlessly on various devices, including smartphones and tablets.
Customization and Personalization: We offer customizable CMS solutions tailored to your specific business requirements. This allows you to create a unique and personalized user experience for your website visitors.
Security and Maintenance: Our CMS designs prioritize security measures and regular updates to protect your website from vulnerabilities and ensure optimal performance.
Analytics and Insights: Our CMS integrates analytics tools that provide valuable data and insights about your website's performance, user behavior, and content engagement. This data helps you make informed decisions to improve your website's effectiveness.
Process of Content Management System (CMS) Design Service
Our Content Management System (CMS) Design Service follows a systematic process to ensure the successful development and implementation of a robust CMS for your website. Here is an overview of the typical steps involved:
Requirement Gathering: We begin by understanding your specific requirements, business goals, target audience, and desired functionalities. This helps us tailor the CMS design to meet your unique needs.
Planning and Strategy: Based on the gathered requirements, we create a detailed plan and strategy for the CMS design project. This includes defining the site structure, navigation, content types, user roles, and any custom features or integrations.
User Interface (UI) Design: Our expert designers create wireframes and prototypes to visualize the CMS interface. This includes designing intuitive navigation, content editing tools, dashboards, and other user interface elements to ensure a seamless user experience.
CMS Development: Our skilled developers utilize appropriate technologies and frameworks to develop the CMS based on the approved design. They implement the necessary features, content management workflows, security measures, and integrations as per the project requirements.
Customization and Theming: We customize the CMS to align with your branding guidelines and design preferences. This involves creating custom themes, templates, and styles to ensure a consistent and visually appealing website.
Content Migration: If you have existing content, we assist in migrating it to the new CMS. This includes importing and organizing your content in the appropriate format, ensuring smooth transition and minimal disruption.
Testing and Quality Assurance: We rigorously test the CMS to ensure it functions flawlessly across different browsers, devices, and user scenarios. We check for responsiveness, performance, usability, and security to deliver a reliable CMS solution.
Training and Documentation: We provide comprehensive training to your team on how to use and manage the CMS effectively. We also document the CMS functionalities, workflows, and best practices to serve as a reference for future use.
Deployment and Launch: Once the CMS is thoroughly tested and your team is trained, we deploy the CMS to your live environment. We ensure a smooth transition and provide any necessary support during the launch phase.
Ongoing Support and Maintenance: We offer post-launch support and maintenance services to address any issues, provide updates, security patches, and assist with future enhancements or feature additions.
Industries We Serve for Content Management System (CMS) Design Service
Our Content Management System (CMS) Design Service caters to a wide range of industries, providing customized CMS solutions to meet the unique needs of each sector. Here are some industries we serve:
E-commerce
Publishing and Media
Education
Healthcare
Non-profit Organizations
Hospitality and Tourism
Government
Professional Services
Real Estate
Manufacturing and Industrial
Package for Content Management System (CMS) Design Service
Basic
Small Business
$

1299
Standard
Mid-Size Business
$

1599
Advanced
Large Business
$

1999
Why Choose RGB Web Tech?
There are several compelling reasons to choose RGB Web Tech for your Content Management System (CMS) Design Service:
Expertise and Experience: RGB Web Tech boasts a team of highly skilled professionals with extensive experience in CMS design and development. Our expertise allows us to deliver high-quality, customized solutions that align with your specific requirements.
Customized Solutions: We understand that every business has unique needs. We take a personalized approach to CMS design, tailoring the solution to match your brand, industry, and goals. Our designs are flexible, scalable, and built to grow with your business.
User-Focused Approach: We prioritize the user experience in our CMS designs. Our intuitive interfaces and streamlined workflows empower non-technical users to easily manage and update their website content, reducing the learning curve and enhancing productivity.
Responsive and Mobile-Friendly Designs: We recognize the importance of responsive web design in today's mobile-driven world. Our CMS designs are responsive, ensuring that your website looks and functions seamlessly across various devices and screen sizes.
Integration and Customization: RGB Web Tech can integrate your CMS with various third-party applications and systems to enhance its functionality and provide a seamless user experience. We also offer customization options to align the CMS with your specific business processes.
Support and Maintenance: Our commitment to customer satisfaction extends beyond the initial CMS design. We provide ongoing support and maintenance services to ensure your CMS operates smoothly, remains secure, and evolves with your changing needs.
Timely Delivery: We understand the importance of time in business. Our team follows a well-defined project management process, ensuring timely delivery of your CMS design without compromising on quality.
Transparent Communication: We value clear and transparent communication throughout the entire project. Our team works closely with you, keeping you informed about the progress, seeking your feedback, and addressing any concerns promptly.
Competitive Pricing: RGB Web Tech offers competitive pricing for our CMS Design Service, providing excellent value for your investment. We believe in delivering high-quality solutions at affordable rates.
Client Satisfaction: Our track record of satisfied clients speaks for itself. We prioritize client satisfaction and strive to exceed expectations in every project we undertake. We take pride in building long-term partnerships with our clients.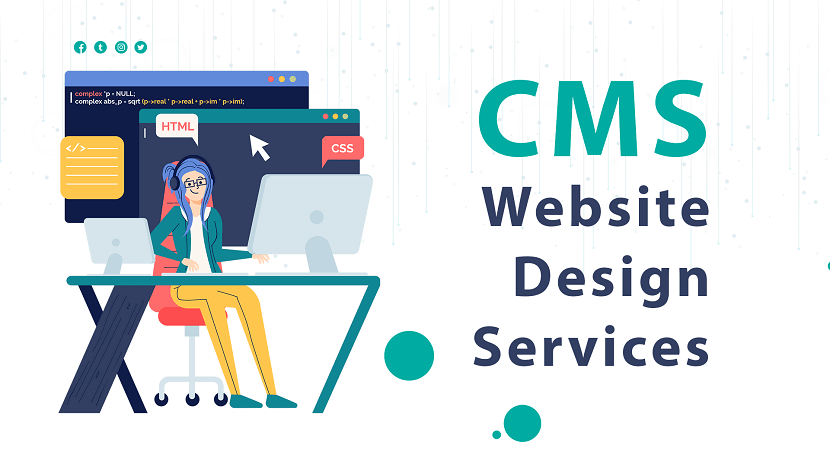 We're excited to discuss your design, development and marketing needs. Our team can bring your digital ideas to life. Let's create something amazing!
Written by RGB WEB TECH
Design, Development and Marketing Services
We are a Chandigarh-based company specializing in web design, web development, digital marketing, and mobile app development services, dedicated to crafting compelling online platforms. Our expertise lies in coding, responsive design, user interface, user experience, mobile app development, and digital marketing. Bring us your ideas, and we'll turn them into successful realities!