Last updated on November 20th, 2023 by RGB Web Tech
CMS Development Service refers to the creation and customization of Content Management Systems (CMS) for businesses and individuals. A CMS allows easy website management, content updating, and seamless collaboration. This service encompasses various aspects, such as design, development, integration, and support. A skilled CMS development team utilizes popular platforms like WordPress, Joomla, Drupal, and others, tailoring them to suit specific needs. They ensure responsive designs, user-friendly interfaces, and efficient functionality. By availing CMS Development Service, clients gain control over their web content, empowering them to make real-time changes, add pages, and maintain blogs without technical expertise. This fosters a dynamic online presence, ultimately boosting productivity and engagement.
Benefits of CMS Development Service
CMS Development Service offers numerous benefits for businesses and individuals alike:
User-Friendly Interface: CMS provides an intuitive interface, making it easy for non-technical users to manage and update website content without relying on developers.
Time and Cost Efficiency: CMS streamlines content management processes, reducing the time and resources required for website maintenance and updates.
Customization: CMS development allows tailoring websites to specific needs, ensuring a unique and branded online presence.
SEO-Friendly: Many CMS platforms come with built-in SEO features or plugins, enabling better search engine visibility and higher rankings.
Collaboration and Workflow: CMS facilitates multiple users to collaborate on content creation and editing, enhancing productivity and efficiency.
Scalability: CMS can handle websites of various sizes, enabling seamless growth and expansion.
Security: Reputable CMS platforms receive regular updates and security patches, keeping websites protected from vulnerabilities.
Responsive Design: Modern CMS ensures mobile-friendly and responsive websites, catering to the increasing mobile user base.
Integration Capabilities: CMS can integrate with third-party tools, plugins, and services, enhancing website functionality and user experience.
Analytics and Insights: CMS often includes analytics tools, enabling users to track website performance, user behavior, and other valuable metrics.
Content Scheduling: CMS allows content to be scheduled for publishing at specific times, making it convenient for businesses to maintain a consistent content strategy.
Process of CMS Development Service
The process of CMS Development Service involves several key stages, each essential for creating a functional and customized Content Management System. Here's an overview of the typical process:
Requirement Gathering: The first step involves understanding the client's needs, goals, and specific requirements for the CMS. This includes analyzing the type of content to be managed, user roles, design preferences, and any unique functionalities desired.
Planning and Strategy: Based on the gathered requirements, the development team devises a comprehensive plan and strategy for the CMS project. This includes selecting the appropriate CMS platform (e.g., WordPress, Joomla, Drupal) or deciding on a custom-built solution.
Design and User Interface: In this phase, the team focuses on creating the CMS's user interface and design, ensuring it aligns with the client's branding and offers a user-friendly experience for content management.
Development and Integration: The CMS is developed, either by custom coding or configuring the chosen CMS platform. The team integrates essential features like user authentication, content creation, editing, media management, SEO, and any required third-party integrations.
Testing: Thorough testing is conducted to identify and fix any bugs or issues. This includes functionality testing, security testing, performance testing, and cross-device compatibility checks.
Deployment: Once testing is successful, the CMS is deployed to the client's server or cloud environment. The team ensures a smooth transition from the existing website, if applicable.
Training and Documentation: The development team provides training to the client's staff on how to use the CMS effectively for content management. They also create documentation for future reference.
Support and Maintenance: After the CMS goes live, the development team offers ongoing support and maintenance services. This includes addressing any issues, updating the CMS, and implementing new features or enhancements as needed.
Content Migration (if applicable): In some cases, existing content may need to be migrated from the old website or system to the new CMS. This process is carefully executed to ensure data integrity and consistency.
Continuous Improvement: As the website evolves and requirements change, the CMS is continuously improved and updated to stay up-to-date with the latest technologies and best practices.
Industries We Serve for CMS Development Service
CMS Development Service can be applied to a wide range of industries, as almost all businesses and organizations benefit from efficient content management. Here are some of the key industries that benefit from CMS Development Services:
Corporate and Business Websites
E-commerce
Education
Healthcare
Government and Non-Profit
Media and Publishing
Hospitality and Tourism
Real Estate
Finance
Manufacturing
Entertainment
Technology
Automotive
Fashion and Retail
Travel and Transportation
Package for Custom CMS Development
Basic
Small Business
$

1599
Standard
Mid-Size Business
$

1999
Advanced
Large Business
$

2499
Why Choose RGB Web Tech?
Expertise and Experience: Look for a company with a proven track record in CMS Development. Check their portfolio and client testimonials to gauge their expertise and experience in delivering successful projects.
Customization: Ensure the company can tailor the CMS to your specific needs and preferences, providing a unique solution that aligns with your business goals.
CMS Platform Knowledge: Verify that the company has proficiency in working with popular CMS platforms like WordPress, Joomla, Drupal, or others, depending on your requirements.
User-Friendly Interfaces: A good CMS should have an intuitive and user-friendly interface. Check if the company emphasizes usability in their designs.
Responsive Design: Ensure that the CMS they develop is responsive and mobile-friendly, as a significant portion of website traffic comes from mobile devices.
Security Measures: Security is crucial for any CMS. Ensure the company follows industry best practices to safeguard your website and data.
SEO Considerations: Check if the CMS is developed with SEO in mind, as this can significantly impact your website's search engine rankings.
Support and Maintenance: Inquire about their post-development support and maintenance services to keep your CMS updated and running smoothly.
Cost and Timelines: Obtain detailed quotes and timelines from the company to assess if they align with your budget and project requirements.
Communication and Collaboration: Effective communication is essential throughout the development process. Choose a company that maintains clear and open lines of communication.
Client Reviews and Reputation: Research online for reviews and ratings from their previous clients to get insights into their reputation and work ethics.
Scalability: Ensure that the CMS solution is scalable to accommodate your future growth and expansion plans.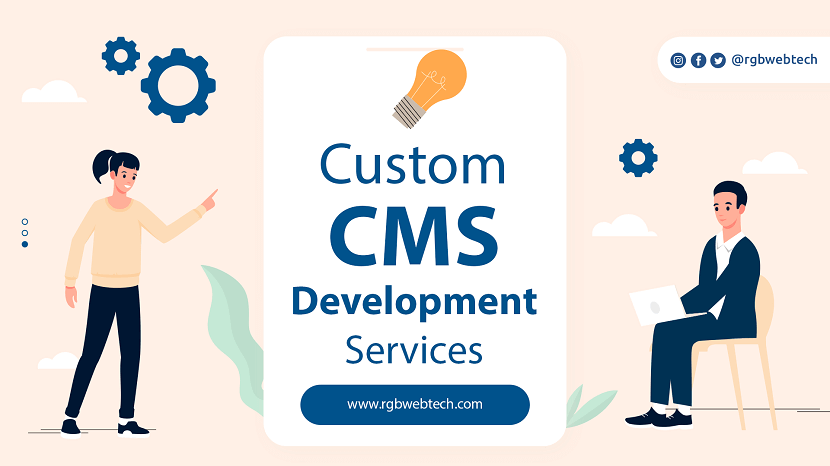 We're excited to discuss your design, development and marketing needs. Our team can bring your digital ideas to life. Let's create something amazing!
Written by RGB WEB TECH
Design, Development and Marketing Services
We are a Chandigarh-based company specializing in web design, web development, digital marketing, and mobile app development services, dedicated to crafting compelling online platforms. Our expertise lies in coding, responsive design, user interface, user experience, mobile app development, and digital marketing. Bring us your ideas, and we'll turn them into successful realities!