Last updated on November 20th, 2023 by RGB Web Tech
RGB Web Tech Custom Web Application Development Service! We are a leading team of skilled developers and designers committed to crafting tailored web applications to meet your unique business needs. With years of experience and expertise, we specialize in building scalable, secure, and user-friendly web solutions that drive growth and efficiency for your enterprise.
Our collaborative approach ensures that we thoroughly understand your requirements, enabling us to deliver customized solutions that align perfectly with your vision. From concept to deployment, we maintain transparent communication and provide regular updates, ensuring you are involved throughout the development process.
Choose us to empower your business with cutting-edge, bespoke web applications that elevate your online presence and drive your success.
Benefits of Custom Web Application Development Service
Custom web application development offers numerous benefits that can significantly enhance your business operations and online presence. Here are some key advantages:
Tailored to Your Needs: Custom web applications are built specifically for your business, addressing your unique requirements and workflows, ensuring optimal performance and efficiency.
Scalability: These applications are designed to grow with your business, accommodating increasing demands and adapting to changing circumstances without major overhauls.
Enhanced Security: Custom solutions allow for robust security measures tailored to your data protection needs, reducing vulnerabilities and safeguarding sensitive information.
Seamless Integration: Custom apps can easily integrate with your existing systems and software, streamlining processes and promoting data consistency.
Improved User Experience: User-centric design ensures a smooth and intuitive interface, enhancing user satisfaction and engagement.
Competitive Advantage: Tailored apps can give you a competitive edge by providing unique features that differentiate your business from competitors.
Cost-Effectiveness: While custom development might seem more expensive initially, it eliminates the need for unnecessary features and ongoing licensing fees, saving money in the long run.
Faster Performance: Custom apps are optimized for performance, ensuring faster load times and responsiveness, leading to higher user retention.
Dedicated Support: With a custom development service, you can expect dedicated support, updates, and maintenance to keep your application running smoothly.
Ownership and Control: You have complete ownership of the source code, granting you full control over your application's future enhancements and modifications.
Process of Custom Web Application Development Service
The process of custom web application development involves several key stages, each essential for creating a successful and tailored solution. Here's a general outline of the process:
Discovery and Planning
Understand client's requirements and business objectives.
Conduct market research and competitor analysis.
Define project scope, goals, and features.
Create a project timeline and budget.
Design
Create wireframes and mockups to visualize the application's layout and user interface.
Review and finalize the design with client feedback.
Develop the Information Architecture (IA) for the application.
Development
Select the appropriate technology stack for the application.
Develop the front-end using HTML, CSS, and JavaScript.
Implement the back-end using server-side technologies and databases.
Build and test application functionalities, ensuring they meet the defined requirements.
Testing
Conduct rigorous testing, including functional, usability, performance, and security testing.
Identify and fix bugs and issues to ensure the application's stability.
Deployment
Prepare the application for deployment to the production server.
Configure hosting environments and databases.
Deploy the application to the live server.
Launch
Monitor the application's performance during the initial launch phase.
Address any immediate issues or concerns that arise.
Support and Maintenance
Provide ongoing support to address user feedback and fix bugs.
Regularly update and maintain the application to ensure compatibility and security.
Plan for future enhancements and feature additions.
Feedback and Iteration
Gather user feedback and analyze application performance.
Plan for iterative improvements based on user insights and changing business needs.
Industries We Serve for Custom Web Application Development Service
We take pride in offering our Custom Web Application Development Service to a wide range of industries, empowering businesses of all sizes with tailored solutions. Some of the industries we serve include:
E-commerce
Healthcare
Finance
Education
Real Estate
Logistics and Transportation
Hospitality and Tourism
Manufacturing
Entertainment and Media
Non-profit Organizations
Government
Energy and Utilities
Package for Custom Web Application Development Service
Basic
Small Business
$

1599
Standard
Mid-Size Business
$

1999
Advanced
Large Business
$

2499
Why Choose RGB Web Tech?
Choosing RGB Web Tech for Custom Web Application Development Service comes with several compelling reasons that set us apart as a premier provider in the industry:
Expertise and Experience: Our team comprises highly skilled developers and designers with extensive experience in building custom web applications across various industries, ensuring top-notch solutions.
Tailored Solutions: We take the time to thoroughly understand your business needs and goals, providing customized web applications that precisely match your requirements.
Cutting-Edge Technology: We stay updated with the latest technologies and trends, employing industry-best practices to deliver modern, scalable, and future-proof applications.
User-Centric Approach: Our design philosophy revolves around creating intuitive and user-friendly interfaces, prioritizing a seamless user experience to drive engagement and satisfaction.
Robust Security: We implement stringent security measures to safeguard your data and ensure your application is protected against potential threats.
Agile Development Process: Our iterative approach allows for flexibility and adaptability, enabling us to respond to feedback and implement changes quickly.
Transparent Communication: Throughout the development process, we maintain open communication, keeping you informed about progress, milestones, and any potential challenges.
Timely Delivery: We adhere to strict timelines, delivering projects on schedule without compromising on quality.
Ongoing Support and Maintenance: After deployment, we provide continuous support and maintenance, ensuring your application remains up-to-date and fully functional.
Client-Centric Focus: At RGB Web Tech, our clients' success is our top priority. We are committed to building long-lasting partnerships and delivering solutions that contribute to your business growth.
Proven Track Record: We have a strong portfolio of successful web application development projects, showcasing our ability to deliver results that exceed expectations.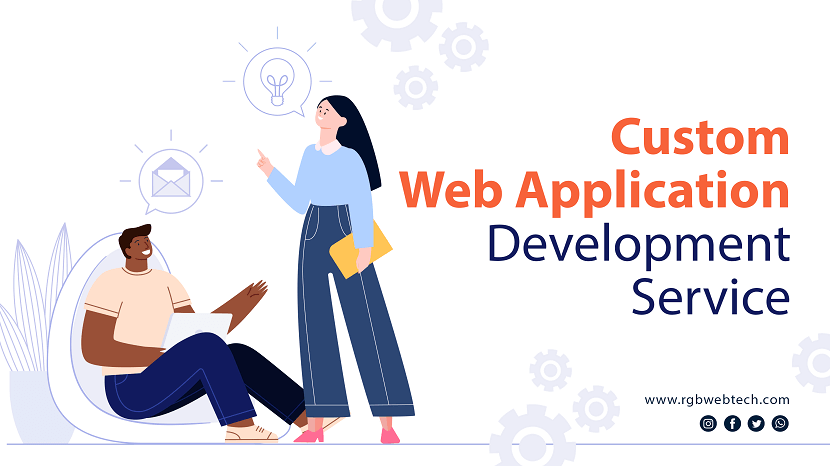 We're excited to discuss your design, development and marketing needs. Our team can bring your digital ideas to life. Let's create something amazing!
Written by RGB WEB TECH
Design, Development and Marketing Services
We are a Chandigarh-based company specializing in web design, web development, digital marketing, and mobile app development services, dedicated to crafting compelling online platforms. Our expertise lies in coding, responsive design, user interface, user experience, mobile app development, and digital marketing. Bring us your ideas, and we'll turn them into successful realities!