Last updated on November 20th, 2023 by RGB Web Tech
In the rapidly evolving digital landscape, businesses are increasingly turning to E-commerce to expand their reach and boost sales. Our E-commerce Development Service is a comprehensive solution designed to empower companies with a robust and user-friendly online platform. With a team of skilled developers, designers, and experts, we specialize in creating tailor-made E-commerce websites and applications that cater to the unique needs of each client. From building responsive and visually appealing interfaces to integrating secure payment gateways and optimizing for SEO, our service ensures seamless customer experiences and enhanced conversion rates. Embrace the future of retail with our E-commerce Development Service and unlock the full potential of your business.
Benefits of E-commerce Development Service
The benefits of E-commerce Development Service are numerous and impactful for businesses:
Expanded Market Reach: E-commerce enables businesses to reach customers globally, breaking geographical barriers and tapping into a vast customer base.
Increased Sales and Revenue: An effective E-commerce platform enhances the chances of attracting more customers and converting leads into sales, thereby boosting revenue.
24/7 Availability: E-commerce websites operate round-the-clock, allowing customers to make purchases at their convenience, leading to increased sales potential.
Cost-Effectiveness: Running an online store is generally more cost-effective than maintaining a physical retail location, saving on rent, utilities, and other expenses.
Personalized Shopping Experience: E-commerce platforms can leverage customer data to offer personalized product recommendations, enhancing customer satisfaction and loyalty.
Analytics and Insights: E-commerce tools provide valuable data and insights into customer behavior, enabling businesses to make data-driven decisions for improved marketing and sales strategies.
Streamlined Inventory Management: E-commerce systems allow real-time inventory tracking, minimizing stockouts and ensuring efficient order fulfillment.
Enhanced Customer Support: Integrated customer support features like live chat or chatbots offer immediate assistance, resolving queries and improving customer experience.
Multiple Payment Options: E-commerce platforms can offer various payment methods, making transactions convenient for customers and increasing the likelihood of completed purchases.
Flexibility and Scalability: E-commerce solutions can adapt to the growing needs of a business, scaling up or down as required, ensuring a sustainable long-term strategy.
Competitive Advantage: In today's digital age, having a well-developed E-commerce platform provides a competitive edge, especially for businesses operating in crowded markets.
Mobile Accessibility: With the increasing use of mobile devices for online shopping, E-commerce development ensures responsive designs for a seamless mobile shopping experience.
Process of E-commerce Development Service
The process of E-commerce Development Service involves several stages to create a functional and successful online store. Here's a general outline of the typical process:
Requirement Gathering: Understanding the client's business goals, target audience, product range, and specific requirements is crucial. This phase involves detailed discussions to gather all essential information.
Planning and Strategy: Developing a comprehensive plan, including the choice of the E-commerce platform (e.g., Shopify, WooCommerce, Magento), technology stack, and outlining the project timeline.
Design and User Experience (UX): Creating wireframes and prototypes to visualize the website's layout, user flow, and design. Ensuring an intuitive and user-friendly interface to enhance the overall shopping experience.
Front-end Development: Implementing the approved design and turning it into a functional website using HTML, CSS, and JavaScript. Making sure the website is responsive and optimized for various devices.
Back-end Development: Building the server-side of the website, managing databases, and integrating necessary functionalities like product catalog, shopping cart, and payment gateways.
Content Creation and Product Upload: Adding high-quality product images, detailed descriptions, and other relevant content. Creating SEO-friendly product pages to improve search engine visibility.
Testing and Quality Assurance: Conducting thorough testing of the website to identify and fix any bugs or issues. Checking the website's performance, security, and compatibility across different browsers and devices.
Deployment: Once the website is fully tested and approved, it is deployed to the live server, making it accessible to the public.
Payment Gateway Integration: Setting up secure payment gateways to enable smooth and safe online transactions for customers.
Security Measures: Implementing SSL certificates, encryption, and other security measures to protect customer data and ensure a secure shopping environment.
Launch and Marketing: Strategizing the launch of the website and initiating marketing efforts to attract traffic and customers.
Post-launch Support and Maintenance: Providing ongoing support, monitoring website performance, and making necessary updates to ensure the website's smooth functioning.
Industries We Serve for E-commerce Development Service
Our E-commerce Development Service caters to a wide range of industries, empowering businesses in various sectors to establish a strong online presence and capitalize on the potential of digital commerce. Some of the industries we serve include:
Retail and Consumer Goods
Fashion and Apparel
Electronics and Technology
Health and Beauty
Home and Furniture
Food and Beverage
Automotive
Books and Media
Toys and Games
Sports and Fitness
Industrial and B2B
Jewelry and Accessories
Art and Craft
Pharmaceuticals and Healthcare
Pet Products
Package for e-Commerce Development
Basic
Small Business
$

1599
Standard
Mid-Size Business
$

1999
Advanced
Large Business
$

2499
Why Choose RGB Web Tech?
Choosing RGB Web Tech for E-commerce Development Service offers several compelling advantages that set us apart as a trusted and reliable partner for your online business needs:
Expertise and Experience: We have a team of skilled and experienced developers, designers, and E-commerce experts who are well-versed in creating successful online stores across various industries.
Tailor-Made Solutions: We understand that each business is unique, and we tailor our E-commerce solutions to align with your specific requirements and business goals.
User-Centric Approach: Our focus is on providing exceptional user experiences, ensuring that your customers find it easy and enjoyable to navigate and make purchases on your E-commerce platform.
Cutting-Edge Technology: We stay up-to-date with the latest E-commerce trends and technologies, ensuring that your online store is equipped with the best features and functionalities available.
Mobile Responsiveness: With the increasing use of mobile devices for online shopping, we ensure that your E-commerce platform is fully responsive and optimized for seamless mobile experiences.
Security and Privacy: We prioritize the security of your website and customer data, implementing robust security measures to safeguard against cyber threats.
Scalability: Our E-commerce solutions are designed to scale with your business growth, accommodating increased traffic and product offerings without compromising performance.
SEO-Friendly Architecture: We optimize your E-commerce website for search engines, increasing its visibility and attracting organic traffic to drive more sales.
Timely Delivery: We adhere to strict project timelines and ensure timely delivery of your E-commerce platform without compromising on quality.
Customer Support: We provide dedicated post-launch support and assistance to ensure that your E-commerce platform continues to function smoothly and efficiently.
Affordable Pricing: Our E-commerce Development Service offers competitive and transparent pricing, delivering excellent value for your investment.
Client Satisfaction: Our track record of satisfied clients speaks to our commitment to delivering top-notch E-commerce solutions that meet and exceed expectations.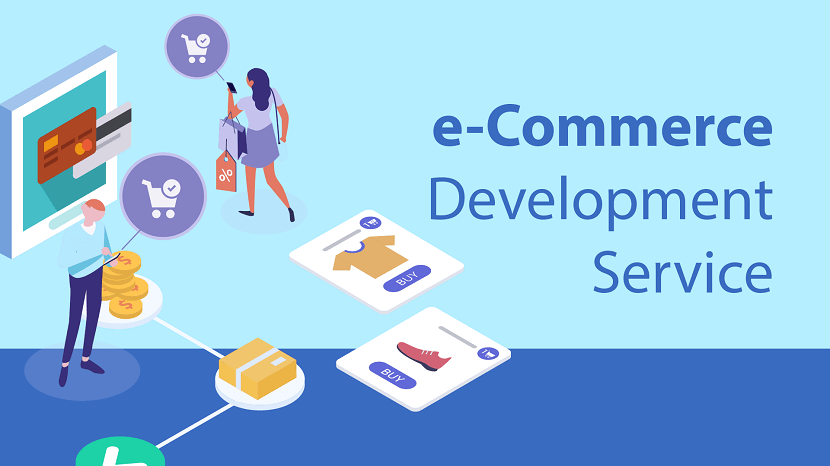 We're excited to discuss your design, development and marketing needs. Our team can bring your digital ideas to life. Let's create something amazing!
Written by RGB WEB TECH
Design, Development and Marketing Services
We are a Chandigarh-based company specializing in web design, web development, digital marketing, and mobile app development services, dedicated to crafting compelling online platforms. Our expertise lies in coding, responsive design, user interface, user experience, mobile app development, and digital marketing. Bring us your ideas, and we'll turn them into successful realities!