Last updated on November 20th, 2023 by RGB Web Tech
RGB Web Tech Gaming App Development Service! At the forefront of technology, we craft immersive and captivating gaming experiences that transport players into dynamic virtual worlds. Our team of skilled developers is adept at creating games for various platforms, including mobile, PC, and consoles. With a passion for gaming and a keen eye for detail, we specialize in designing user-friendly interfaces, enthralling gameplay mechanics, and stunning graphics. From concept ideation to flawless execution, we pride ourselves on delivering tailor-made solutions that cater to your unique requirements. Join us on this thrilling journey to bring your gaming vision to life and leave players craving for more!
Benefits of Gaming App Development Service
Our Gaming App Development Service offers a multitude of benefits that cater to both clients and end-users:
Customized Gaming Experience: We create bespoke gaming apps tailored to your unique vision and requirements, ensuring a personalized and engaging experience for your target audience.
Cutting-edge Technology: Leveraging the latest technologies and tools, we deliver high-performance games with stunning graphics, smooth gameplay, and seamless user interfaces.
Platform Diversity: Our expertise spans across various platforms, allowing us to develop games for mobile devices, PCs, and gaming consoles, ensuring wider accessibility and reach.
Faster Time-to-Market: With our experienced team and streamlined development process, we can bring your gaming app to market quicker, gaining a competitive edge.
Monetization Strategies: We incorporate effective monetization strategies, such as in-app purchases, ads, or subscriptions, to help you maximize revenue from your gaming app.
Cross-platform Compatibility: Our games are designed to be compatible with multiple operating systems and devices, broadening your potential user base.
Quality Assurance: Rigorous testing and quality checks guarantee a bug-free and smooth gaming experience, enhancing user satisfaction and retention.
Expert Team: Our skilled developers, designers, and artists collaborate to create captivating storylines, captivating characters, and addictive gameplay mechanics.
Post-launch Support: We provide ongoing support and updates to ensure your gaming app remains up-to-date and glitch-free, fostering long-term success.
Market Insights: With our industry knowledge, we offer valuable insights and suggestions, helping you stay ahead of trends and cater to evolving user preferences.
Process of Gaming App Development Service
The process of Gaming App Development Service typically involves the following key stages:
Conceptualization and Planning: In this stage, the client and development team collaborate to define the game concept, target audience, and key features. The team also performs market research to identify trends and potential competitors.
Design and Prototyping: Game designers create wireframes, sketches, and prototypes to visualize the game's user interface, mechanics, and aesthetics. This helps in getting early feedback and refining the game design.
Development: The actual coding and development of the game take place in this stage. Programmers, artists, and sound engineers work together to create the game's core mechanics, graphics, animations, and audio.
Testing and Quality Assurance: Rigorous testing is conducted to identify and fix bugs, glitches, and other issues. This includes compatibility testing across different devices and platforms.
Beta Testing: A closed or open beta testing phase is carried out to gather feedback from a limited number of users. This helps in identifying further improvements and making adjustments.
Polishing and Optimization: Based on feedback and testing results, the game is refined, and performance is optimized for better user experience and smooth gameplay.
Monetization Integration: If the game includes in-app purchases, ads, or other monetization strategies, they are integrated at this stage.
Launch and Marketing: The game is released on app stores and other platforms. An effective marketing strategy is implemented to create awareness and attract users.
Post-launch Support and Updates: After the launch, the development team continues to monitor the game's performance, provide customer support, and release updates to address issues and add new features.
Data Analysis and Iteration: Game performance data, user feedback, and market trends are continuously analyzed to identify areas for improvement and plan future updates or new game versions.
Industries We Serve for Gaming App Development Service
Our Gaming App Development Service caters to a diverse range of industries, recognizing the growing demand for gaming experiences in various sectors. Some of the industries we serve include:
Entertainment and Media
Education and Edutainment
Healthcare and Wellness
Marketing and Advertising
Sports and Fitness
E-commerce and Retail
Tourism and Travel
Social Networking
Corporate Training and Team Building
Gaming Startups and Entrepreneurs
Package for Game App Development Service
Basic
Small Business
$

1299
Standard
Mid-Size Business
$

1899
Advanced
Large Business
$

2499
Why Choose RGB Web Tech?
Choosing RGB Web Tech for Gaming App Development Service comes with a plethora of compelling reasons that set us apart as a top-notch development partner:
Expertise and Experience: Our team comprises seasoned professionals with extensive experience in gaming app development, ensuring the highest level of proficiency and creativity.
Tailor-Made Solutions: We take a client-centric approach, crafting customized gaming experiences that align with your unique vision, target audience, and business objectives.
Cutting-edge Technology: We stay abreast of the latest gaming technologies and trends, ensuring that your gaming app is developed using the most advanced tools and techniques.
Cross-platform Proficiency: Our expertise extends across multiple platforms, enabling us to deliver gaming apps for mobile devices, PCs, and consoles, reaching a wider audience.
Superior Graphics and Design: Our skilled artists and designers create captivating visuals and user interfaces that enhance player engagement and immersion.
Rigorous Testing and Quality Assurance: We conduct thorough testing at every stage to eliminate bugs and ensure a seamless, glitch-free gaming experience.
Fast Time-to-Market: With our streamlined development process and efficient project management, we can expedite the development cycle, getting your game to market faster.
Post-launch Support: We provide continuous support, updates, and maintenance after the launch, ensuring your gaming app remains up-to-date and optimized.
Transparent Communication: We believe in clear and transparent communication with our clients, keeping them involved throughout the development process and informed about progress.
Affordable Pricing: Our competitive pricing model ensures that you get top-notch gaming app development services without breaking the bank.
Client Satisfaction: Our track record of satisfied clients speaks to our commitment to delivering exceptional gaming app solutions that exceed expectations.
Innovation and Creativity: We encourage innovation and creative thinking, which translates into unique and engaging gaming experiences for players.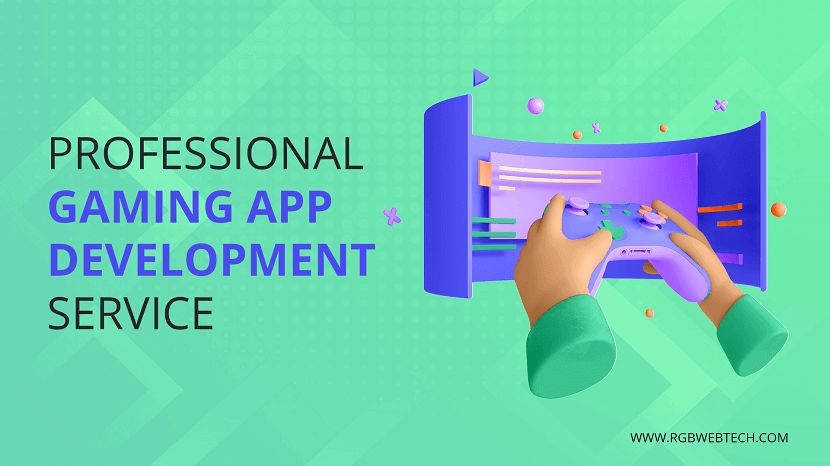 We're excited to discuss your design, development and marketing needs. Our team can bring your digital ideas to life. Let's create something amazing!
Written by RGB WEB TECH
Design, Development and Marketing Services
We are a Chandigarh-based company specializing in web design, web development, digital marketing, and mobile app development services, dedicated to crafting compelling online platforms. Our expertise lies in coding, responsive design, user interface, user experience, mobile app development, and digital marketing. Bring us your ideas, and we'll turn them into successful realities!