Last updated on March 25th, 2023 by RGB Web Tech
RGB Web Tech Mobile App Development Service is a cutting-edge solution for businesses and individuals seeking to establish a strong digital presence and tap into the ever-expanding mobile market. With a team of skilled developers and designers, we craft bespoke mobile applications that cater to diverse platforms like iOS and Android. From concept to deployment, we prioritize user experience, functionality, and performance, ensuring seamless navigation and engagement. Whether it's a business app, social networking platform, or e-commerce solution, we tailor our services to match unique requirements. With a focus on innovation and up-to-date technology, our Mobile App Development Service guarantees to elevate your brand to new heights.
Most Popular App Development Services
Native App Development Service : Our Native App Development Service delivers cutting-edge, custom-built applications for iOS and Android platforms. Our expert team of developers creates immersive, high-performance, and user-friendly apps, tailored to meet your specific needs. With seamless integration, robust security, and top-notch user experience, we bring your app ideas to life with excellence.
Hybrid App Development Service : Our Hybrid App Development Service offers the best of both worlds, combining the efficiency of web technologies with the performance of native apps. Our skilled team crafts versatile applications that run seamlessly on multiple platforms, providing a cost-effective solution with a consistent user experience, fast deployment, and broad market reach.
Cross-Platform App Development Service : Our Cross-Platform App Development Service empowers businesses to reach wider audiences by creating single codebase applications that run flawlessly on iOS, Android, and beyond. With a focus on efficiency and affordability, our expert developers ensure consistent functionality, UI/UX, and rapid deployment, delivering a top-notch user experience across all devices.
Custom App Development Service : Our Custom App Development Service turns your unique vision into reality, tailoring every aspect of the application to suit your specific requirements. Our experienced team designs and develops apps that align perfectly with your business objectives, offering unmatched flexibility, scalability, and innovation to give you a competitive edge in the market.
Enterprise App Development Service: Our Enterprise App Development Service equips businesses with powerful, secure, and scalable applications that streamline processes and enhance productivity. With a keen focus on data security, integration, and user experience, our expert team creates bespoke solutions that cater to the unique needs of your enterprise, empowering you to thrive in the digital age.
E-commerce App Development Service : Our E-commerce App Development Service revolutionizes online businesses with feature-rich, user-friendly applications. Seamlessly integrating with your e-commerce platform, we craft intuitive mobile apps that enhance customer engagement, boost sales, and optimize the shopping experience. With secure payment gateways and robust functionalities, we help you dominate the digital marketplace.
Gaming App Development Service : Our Gaming App Development Service brings immersive entertainment to life, creating captivating and addictive gaming experiences. Our expert team designs and develops games for various platforms, ensuring stunning graphics, smooth gameplay, and engaging mechanics. From casual to complex games, we deliver interactive and innovative solutions that captivate players worldwide.
Augmented Reality (AR) and Virtual Reality (VR) App Development Service: Our AR and VR App Development Service transports users to a whole new dimension of interactive experiences. We harness cutting-edge technologies to create captivating virtual worlds, blending reality and imagination seamlessly. With a focus on realism, interactivity, and innovation, our expert team crafts immersive applications that redefine the way users perceive and engage with content.
Benefits of Mobile App Development Service
Mobile App Development Services offer a plethora of benefits that can significantly enhance businesses and individuals' digital strategies. Here are some key advantages:
Enhanced Accessibility: Mobile apps provide easy access to your products or services 24/7, allowing customers to engage with your brand anytime, anywhere.
Improved Customer Engagement: Apps offer personalized experiences, push notifications, and in-app messaging, fostering direct communication with users and increasing engagement.
Brand Visibility and Recognition: A well-designed app boosts brand visibility and helps establish your business as tech-savvy and forward-thinking.
Increased Sales and Revenue: Mobile apps can streamline the purchasing process, leading to increased conversions and revenue generation.
Customer Loyalty and Retention: Apps can offer loyalty programs, discounts, and rewards, fostering customer retention and loyalty.
Data Collection and Analysis: Mobile apps enable data collection, offering valuable insights into user behavior and preferences, facilitating better decision-making.
Competitive Edge: Having a mobile app sets you apart from competitors, especially if they don't offer such convenience to their customers.
Offline Functionality: Some apps can function offline, providing basic features even when there's no internet connection.
Integration with Device Features: Mobile apps can leverage device features like GPS, camera, and sensors to provide more engaging and useful experiences.
Scalability and Adaptability: App development services can scale and adapt the app as your business grows and market demands change.
Improved Customer Service: Apps can integrate customer support features, offering quick resolutions to queries and issues.
Marketing Opportunities: Apps serve as an additional marketing channel, allowing you to promote products, offers, and events directly to users.
Process of Mobile App Development Service
The process of Mobile App Development Service typically involves several stages, each aimed at ensuring the successful creation and deployment of a high-quality mobile application. Here's an overview of the typical process:
Discovery and Planning: This stage involves understanding the client's requirements, target audience, and project goals. The development team collaborates with the client to define the app's features, functionalities, and design preferences. A detailed project plan and timeline are created.
Design and Prototyping: In this phase, the app's user interface (UI) and user experience (UX) are designed. Wireframes and mockups are created to visualize the app's layout and flow. Prototypes may be developed to demonstrate basic interactions and gather feedback from stakeholders.
Development: The actual coding and programming of the mobile app take place in this stage. Developers work on both the front-end (UI) and back-end (server-side) components to ensure smooth functionality and integration with databases, APIs, and other services.
Testing: Thorough testing is conducted to identify and fix any bugs, errors, or usability issues. Various testing methods, such as manual testing, automated testing, and user testing, are employed to ensure the app performs as expected across different devices and operating systems.
Deployment: Once the app passes testing and quality assurance, it is submitted to the app stores (e.g., Apple App Store, Google Play Store) for review and approval. This process may take some time, depending on the platform and any additional requirements.
Launch and Marketing: After approval, the app is officially launched on the app stores. An effective marketing strategy is put in place to promote the app and attract users.
Maintenance and Updates: After the app is live, ongoing maintenance and updates are essential to address issues, introduce new features, and ensure compatibility with the latest operating systems and devices.
Monitoring and Analytics: Post-launch, the app's performance is continuously monitored using analytics tools. This data helps identify user behavior, app usage patterns, and areas for improvement.
Industries We Serve for Mobile App Development Service
Our Mobile App Development Service caters to a wide range of industries, recognizing the unique needs and demands of each sector. We take pride in our ability to deliver tailored and innovative solutions to enhance business operations and customer experiences across various domains. Some of the industries we serve include:
E-commerce and Retail
Healthcare and Fitness
Banking and Finance
Education and E-learning
Travel and Hospitality
Real Estate
Food and Delivery
Entertainment and Media
Transportation and Logistics
Social Networking
Automotive
Productivity and Business Tools
Package for Mobile App Development Service
Basic
Small Business
$

1299
Standard
Mid-Size Business
$

1899
Advanced
Large Business
$

2499
Why Choose RGB Web Tech?
Choosing RGB Web Tech for Mobile App Development Service offers numerous advantages that set us apart as a trusted and reliable partner. Here are some compelling reasons to choose us:
Expertise and Experience: Our team comprises highly skilled developers and designers with extensive experience in building successful mobile applications across various industries and platforms.
Tailored Solutions: We understand that every project is unique, and we tailor our app development services to match your specific requirements, ensuring a customized solution that aligns with your business goals.
Quality and Innovation: We are committed to delivering top-notch, high-quality apps that are innovative, user-friendly, and equipped with the latest technologies to give your business a competitive edge.
Transparent Communication: We prioritize effective and transparent communication with our clients, keeping them informed about the progress, challenges, and milestones throughout the development process.
Timely Delivery: We adhere to strict timelines and project schedules to ensure that your app is delivered on time, allowing you to launch it in the market promptly.
Cost-Effectiveness: Our app development services offer an excellent balance between quality and cost, providing you with value for your investment.
Post-Launch Support: We provide continuous support even after the app is launched, assisting with updates, maintenance, and resolving any issues that may arise.
Security and Confidentiality: We take data security and confidentiality seriously, implementing robust measures to safeguard your app and sensitive information.
User-Centric Approach: Our design and development process focuses on creating user-centric apps that deliver exceptional experiences, resulting in higher user engagement and satisfaction.
Client Testimonials: We have a track record of satisfied clients who have benefited from our app development services, which speaks to our commitment to excellence.
Versatility: Whether it's a native iOS or Android app, cross-platform development, or hybrid app, we have the expertise to deliver the right solution for your needs.
Continuous Learning: Our team stays up-to-date with the latest trends and technologies in the mobile app development industry, ensuring that we deliver cutting-edge solutions.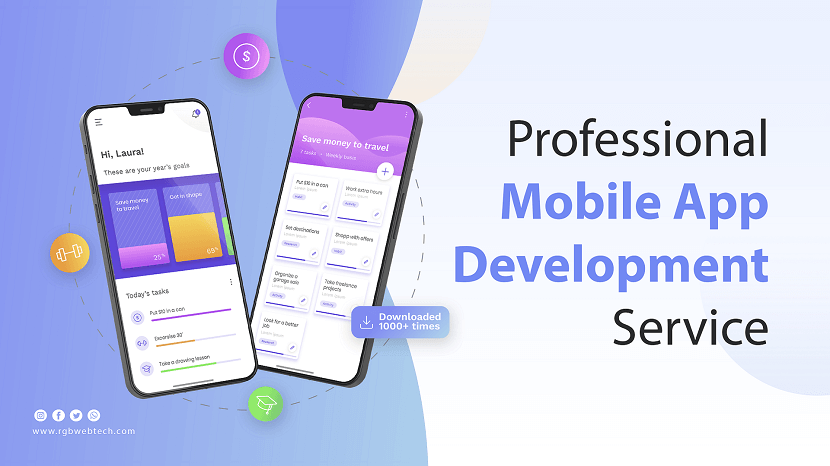 We're excited to discuss your web design & development needs. Our team can bring your digital ideas to life. Let's create something amazing!