Last updated on November 20th, 2023 by RGB Web Tech
RGB Web Tech Native App Development Service! We are a dedicated team of skilled developers and designers focused on creating high-quality, custom-built native mobile applications for both Android and iOS platforms. With a wealth of experience and cutting-edge expertise, we are committed to delivering outstanding user experiences that meet your unique business requirements.
Our development process begins with a thorough understanding of your goals, target audience, and desired functionality. From there, we craft a comprehensive strategy and meticulously design user interfaces that are intuitive, visually appealing, and on-brand. Our coding prowess ensures smooth performance, security, and seamless integration with device features.
Whether you need a new app from scratch or want to revamp an existing one, we guarantee timely delivery and ongoing support to ensure your app's success. Join us to transform your ideas into compelling, user-friendly, and feature-rich native apps!
Benefits of Native App Development Service
Native app development services offer numerous benefits, making them a preferred choice for businesses and individuals looking to build mobile applications. Some of the key advantages include:
Optimal Performance: Native apps are built specifically for a particular platform (Android or iOS) using platform-specific programming languages (Java/Kotlin for Android and Swift/Objective-C for iOS), ensuring superior performance and responsiveness.
Enhanced User Experience: Native apps provide a seamless and intuitive user experience, as they are designed to adhere to platform-specific design guidelines, resulting in a familiar interface for users.
Access to Device Features: Native apps have direct access to device hardware and software features, such as GPS, camera, contacts, and push notifications, allowing for richer functionality.
Offline Functionality: Native apps can work offline, providing a consistent user experience even without an internet connection.
Security: Native apps benefit from the security measures implemented by the platform, reducing the risk of data breaches and ensuring better protection for sensitive information.
Faster Development: Native app development frameworks and libraries are well-established, streamlining the development process and reducing time-to-market.
App Store Optimization: Native apps can take full advantage of app store optimization techniques, increasing visibility and discoverability on app marketplaces.
Better Integration: Native apps seamlessly integrate with other applications and services on the device, enhancing the overall user experience.
Regular Updates: Native apps can receive platform-specific updates, ensuring compatibility with the latest OS versions and devices.
Support for In-App Purchases: Native apps enable easy integration of in-app purchases, facilitating revenue generation for businesses.
Process of Native App Development Service
The process of native app development involves several stages, each crucial for creating a successful and high-quality mobile application. Here's an overview of the typical steps involved:
Discovery and Requirement Gathering: The first step is to understand the client's needs, target audience, and app objectives. This involves brainstorming sessions, gathering requirements, and defining the scope of the project.
UI/UX Design: In this phase, app designers create wireframes and prototypes to visualize the app's layout, user interface, and user experience. Feedback is collected and iteratively incorporated to refine the design.
Development Planning: Once the design is approved, the development team outlines the technical specifications, chooses the technology stack, and creates a development roadmap.
App Development: This is the core phase where developers start coding the app according to the platform-specific programming languages (Java/Kotlin for Android, Swift/Objective-C for iOS). They implement features, integrate APIs, and work on back-end connections.
Quality Assurance (QA) and Testing: Testers rigorously assess the app for bugs, performance issues, and usability problems. Multiple testing methods, including manual and automated testing, are employed to ensure a smooth and error-free user experience.
Deployment and Release: Once the app passes all tests, it is submitted to the respective app stores (Google Play Store for Android, Apple App Store for iOS). The app store reviews the app before making it available to the public.
Post-launch Support and Maintenance: After the app is live, the development team provides ongoing support, monitors app performance, and releases updates to fix bugs, add new features, and ensure compatibility with the latest OS versions.
Optimization and Enhancements: Continuous improvements are made based on user feedback, analytics, and emerging trends to optimize the app's performance and user experience.
Industries We Serve for Native App Development Service
Our Native App Development Service caters to a diverse range of industries, enabling businesses across various sectors to harness the power of mobile technology and engage with their target audience effectively. Some of the industries we serve include:
E-Commerce and Retail
Healthcare
Finance and Banking
Travel and Hospitality
Education and E-Learning
Transport and Logistics
Food and Beverage
Social Networking
Entertainment and Media
Fitness and Wellness
Gaming
Real Estate
Package for Native Mobile App Development Service
Basic
Small Business
$

1299
Standard
Mid-Size Business
$

1899
Advanced
Large Business
$

2499
Why Choose RGB Web Tech?
Choosing RGB Web Tech for Native App Development Service offers numerous compelling reasons to ensure the success of your mobile application project:
Expert Team: We have a highly skilled team of experienced developers and designers who are well-versed in native app development for both Android and iOS platforms. They bring a wealth of knowledge and expertise to craft top-notch apps.
Custom Solutions: We understand that every client's requirements are unique. Therefore, we tailor our native app development services to meet your specific business goals, ensuring a personalized and effective solution.
User-Centric Approach: Our focus is on creating apps that deliver exceptional user experiences. We pay attention to UI/UX design and conduct usability testing to ensure user-friendliness and high engagement.
Agile Methodology: We follow an agile development process, allowing for flexibility, iterative improvements, and quick adaptations to changing project needs, resulting in faster development and reduced time-to-market.
Cutting-Edge Technology: Our team stays updated with the latest industry trends and technologies, incorporating the best tools and practices for building modern and efficient native apps.
Quality Assurance: Rigorous testing and quality assurance procedures are integral to our development process. We conduct comprehensive testing to identify and address any issues, delivering a bug-free and robust application.
Transparent Communication: We believe in transparent and open communication with our clients throughout the development journey. Regular updates, progress reports, and collaborative decision-making ensure you stay informed and involved.
Security and Privacy: We prioritize data security and privacy in our app development process. Our apps are built with strong security measures to protect user data and ensure compliance with relevant regulations.
On-Time Delivery: We are committed to delivering projects on time without compromising on quality. Our streamlined development process and proactive project management help us meet deadlines effectively.
Post-Launch Support: Our services don't end with the app's deployment. We provide ongoing support and maintenance to ensure your app remains up-to-date, functional, and performs optimally.
Affordable Pricing: We offer competitive pricing for our native app development services, providing value for your investment while maintaining the highest quality standards.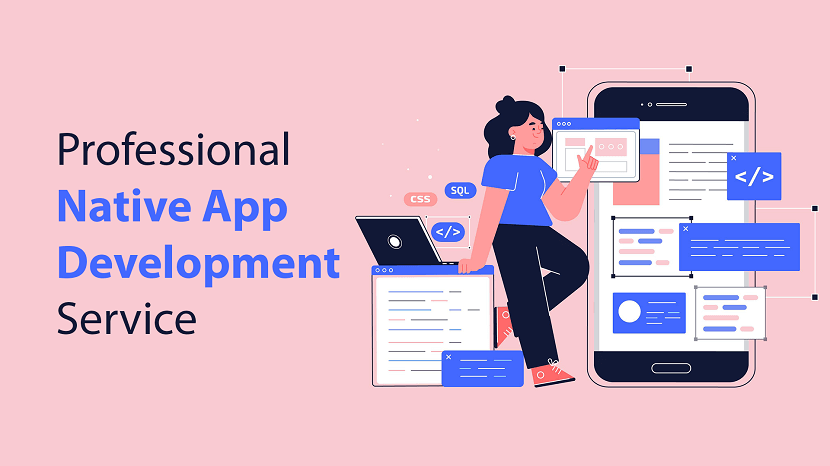 We're excited to discuss your design, development and marketing needs. Our team can bring your digital ideas to life. Let's create something amazing!
Written by RGB WEB TECH
Design, Development and Marketing Services
We are a Chandigarh-based company specializing in web design, web development, digital marketing, and mobile app development services, dedicated to crafting compelling online platforms. Our expertise lies in coding, responsive design, user interface, user experience, mobile app development, and digital marketing. Bring us your ideas, and we'll turn them into successful realities!