Last updated on November 20th, 2023 by RGB Web Tech
RGB Web Tech Web Hosting and Domain Setup Service! We pride ourselves on delivering seamless online solutions for your website needs. Our comprehensive hosting services ensure that your website remains accessible, secure, and lightning-fast. With state-of-the-art data centers and cutting-edge technology, we guarantee 99.9% uptime, ensuring your site is always available to visitors worldwide.
Our domain setup service simplifies the process of acquiring and managing your unique web address, making it hassle-free and efficient. Our expert team assists you in selecting the perfect domain name, reflecting your brand identity. We handle all technical aspects, allowing you to focus on creating compelling content and expanding your digital presence. Experience the power of reliable web hosting and a seamless domain setup today!
Benefits of Web Hosting and Domain Setup Service
Our Web Hosting and Domain Setup Service offers a multitude of benefits to individuals and businesses alike:
Reliability: Enjoy a reliable hosting infrastructure with minimal downtime, ensuring your website is accessible to visitors at all times.
Speed and Performance: Benefit from high-speed servers and optimized performance, ensuring faster loading times and an excellent user experience.
Security: Our service includes robust security measures, protecting your website from cyber threats and providing data encryption for sensitive information.
Technical Support: Our expert support team is available 24/7 to assist with any technical issues or questions you may have.
Domain Management: We handle all domain-related tasks, simplifying the process of acquiring, renewing, and managing domain names.
Customization: Our hosting plans offer flexibility, allowing you to tailor server configurations to suit your specific website requirements.
Scalability: As your website grows, we can easily scale your hosting resources to accommodate increased traffic and demand.
SEO-Friendly: Fast loading speeds and reliable hosting contribute positively to search engine rankings, boosting your website's visibility.
Backup and Recovery: Regular backups and disaster recovery options ensure that your data remains safe and retrievable in case of any unforeseen events.
Cost-Effectiveness: Our hosting plans cater to various budgets, offering value for money and eliminating the need for expensive in-house server setups.
Process of Web Hosting and Domain Setup Service
The process of Web Hosting and Domain Setup Service typically involves the following steps:
Understanding Requirements: The service provider will first discuss your website's needs, traffic expectations, and any specific features you require. They will help you choose the appropriate hosting plan and domain name.
Selecting a Domain Name: The service provider assists you in selecting a suitable domain name that aligns with your brand and is easy to remember. They will check the domain's availability and suggest alternatives if needed.
Registering the Domain: Once you decide on a domain name, the service provider will register it on your behalf, ensuring you have ownership and control over the domain.
Choosing a Hosting Plan: Based on your requirements, the provider will recommend the most appropriate hosting plan, considering factors like website size, traffic, and technical needs (shared hosting, VPS hosting, dedicated server, etc.).
Setting up Hosting Account: You'll need to sign up for the hosting service and create an account. The provider will guide you through this process and help you set up necessary login credentials.
Nameservers Configuration: To connect your domain with the hosting server, you need to update the domain's nameservers provided by the hosting company.
Website Migration (if applicable): If you have an existing website, the service provider will assist in migrating it to the new hosting server.
Website Deployment: For a new website, you'll need to upload your site files to the hosting server. The provider may offer tools like cPanel or FTP to facilitate this.
SSL Certificate Installation: To secure your website with HTTPS, the provider will install an SSL certificate, encrypting data transmitted between users and the server.
Testing and Troubleshooting: The provider will perform tests to ensure everything is functioning correctly. They'll troubleshoot any issues that arise during this process.
Finalization and Support: Once everything is set up and tested, the provider finalizes the configuration and hands over the website and domain to you. Ongoing support is provided for any future technical queries or maintenance needs.
Domain Management: The provider assists with domain management tasks such as renewals, DNS configuration, and updating domain contact information.
Industries We Serve for Web Hosting and Domain Setup Service
Our Web Hosting and Domain Setup Service caters to a diverse range of industries, providing reliable and secure online solutions for businesses and individuals. Some of the industries we serve include:
E-commerce
Small and Medium-sized Businesses (SMBs)
Startups and Entrepreneurs
Technology and IT
Hospitality and Travel
Education and E-Learning
Healthcare and Wellness
Non-profit Organizations
Creative and Media Agencies
Real Estate
Professional Services
Personal Blogs and Portfolios
Package for Web Hosting And Domain Setup
Basic
Small Business
$

199
Standard
Mid-Size Business
$

299
Advanced
Large Business
$

399
Why Choose RGB Web Tech for Web Hosting and Domain Setup Service?
Choosing RGB Web Tech for Web Hosting and Domain Setup Service comes with a multitude of compelling reasons that set us apart from the competition:
Reliability and Uptime: We boast a track record of exceptional uptime, ensuring your website remains accessible to visitors at all times.
Blazing Fast Speed: Our high-performance servers and optimized infrastructure deliver lightning-fast loading speeds for an outstanding user experience.
Top-Notch Security: Your website's security is our priority. We employ advanced measures to safeguard your data and protect against cyber threats.
Expert Technical Support: Our dedicated support team is available 24/7 to address any queries or technical issues promptly and efficiently.
Customized Solutions: We understand that each website has unique needs. Our hosting plans can be tailored to match your specific requirements.
Seamless Domain Management: From domain registration to DNS configuration, we handle all domain-related tasks for your convenience.
Scalability: As your website grows, our scalable hosting resources ensure a seamless transition without compromising performance.
User-Friendly Control Panel: Our intuitive control panel simplifies managing your hosting account and website settings.
Affordable Pricing: We offer competitive pricing without compromising on the quality of our services.
SSL Certificates: Your website's security is further enhanced with free SSL certificates included in our hosting plans.
Experience and Expertise: With years of experience in the industry, we possess the expertise to deliver top-tier hosting and domain solutions.
Client Testimonials: Our satisfied clients' testimonials speak volumes about our commitment to excellence and customer satisfaction.
Ease of Migration: If you have an existing website, we ensure a smooth migration process to our hosting platform.
Continuous Backups: Regular backups safeguard your data, providing peace of mind in case of any unforeseen events.
Industry Diversity: We serve a wide range of industries, understanding the unique requirements of businesses across various sectors.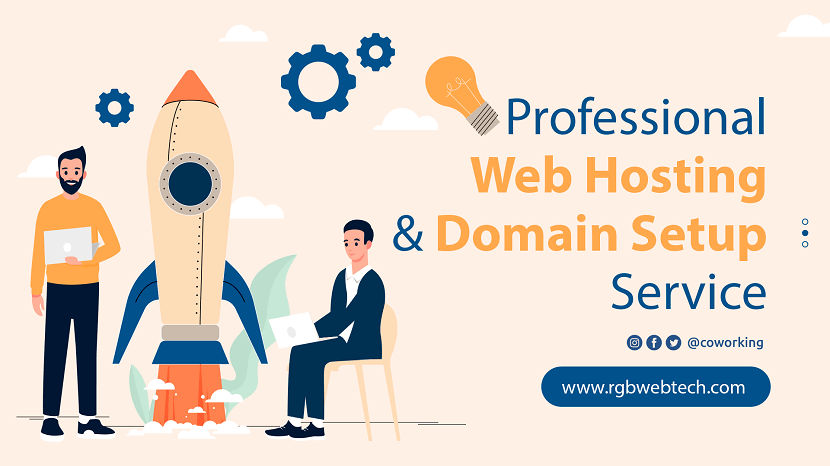 We're excited to discuss your design, development and marketing needs. Our team can bring your digital ideas to life. Let's create something amazing!
Written by RGB WEB TECH
Design, Development and Marketing Services
We are a Chandigarh-based company specializing in web design, web development, digital marketing, and mobile app development services, dedicated to crafting compelling online platforms. Our expertise lies in coding, responsive design, user interface, user experience, mobile app development, and digital marketing. Bring us your ideas, and we'll turn them into successful realities!