Last updated on November 20th, 2023 by RGB Web Tech
RGB Web Tech Website Maintenance and Support Service! We understand the importance of a well-functioning and up-to-date website in today's digital landscape. Our dedicated team of experts is here to ensure that your website remains secure, optimized, and fully operational at all times. With our comprehensive maintenance and support services, we take care of regular updates, security patches, bug fixes, and performance enhancements, so you can focus on your core business activities. From content updates to server monitoring, we provide a wide range of services tailored to meet your specific needs. Trust us to keep your website running smoothly and effectively, delivering an exceptional user experience to your visitors.
Benefits of Website Maintenance and Support Service
Enhanced Security: Regular website maintenance and support help in identifying and fixing security vulnerabilities, preventing potential hacking attempts, data breaches, and malware infections. It ensures that your website and user data remain protected.
Improved Performance: Continuous monitoring and optimization of your website's performance contribute to faster loading times, smoother navigation, and better user experience. Regular maintenance ensures that your site is optimized for various devices and browsers, reducing bounce rates and increasing user engagement.
Up-to-Date Content: With maintenance and support services, you can keep your website's content fresh and relevant. Regular updates to your products, services, and blog articles help attract and retain visitors, improving your search engine rankings and overall online visibility.
Technical Issue Resolution: Website maintenance includes identifying and resolving technical issues promptly. It minimizes downtime, error messages, broken links, and other issues that may deter visitors and impact your online reputation.
SEO Optimization: Maintenance services help you stay up to date with search engine algorithms and SEO best practices. Regular optimization of metadata, keywords, and other SEO elements ensures that your website ranks well in search engine results, driving organic traffic to your site.
Compatibility with New Technologies: The digital landscape is constantly evolving, and websites need to keep pace. Maintenance and support services ensure that your site remains compatible with the latest technologies, platforms, and web standards, providing a seamless user experience across devices.
Peace of Mind: Outsourcing your website maintenance and support tasks to professionals gives you peace of mind. You can focus on your core business activities, knowing that your website is in capable hands, and any technical issues will be promptly addressed.
Cost Efficiency: Regular maintenance helps identify potential issues before they become major problems, saving you from expensive emergency repairs. It is a cost-effective approach to website management, ensuring that your investment in web development remains optimized and sustainable.
Backup and Disaster Recovery: Website maintenance includes regular backups and disaster recovery plans. In case of data loss, server failure, or other unforeseen events, you can quickly restore your website to its previous state, minimizing downtime and potential business losses.
Professional Support: With a dedicated team of experts at your disposal, you have access to professional support and guidance regarding website-related issues. Whether you need advice on optimizing your site or assistance with technical troubleshooting, the maintenance and support team is there to assist you.
Process of Website Maintenance and Support Service
The process of website maintenance and support service typically involves the following steps:
Evaluation and Planning: The service provider assesses your website's current state, identifies any existing issues, and determines the scope of maintenance required. They also collaborate with you to understand your specific goals and requirements.
Establishing a Maintenance Plan: Based on the evaluation, a tailored maintenance plan is created. This plan outlines the frequency and types of maintenance tasks to be performed, such as software updates, security checks, content updates, and performance optimization.
Regular Monitoring: The service provider continuously monitors your website's performance, uptime, and security. They use various tools to detect any anomalies, potential vulnerabilities, or performance issues.
Updates and Patches: Regular software updates, including content management systems, plugins, themes, and security patches, are applied to ensure that your website is running on the latest stable versions. This helps to prevent security breaches and maintain compatibility with new technologies.
Content Management: The service provider assists with content management tasks, such as adding, modifying, or removing website content, including text, images, videos, and documents. This ensures that your website remains up to date and relevant.
Bug Fixes and Issue Resolution: Any reported bugs, errors, or technical issues are promptly addressed and resolved by the maintenance team. This includes troubleshooting, debugging, and implementing fixes to ensure smooth website functionality.
Performance Optimization: The service provider performs regular performance optimizations, such as caching, image compression, code optimization, and database maintenance. These measures improve website loading speed and overall user experience.
Security Enhancements: Website security is a crucial aspect of maintenance. The team implements security measures like regular backups, firewall setup, malware scanning, and vulnerability assessments. They also proactively monitor for any suspicious activities or potential threats.
Reporting and Communication: The maintenance team provides regular reports and updates on the tasks performed, website performance metrics, and any security incidents. They maintain open communication channels to address your queries, concerns, or requests promptly.
Continuous Improvement: The maintenance process is an iterative one, with the team constantly looking for ways to enhance your website's performance, security, and user experience. They adapt the maintenance plan based on changing needs and emerging technologies.
Industries We Serve for Website Maintenance and Support Service
We provide website maintenance and support services across a wide range of industries, including but not limited to:
E-commerce
Information Technology
Finance and Banking
Healthcare
Education
Hospitality and Tourism
Real Estate
Non-profit and Government
Professional Services
Manufacturing and Industrial
Package for Website Maintenance and Support Service
Basic
Small Business
$

1299
Standard
Mid-Size Business
$

1599
Advanced
Large Business
$

1999
Why Choose RGB Web Tech?
There are several reasons to choose RGB Web Tech for your website maintenance and support service:
Expertise and Experience: RGB Web Tech has a team of highly skilled professionals with extensive experience in website maintenance and support. Our experts are well-versed in a wide range of technologies, platforms, and industry best practices.
Customized Solutions: We understand that every website has unique requirements. RGB Web Tech offers customized maintenance and support solutions tailored to your specific needs and goals. We work closely with you to develop a plan that aligns with your business objectives.
Comprehensive Services: Our website maintenance and support services cover a wide range of tasks, including software updates, security monitoring, performance optimization, content management, bug fixes, and more. We provide a holistic approach to ensure your website remains secure, up to date, and fully functional.
Proactive Approach: At RGB Web Tech, we take a proactive approach to website maintenance. We continuously monitor your website's performance, security, and functionality to identify and address potential issues before they become major problems. This helps minimize downtime and ensure a smooth user experience.
Timely Support: We understand the importance of timely support when you encounter issues or have questions. RGB Web Tech provides prompt and responsive support to address your concerns and provide guidance whenever you need it.
Transparent Communication: We believe in maintaining open and transparent communication with our clients. Throughout the maintenance process, we keep you informed about the tasks performed, progress made, and any potential recommendations or concerns.
Quality Assurance: RGB Web Tech is committed to delivering high-quality services. We adhere to rigorous quality assurance processes to ensure that all maintenance tasks are performed accurately and efficiently.
Competitive Pricing: We offer competitive pricing for our website maintenance and support services, providing you with cost-effective solutions that fit your budget. Our pricing is transparent, without any hidden fees or surprises.
Long-Term Partnership: RGB Web Tech aims to build long-term partnerships with our clients. We strive to understand your business goals and provide ongoing support to help you achieve them. Your success is our success.
Customer Satisfaction: Customer satisfaction is our top priority. We go the extra mile to ensure that our clients are satisfied with our services, and we continuously seek feedback to improve our processes and deliver an exceptional customer experience.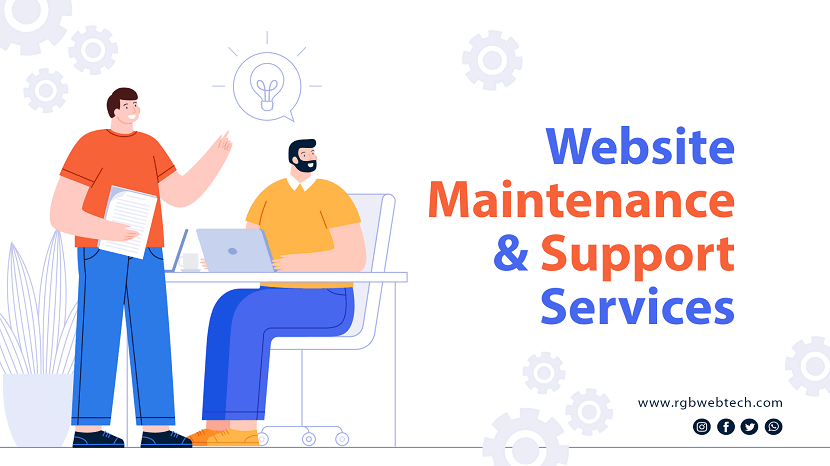 We're excited to discuss your design, development and marketing needs. Our team can bring your digital ideas to life. Let's create something amazing!
Written by RGB WEB TECH
Design, Development and Marketing Services
We are a Chandigarh-based company specializing in web design, web development, digital marketing, and mobile app development services, dedicated to crafting compelling online platforms. Our expertise lies in coding, responsive design, user interface, user experience, mobile app development, and digital marketing. Bring us your ideas, and we'll turn them into successful realities!