Last updated on January 1st, 2023 by RGB Web Tech
AccuWebHosting was founded in 2000 as a Windows hosting company. AccuWebHosting was founded to fulfill the demand for flexible web hosts that could adapt to every customer's needs. It added new services over time, greatly expanding its service offering.
It still places a strong emphasis upon Windows-based plans today, and scores extremely well in our Windows hosting review. It also provides a broad area of services and has more plans than most providers.
AccuWebHosting adheres to a friendly, hands-on approach to customer support. AccuWeb has a high rate of customer satisfaction, and this policy is working well.
It also provides a lot of information about its plans. This is refreshing considering that most hosts only highlight the best features and keep all other details hidden from potential customers.
It certainly makes a positive impression. To see how it works, I gave the provider a try.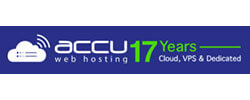 Top Features
Unlimited Domains (Sites) in 1 Account
50 GB Pure SSD Storage - Raid10 Setup
1 TB Monthly Bandwidth
1000 Email Accounts
Free SSL
Control Panel: cPanel
LiteSpeed with LSCache Plugin
Free Website Migration
Dedicated IP (Addon)
Unlimited mySQL Databases
PHP Support
HTTP/2 Support
Perl Support
Free Domain Name Registration
Free Website Builder - 400+ templates
Anti-Spam Cloud Service (Optional)
Instant Account Activation
30 Days Money Back Guarantee
Works On Any Platform
Purchase Addon
PROS and CONS of AccuWebHosting
The Pros of Using AccuWeb Hosting
Incredible Uptime : While AccuWebHosting offers a 99.99% uptime guarantee to its customers, it goes ahead to deliver 100% satisfaction, which tells you that the web host is laser-focused on offering nothing short of top-notch performance to users.
Super-quick Loading Speed: Experts say that cheap isn't necessarily low quality. AccuWebHosting is a classic example of that: It charges low prices but delivers terrific loading speeds of about 285 ms.
A quick examination of site loading speeds reveals that sites hosted on AccuWebHosting deliver results pretty fast, with the slowest site taking 485 ms to load fully. Uptime.com returned results in the 280-290 ms range, which is very acceptable.
This means that no matter the hosting plan you opt for in AccuWebHosting, visitors to your website won't need to keep waiting for a simple homepage to load results. Simply put, sluggish speeds are unheard of when it comes to AccuWebHosting.
Responsive Customer Support : We mentioned a while ago that the quality or rather responsiveness of customer support is one of the most essential factors that you should consider when choosing the right hosting solution.
The professional customer support representatives at AccuWebHosting will quickly respond to your ticket within a few seconds, especially if you use the live chat platform to submit your ticket.
If you purchase a VPS or dedicated hosting plan, hosting experts will accord you 24/7 server management. Additionally, you can consult the Frequently Asked Questions (FAQs), knowledge base, and AccuWebHosting community, at least if you don't want to use the live chat and email ticketing routes.
Easy, Navigable User Interface : AccuWebHosting's control panel is impressive. The panel is not only intuitive and easy to navigate but also colorful and information-rich. In fact, a user doesn't have to consult hosting experts there because bits of useful information are available throughout the panel. Even app installation is pretty straightforward, and you will love it.
Cheap Prices, Best Value : AccuWebHosting is very affordable, though not as cheap as compared to some of its competitors like BlueHost. To be fair, the web host's offerings are competitively priced bearing in mind all the tools that come with their plans. Even their most basic shared hosting plans come with lots of cloud storage space and bandwidth, which is what you need to fully accommodate all the aspects of your website.
If you want to get started with WordPress hosting, AccuWebHosting will offer you a nice plan for only $4.49 per month. Other plans are a bit affordable, too.
It's not easy to find a disadvantage with the company's hosting plans, but as usual, there's no one-size-fits-all when it comes to web hosting solutions. That said, make sure to take advantage of the web host's 30-day money-back guarantee in case you are not pleased with what you get.
The Cons of Using AccuWeb Hosting
Affordable, though not as cheap as compared to some of its competitors.
Don't have unlimited email accounts for Windows hosting plans.
No monthly payment option for shared hosting plans.
What are the types of web hosting?
This answer will be different for everyone. It depends on the type of website you have, the resources you need, your budget, and traffic.
We gave our top recommendation for each category in this guide, so that's the best place for you to start your search.
Once you know what you need, you can narrow your options. To figure out what category you fall in, here's a quick recap of the different hosting types and who they are for:
Alternatives of AccuWebHosting
If you want to explore more web hosting plans, here is some web hosting services provider companies as below: