Last updated on May 10th, 2022 by RGB Web Tech
DreamHost is a Los Angeles-based web hosting provider and domain name registrar. It is owned by New Dream Network, LLC, founded in 1996 by Dallas Bethune, Josh Jones, Michael Rodriguez and Sage Weil, undergraduate students at Harvey Mudd College in Claremont, California, and registered in 1997 by Michael Rodriguez. DreamHost began hosting customers' sites in 1997. In May 2012, DreamHost spun off Inktank. Inktank is a professional services and support company for the open source Ceph file system. In November 2014, DreamHost spun off Akanda, an open source network virtualization project. As of February 2016, Dreamhost employs about 200 employees and has close to 400,000 customers.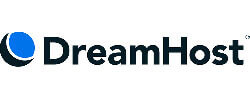 Top Features
Unlimited Websites
Free Domain included
Unlimited Traffic
WordPress Pre-Installed
NEW Free Automated WordPress Migrations
NEW WP Website Builder
Fast SSD Storage
Free SSL Certificate
Unlimited Email @ Your Domain
3 Year, 1 Year & Monthly Plans
What Makes DreamHost So Different?
With nearly 20 years of hosting experience, we focus on successful sites for web designers, developers, bloggers and online businesses. Our community and support helps you create a website fast and easy!
Employee Owned: Being employee-owned keeps us focused on the unique needs of our users, and we wouldn't have it any other way. We're committed to helping everyone find success online.
Passion for Privacy: We believe in everyone's right to privacy, and we back that with a strong anti-spam policy and free WHOIS privacy.
Commitment to Security: Our many security features include Multi Factor Authentication, auto-enabled sFTP and free secure hosting with Let's Encrypt.
Embrace Open Source: We strongly believe in providing open source solutions to our customers whenever possible.
24/7 Support: Our in-house team members do their best to provide one-touch resolution, making you feel like a part of our family.
100% Uptime Guaranteed: We guarantee it so you don't have to worry about it.
Type of Web Hosting
To figure out what category you fall in, here's a quick recap of the different hosting types and who they are for: