Last updated on March 25th, 2023 by RGB Web Tech
Are you looking for the Best Web Hosting Providers for your domain, but you are not sure where to buy the Best Web Hosting Services? Here are the 30+ Best Web Hosting Companies 2023 for your domain.
Our in-depth reviews can help you to buy the Best Web Hosting Solutions according to your budget or requirement. You can choose the Web Hosting according to Popularity or Exclusive Sales.
What is Web Hosting?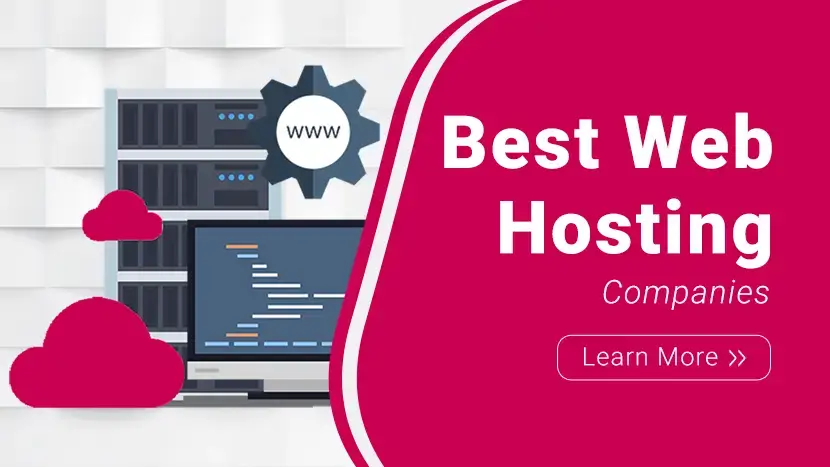 Web hosting is a service that allows organizations and individuals to post a website or web page onto the Internet. A web host, or web hosting service provider, is a business that provides the technologies and services needed for the website or webpage to be viewed on the Internet. Websites are hosted, or stored, on special computers called servers. When Internet users want to view your website, all they need to do is type your website address or domain into their browser. Their computer will then connect to your server and your web pages will be delivered to them through the browser.
Most hosting companies require that you own your domain in order to host with them. If you do not have a domain, the hosting companies will help you purchase the domain.
In this guide, we reviewed the 30+ Best Web Hosting Providers, so that you can pick the best one for you.
What are the types of web hosting?
This answer will be different for everyone. It depends on the type of website you have, the resources you need, your budget, and traffic.
We gave our top recommendation for each category in this guide, so that's the best place for you to start your search.
Once you know what you need, you can narrow your options. To figure out what category you fall in, here's a quick recap of the different hosting types and who they are for:
How to Choose the Best Web Hosting Companies?
Without a web hosting service that suits your needs, your ability to run a successful business is going to be seriously impaired. There is a plethora of web hosting providers competing for the share of the pie. To choose the best one, you have to start by keeping the following points in mind:
1. Bandwidth: Shop for a Web Hosting company after evaluating your disk space and bandwidth needs. If your site features lots of graphic heavy media, tons of pages, and large traffic flow, you're going to need decent bandwidth and disk space for smooth functioning of your website. If your site is going to be basic and not generate a huge amount of traffic, you should be able to get away with less disk space and bandwidth.
2. Compatibility: Keep compatibility in mind, as well. In the task of looking for a website hosting service provider, there is a chance that you might overlook one of the very important criteria: the type of operating systems supported by the service. You're not going to want to switch operating systems so double-check operating system compatibility before settling for a service provider.
3. Reliability: Availability and reliability are important features to consider when looking for a web hosting platform. The best companies offer availability rates of 98 and 99 percent, frequently referred to as "uptime". However, it's easy to make such claims, so make sure to check yourself whether these claims are actually true.
4. Security: Security is a very serious concern. Choosing a service provider without knowing about its security features is a big mistake that can lead to serious consequences. Firewalls, Daily Backups, and User Authentication etc. should be included in the service package. It's also good to receive notifications, once in a while, when changes are being made to the account as it would help alert you to suspicious activity.
Top Features to help you make a decision
Now that you know what factors affect the hosting quality of a service provider, how do you evaluate those factors? Here are some features important to weigh during your decision making process.
1. Uptime Guarantee: Uptime, the percentage of time that a hosting service is up and running, is guaranteed by various companies. This is one of the most important features that tells you about the reliability of a platform because you don't want your website to be unavailable or unreachable to your customers. Therefore, never compromise on uptime.
2. Load Time: Load time is another important feature which helps evaluate the speed and bandwidth capabilities of a service provider. Average attention span of human beings has shrunk over the years to become smaller than that of a goldfish! So, if your website takes even a drop too long to load a page, your business is dead before it even starts. Be sure your hosting service has a fast load time.
3. Customer Support: If it's middle of the night, you get a call from a client saying that your website is down. What would you do? Having an issue with your website is nothing to take lightly. Therefore you want to make sure customer service is available and competent enough to resolve your queries without a significant down time for your website.
4. Location: The number of servers and their respective locations play a huge role in the speed of your website and service. The more the number of servers available, the faster the service, but where are those servers found in the world would also affect the connectivity of the servers. You should always look for servers in locations close to you.
FAQs - Web Hosting Service
1. What is web hosting?
Answer : A website host, or website hosting service provider, is a business that provides the services / plans and technologies needed for the website or webpage to be viewed on the Internet. Websites are hosted or stored on special computers called servers. If you do not have a domain, the Hosting Companies will help you purchase Domain Names.
2. How does web hosting work?
Answer : Once you purchase a Web Hosting Plan, A website host, or website hosting provider host your site on their servers and assigns it a unique DNS. The DNS Serves as the address that allows people around the world to find and view your website. This unique address is required for people to view your site. By purchasing a Website Hosting Package or Plans, you're buying space on their servers. It's similar to the space on a computer's hard drive, but the server allows your website's files to be accessed from anywhere on the Internet.
3. Why is Web Hosting required?
Answer : Having a web hosting account is very important to get a website hosted. A Web Hosting Company makes it possible for your website to be accessed by everyone on the web. Web hosting is the space that you buy on a web server to store your website files.
4. What kind of web hosting do I need?
Answer : A website host, or website hosting provider offers both Windows hosting and Linux hosting. Which one you need depends on what you want to do with your site, like whether you want to create a shopping cart, host a podcast, or add a blog. If you're not sure if you need Windows or Linux, you can contact us, we will help you to buy the Best Website Hosting Plan according to your requirement.
5. What is Windows Hosting?
Answer : Windows Hosting is website hosting that uses a Windows operating system. Because the most common web hosting plan options operate on Linux, you can usually assume that anytime a web hosting company doesn't specify a plan is Windows hosting, it's Linux Hosting. But for a certain subset of website owners, Windows server hosting is the better choice and it's important to seek out a plan that provides the particular features that come with it.
6. What is Linux Hosting?
Answer : Linux is the most common operating system when it comes to web hosting. It is highly secure and more efficient as compared to windows. Linux comes with more features that webmasters and website owners need for their websites, so unless you are going to host a website that needs specific Windows applications, Linux is the most preferred choice. Linux hosting normally offers the best stability, flexibility, and extreme level of security to websites and it's available at the lowest cost compared to windows. One of the well-known searches Google uses Linux to run their servers as well as their mobile device OS Android is also based on Linux OS.
7. What is WordPress Hosting?
Answer : In the simplest sense, WordPress hosting is just hosting that has been optimized to better meet WordPress' performance and security needs. It also typically includes one-click WordPress installs to make it easy to get started with WordPress. And some WordPress hosts will even automatically update your WordPress software as needed. There are two main types of WordPress hosting – Shared WordPress Hosting and Managed WordPress Hosting.
8. How much does it cost to host a Website?
Answer : Prices vary from web host to web host but are usually around $1 to $10 per month if your website is new and doesn't have much traffic or data. You can find the real prices charged by several web hosts on the Budget Web Hosting page.
9. What is the difference between domain and hosting?
Answer : The difference between Web Host and Domain Name. To simplify: A domain name is like the address of your home; web hosting, on the other hand, is the space of your house where you place your furniture. Instead of street name and area code, a set of words or/and numbers are used for the website's naming'.
10. What is the difference between server and host?
Answer : The main difference between Host and Server is that host is a computer or another device that connects to the network while a server is a software or a hardware device that provides services to other programs or devices in the network. For example, a file server stores and manages the files in the network.
11. Do I need web hosting for email?
Answer : You can create a professional email address without the need for a website, and you can do it with or without web hosting. However, if you want to get Email Hosting, you will need to have a domain name. Once you already have got your Domain Name, you need to connect it to your web or email hosting.
12. Is Web Hosting necessary for a blog?
Answer : Yes, You Need Web Hosting. If you're going to learn how to start a Blog Website, then know that web hosting is needed and a part of the whole process of creating a site.
13. Do I need to pay for web hosting?
Answer : This is a Monthly Fee that you have to pay to the web host. Such web hosts will allow you to host your domain with them without charging you any hosting fees. In exchange, some of them will also place advertisements on your website to recoup the costs of hosting your site.
14. What Does Cheap Web Hosting Have to Offer?
Answer : You will get different features depending on the provider that you decide to go ahead with. Rather than expensive dedicated servers, you will get Shared Hosting or WordPress Hosting. What this means is that you will be sharing the server with other users. This should not be a cause of concern since security is not compromised. It will allow the costs to be split amongst the users, which will make the service affordable.Additionally, with a Cheap Web Host, you will get limited storage, although this can be more than enough for small businesses. The speed can also be slow, but this will depend on the service of the provider.Often, customer support is also limited with a cheap web host. If you want to enjoy round-the-clock assistance, you might need to opt for Premium Web Hosting.
15. Is Cheap Web Hosting a Wise Choice?
Answer : Yes, a cheap web host can be good. The only thing that you have to do is to be cautious about what you choose. To avoid regrets, keep an eye on the service providers that we have mentioned above.When compared to Premium Web Hosting Providers, Cheap Web Hosts offer limited features. There are storage caps and data transfer restrictions. Since you are sharing the server with others, you need to divide it amongst yourselves. Some cheap web hosts may not offer the digital tools that you will need to manage your online presence.In the case of most cheap web hosting, there are hidden costs, so you have to be cautious. For every extra feature that you would like to avail of, there can be additional costs. So, be sure to pick a company with upfront pricing to avoid any surprises.
16. How do I transfer my web pages to your server?
Answer : If you've built your website in an HTML Editor, like Dreamweaver or Microsoft Expression Studio, you have to upload your website files via FTP (File Transfer Protocol). We have a built-in FTP File Manager that you can access in our Hosting Control Center.However, if your files are larger than 20 MB, we recommend using the tool FileZilla, which works with Windows®, Mac®, and Linux® operating systems, or other third-party FTP clients.
17. If I already have a website, can I transfer it to your web hosting?
Answer : Moving your website to BlueHost, Hostinger, A2 Hosting etc. is a simple process. If you have access to your existing website files, you can upload them through Hosting Control Center or via an FTP client. If you don't have a current copy of your website, you should be able to request one from your current website hosting provider.If you have any questions along the way, the hosting provider 24/7 support team will assist you.
18. Can I host a website without a domain name?
Answer : Some web hosts, mainly Free Web Hosts, allow you to create a website even if you don't have a domain name. For example, if your web host is "example.com" (not a real web host), they may create a subdomain called "chris.example.com" which you can use for your website.
19. Which web hosting is better? Paid or free?
Answer : Everyone loves free stuff, and it comes as no surprise that free web hosting services are wildly popular – but unless you're planning to use them to learn coding or run a personal website, we wouldn't advise using a free web hosting service.Don't get us wrong: we love them, we've even produced the best free web hosting guide; however, using them for business purposes is fraught with potential issues that make it hard to recommend them.Unlike free software, services (web hosting or VPN for example) cost money to run, which is why most web hosting companies use a freemium business model, and will try to convince you to move to a cheap, paid service.Expect a number of limitations on disk space and bandwidth. You won't get an SSL certificate, which is a sine qua non condition for running a proper business website. You won't have regular backups, and some will even shut down your website for one hour a day!Instead, we'd recommend checking out our best cheap web hosting sites guide, which we regularly update to include the hottest deals around.
20. What are the biggest web hosting companies in the world?
Answer : The largest web hosting companies in the world right now can be assessed either by market capitalization, by number of customers, by how many websites they host, by revenue or by the estimated number of monthly visitors they get to their own website.But according to us the biggest web hosting companies are Bluehost, Hostinger, A2 Hosting, Godaddy etc.
Conclusion
During your search, there are a number of considerations to keep in mind. For example, what is the uptime for your favorite host? Some of the best web hosts have an uptime of 99.99%, boasting a downtime of 0.01%.
Additionally, consider how easy SEO will be. Does your desired hosting service allow for easy optimization? In the digital age, SEO is incredibly important, meaning you can't afford to overlook it and will want a hosting provider that makes it easy.
You now know which the Best Web Hosting Companies are, and you are ready to try one out. Good luck in the world of hosting!